Sabbath School – "The Tithing Contract"
Stewardship Matters! As a ministry to help and support each other get the best out of the current series Sabbath School studies on 'Managing for the Master', we have linked up with It Is Written ministries who connect us each week with the study guide author. This quarter the featured author is G. Edward Reid. Keep a lookout for a new video each week to stay connected. Here's a hope and a prayer that the value of Christian Stewardship becomes an ever growing and joyful experience by putting God first, last and in-between everything.
This week on ANN, the Adventist Church starts 2023 by going "Back to the Altar" during its Ten Days of Prayer initiative. An Adventist pastor distributes more than 70 tons of essential items and medicines in Ukraine. After her daughter's death, a woman devotes all her time to sharing the Gospel. In Kenya, an Adventist school for the deaf houses children rejected by their families. Listen to these news stories and find others, on ANN Video.
---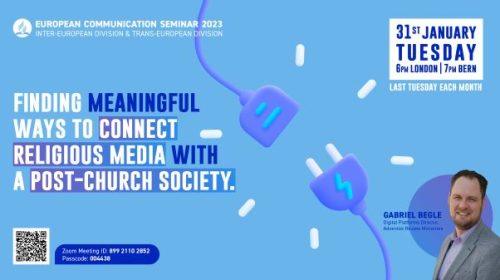 European Communication Seminar : 31 January 2023