Sabbath School – Jesus Wins – Satan Loses
Stewardship Matters! As a ministry to help and support each other get the best out of the current series Sabbath School studies on 'Managing for the Master', we have linked up with It Is Written ministries who connect us each week with the study guide author. This quarter the featured author is G. Edward Reid. Keep a lookout for a new video each week to stay connected. Here's a hope and a prayer that the value of Christian Stewardship becomes an ever growing and joyful experience by putting God first, last and in-between everything.
This week, USAID and ADRA team up to help those affected by wildfires in Chile. Adventist communicators discuss digital missions in Germany. Senator awards special recognition to the Seventh-day Adventist Church in Colombia. An AdventHealth program helps children smile again. Find these news stories and others on ANN.Watch these stories and find and other news now on ANN.
---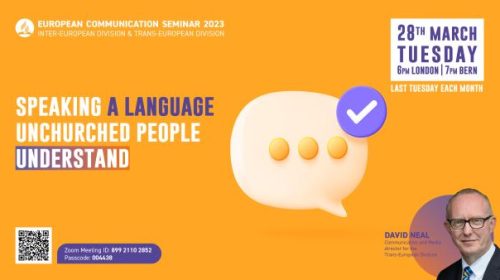 Re-Thinking Christianese: Tuesday 28 March at 6:00 pm UK Time, via Zoom.