OUR BELIEFS
Seventh-day Adventist beliefs are meant to permeate your whole life. Growing out of scriptures that paint a compelling portrait of God, you are invited to explore, experience and know the One who desires to make us whole.
IN THE NEWS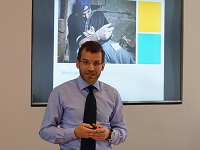 2 December 2016 | St Albans [Victor Hulbert] Just one year on since elected, and six months since he started full time as Health Ministries director for the Trans-European Division, Torben Bergland talks with Victor Hulbert about his role, his expectations and how he believes that the Health Ministries department can make a difference.
Read more ...
---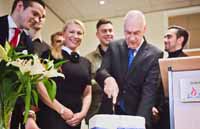 1 December 2016 | Binfield, UK [Kirsty Watkins] Students, staff and special guests gathered at a special ceremony on Friday, 25 November, to dedicate newly renovated classrooms used primarily by Newbold's School of Business, and to celebrate the 30th anniversary of the first graduates from the College's Business programme.
Read more ...
---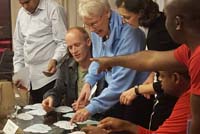 29 November 2016 | Bečići, Montenegro [Karen Holford] Every year family ministry leaders from all over the Trans-European Division come together for a Family Ministry Leaders' Training event (formerly CFLE) to learn, discover new ideas, share their experiences, and form lifelong friendships. Various modules are covered during several years of training events. This year the training was held in Montenegro's Hotel Splendid 16-20 November, immediately after TED Year End Meetings.
Read more ...
---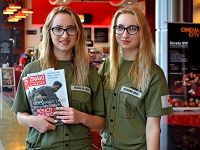 24 November 2016 | St Albans, UK [Victor Hulbert with Michal Rakowski and Robert Csizmadia]
Karolina and Monika, from Krakow, Poland have spent a lot of time this last month at their local cinema. Recently baptised teenage twins, you will find them there, dressed in World-War II look-alike T-shirts similar to the uniform Desmond Doss would have worn. On the back is written, "Desmond Doss saved 75. Jesus saved all. I'm an Adventist like Desmond Doss – ask me more."
Read more ...
---