The uniform makes the organisation real and visible. It becomes emblematic and representative of an ideal, a standard. One of the ways to set up a standard and bring the members of an organisation up to that standard is through the uniform. It should stimulate loyalty toward that standard by building morale and binding members into closer fellowship. It also appeals to those not already members to join. The uniform becomes a builder of club spirit.
Occasions for Wearing Uniforms
At regular meetings, when applicable
At special programmes such as Adventurer day, Induction, Investiture, etc
At any public gathering when any or all act as: Messengers, Ushers, Guards off honour, Colour Guards, First-aid Volunteers.
While engaging in missionary activities, such as : Ingathering, Distributing Food Baskets, Bouquets, Literature, or Church Announcements, etc.
On occasions as specified by the Adventurer staff officers.
UNIFORM FOR ADVENTURERS
GIRLS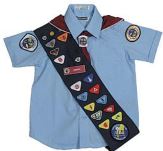 Navy blue pinafore or skirt
White blouse (shirt type blouse with short sleeves)
BOYS
Navy blue trousers
White shirt with short sleeves and regular collar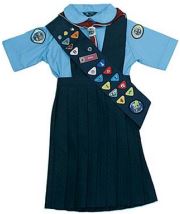 BOYS/GIRLS
Shoes: uniform within club
Navy blue or white socks: uniform within club
SCARF
Adventurer scarf is part of the uniform worn with an Adventurer slide.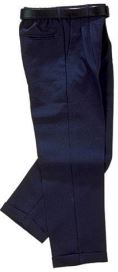 AWARD SASH
The sash is navy blue and part of uniform
UNIFORM FOR ADVENTURER STAFF
Navy blue skirt/trousers
White blouse/shirt with short sleeves
Shoes: uniform within club
Belt: uniform within club
Navy blue tie (optional)
SCARF
The Adventurer scarf is part of the uniform and worn with an Adventurer slide.
Staff members who are Master Guides may wear their Adventurer Master Guide scarves
SASH
Sash is navy blue and worn at appropriate times.
AY honours are NOT to be worn on the Adventurer sash; only Adventurer awards are to be worn on sash.
EMBLEMS
Adventurer Patch, place on right sleeve
Adventurer World, place on left sleeve
Club Crescent, place on right sleeve above Adventurer patch
Adventurer Awards, worn on the sash
Class Pins, worn on shirt/blouse pocket
FIELD UNIFORM
Field uniform for the Adventurers and staff is a T-shirt and blue jeans. Each club may create its own design for field uniform T-shirts and sweatshirts. A few suggestions for designs on T-shirts are:
Adventurer logo
Local club logo
Adventurer and local club logo
INSIGNIA PLACEMENT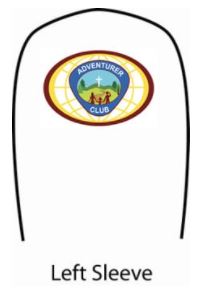 LEFT SLEEVE
The Adventurer World emblem is to be worn on left sleeve 1½" below the shoulder seam.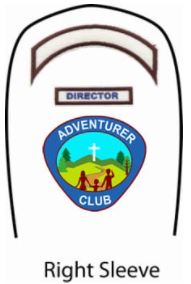 RIGHT SLEEVE
The Adventurer Club Name Crescent is to be worn ½" below the shoulder seam. The Adventurer Club Emblem is to be worn 2½" down from the shoulder seam.
SASH
Adventurer awards and class pins, only. If you have earned any AY/Pathfinder Honours you are not to place them on your sash.
NAME TAG
Your name tag is to be centred over the right pocket or its equivalent position on the sash or blouse.
STAFF
Your staff rank stripe goes between the club name crescent and the Adventurer Club Emblem. Move the Adventurer Club Emblem down an extra inch.
You are to wear an Adventurer sash (not an AY/Pathfinder sash) even if you are a Master Guide.