01 August 2023 | Aranđelovac, Serbia [Vanesa Pizzuto]
The somewhat remote but beautiful hilly town of Aranđelovac, Serbia, once again played host to the Trans-European Division (TED) Quinquennial Education Convention. From 26 to 30 July, 150 teachers and staff members from across the division gathered to sing, learn, network, and celebrate Adventist Education together.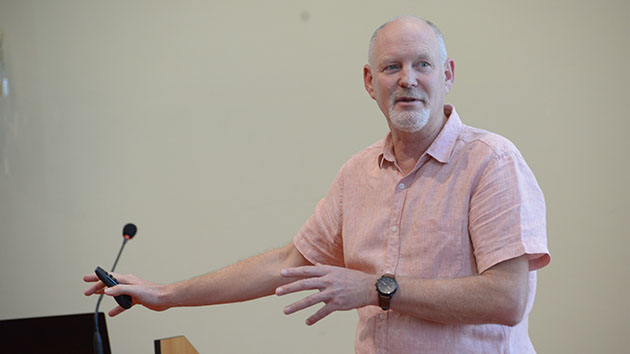 The programme featured thought-provoking plenary speakers, such as Dr Kevin Petrie, former vice-chancellor and president of Avondale University, and Karen Holford, TED Women, Children, and Family Ministries director. Refreshingly, time for rest and relaxation was also scheduled, affording teachers the opportunity to enjoy unhurried conversations or leisurely walks.

During her plenary sessions, Holford explored how to support the character development of children and foster healthy relationships. "I tried to share how developing a character does not have to be a heavy, dreary thing, but it can be really fun," Holford remarked. "Recognising and celebrating the children's key character strengths can be so powerful and affirming!" On the other hand, Petrie delved into the essence of strength and success from the perspective of a Christian teacher. Using a number of real-life stories, Petrie illustrated how a profound connection to Christ helps in becoming the best and most successful teachers.
Besides the plenaries, teachers had the opportunity to attend various workshops, covering topics ranging from "Adventist Risk Management in Education" with Melissa Oppermann to "Physical Exercise and Mental Health" by Dr Julian Melgosa. Attendees also explored subjects like "Influencing with Respect" by Nina Myrdal and "Antisocial Behaviour in Early and Teenage Years" by Ana Ivanković, among many others.
On Saturday, after an insightful Sabbath School led by Ana Dźuver, Dr Lisa Beardsley-Hardy, General Conference Education director, delivered the Sabbath sermon. She emphasising the importance of empowering young people to make a positive impact in the world. "Can we graduate students who dare to swim upstream?" Beardsley-Hardy pondered. "Counterculture begins with us, and it demands a transformation of the mind that only the Holy Spirit can bring." She hastened to add that her words were "not a call to work harder, but an invitation to rest more," relying on the transformative power of the Holy Spirit and deep connections with one another.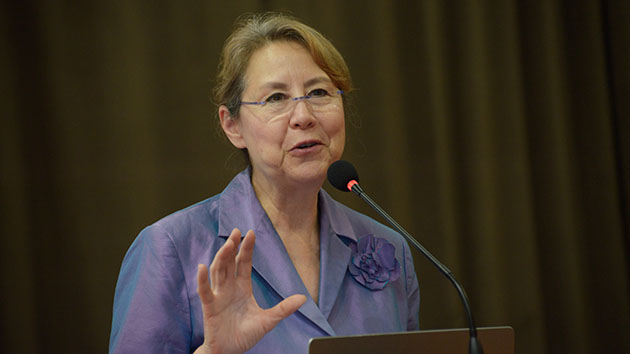 During the Recognition Service on Saturday night, the commitment of long-serving teachers was celebrated. Teachers received pins for every five years of service in Adventist Education.
The ceremony highlighted the dedication of educators like Mrs Nancy Häggblad (44 years), Mrs Grethe Trolsrud (44 years), Mrs Laura Osei (45 years), and Mrs Florence Allen, who received a standing ovation for her incredible 53 years of service. Commenting on her experience at the Convention, Allen said, "I have been blessed! Being here together, meeting people from different cultures and speaking with them has been a blessing. When we leave, we shall be better teachers and educators because we are exploring together unity and growth in Jesus."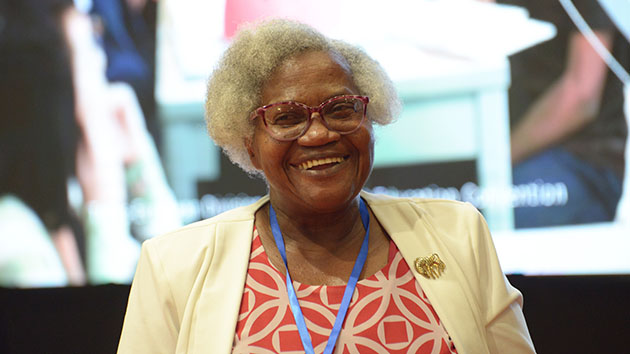 In his closing devotional, Daniel Duda, TED president, emphasised the crucial role of educators in shaping critical thinkers who can navigate an information-rich world. "Your work is far from vain when you empower people. Empowerment is the ultimate test of education!" said Duda, reminding teachers that their work holds eternal consequences.
Reflecting on the convention, Dr Kayle de Waal, TED Education director and event organiser, expressed how the event served as a catalyst for meaningful connections among educators. "I have connected with some amazing teachers. Hearing how God is leading in their lives and how so many of them believe that they are where God wants them is inspiring."
Beardsley-Hardy reiterated the significance of such gatherings, describing them as "essential opportunities for teachers to come together, share best practices, and find fellowship." She acknowledged the tireless efforts of teachers within the Seventh-day Adventist Church and emphasised that the convention provided an opportunity "To be refreshed and to rest. To be open to the rejuvenating forces of the Holy Spirit" so that teachers may return to classrooms renewed.
Rating the Convention
Deborah Smith, a dedicated Science Teacher at a state school, enthusiastically shared her thoughts on the convention, saying, "I've never been to a conference quite like this before. It's truly lovely to have the opportunity to connect with other Adventist professionals in the education sphere, exchanging ideas and finding inspiration together." Deborah particularly praised the fantastic workshops she attended, and being the education enthusiast she is, she humorously added, "As we often say in education, 'What Went Well…' and 'Even Better If…' Even better if would be perhaps more interactive activities in the workshops. And, since we are advocates of the Health Message, maybe some invigorating outdoor activities to complement our learning experiences."
Eileen Hussey, Assistant Headteacher at Stanborough Secondary School in England, added her own perspective, "It's been an incredibly exciting experience with all the diverse plenaries and workshops, and meeting new faces. But what makes it even more special is reuniting with old friends! This reunion feels like a glimpse of the reunion we'll have in heaven. It's been lovely catching up and sharing blessing!"
The Power of an Adventist Education
The Seventh-day Adventist Church runs the largest Protestant education system in the world, with 6,721 primary schools, 2,700 secondary schools and 118 universities. It employs over 110,000 teachers and serves over 2 million students. While the TED church school system may seem relatively modest, with nearly 600 teachers and 222 non-teaching staff (who were also warmly welcomed to the convention), its impact is far from small. Over the last decade,  502 students have been baptised in TED schools. Moreover, for the first time, Seventh-day Adventist teachers working in public schools were invited to the convention, acknowledging their pivotal role in shaping young minds.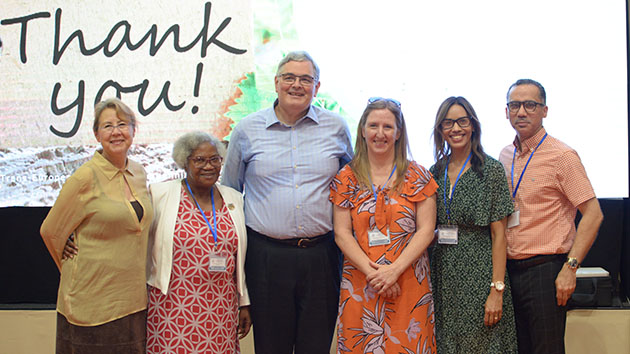 "In the past, education primarily aimed to preserve existing capabilities and transmit knowledge and skills," observed Duda. "However, in our age of information, true education must transcend what was true 500, 100, or even 50 years ago. Our teachers must empower students to make sense of information and piece together disparate bits into a comprehensive understanding of the world. When we teach critical thinking, communication, collaboration, creativity, and emotional resilience, students are truly empowered!"
During his earthly ministry, Jesus constantly broadened his disciples' horizons, encouraging them to move beyond traditional approaches and interpretations taught by the religious or educational authorities of the day. "In a similar vein, our teachers not only impart knowledge but ignite curiosity, nurture compassion, and embody Christ-like characteristics," Duda remarked. "Their influence extends far beyond the confines of the classrooms, reaching into communities and creating ripples of positive change for the future. This is a truly noble mission, and we take immense pride in the remarkable work they do!"
---
[Photos: Vanesa Pizzuto, AME, CC BY 4.0]