13 December 2016 | Zagreb, Croatia [Darko Kovačević] Adventist pastor, Dragutin Matak, was one of three individuals awarded the 2016 Croatian Helsinki Committee for Human Rights Award on Friday, 9 December at a ceremony in Zagreb. Together with Dubravka Šimonović and Inoslav Bešker, they were recognised for their promotion of human rights, religious liberty and interreligious dialogue.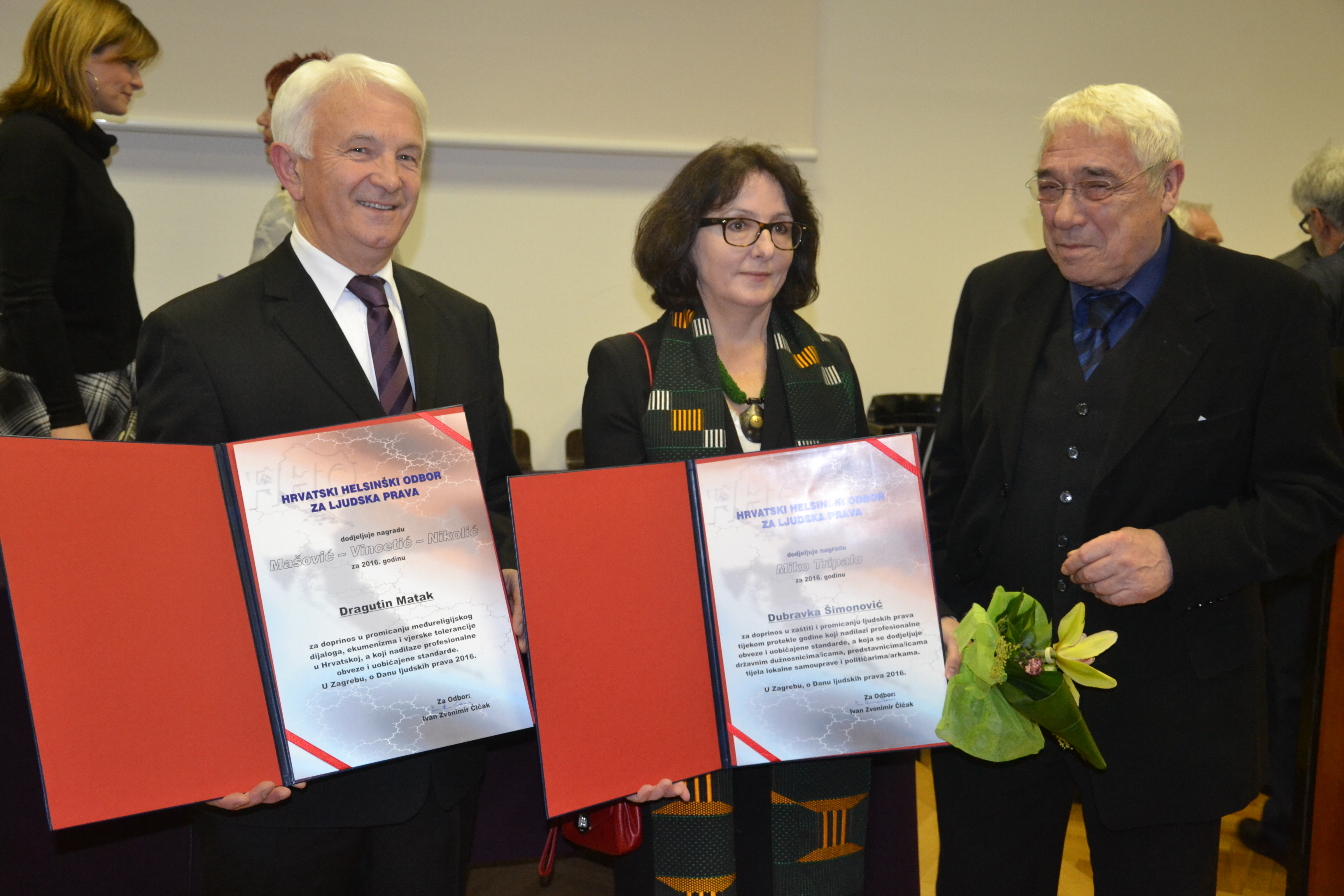 The Croatian Helsinki Committee for Human Rights (Hrvatski helsinški odbor, HHO) was founded in March 1993 to protect and promote human rights in Croatia. Starting as a branch of the International Helsinki Federation, it has run as a local NGO under Croatian law since April 2003, staffed by independent intellectuals, artists, lawyers, and journalists committed to the protection and promotion of human rights.
Dr Matak is an Adventist pastor and theologian who is also General Secretary of the Croatian Religious Liberty Association. He involves himself in all the major religious and politically current issues in Croatia and the Balkans. As such, his contribution to public life in Croatia is widely known and appreciated.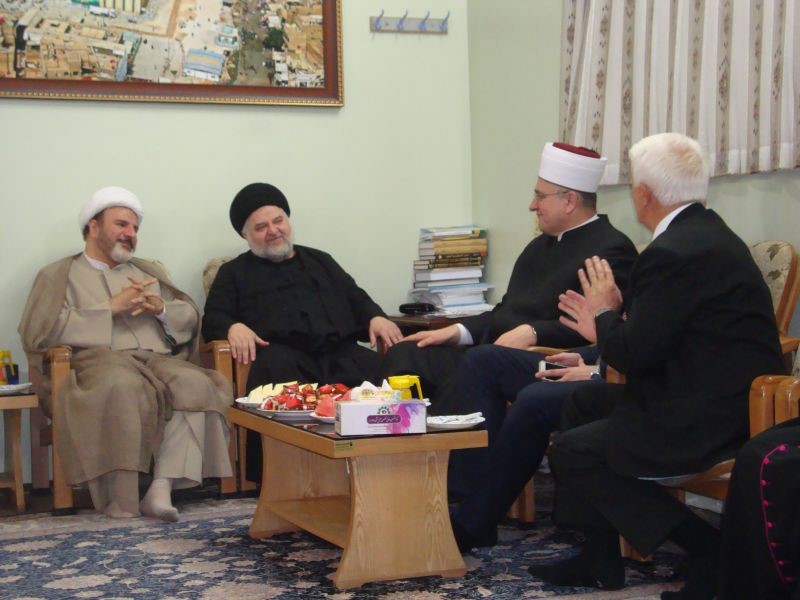 Among his recent activities Matak was part of a delegation of religious representatives from Croatia who visited the religious and political leaders of Iran during the summer. In his acceptance speech Matak emphasised the need for personal moral responsibilities in achieving human and religious freedom.
Matak stood alongside two distinguished colleagues.
Dr Dubravka Šimonović is the United Nations Special Rapporteur on violence against women, its causes and consequences, and a member of the UNHCR Advisory Group on Gender, Forced Displacement and Protection. She began her diplomatic career in Croatia in 1994 including being head of the Human Rights Department at the Ministry for Foreign Affairs.
Dr Inoslav Bešker has spent a lifetime in journalism and is renowned for his outstanding contribution to human rights. Since 1989 he has worked as Rome correspondent for the Vjesnik and Večernji list newspapers, the BBC, Radio 101, Danas, Croatian Radio & TV, and Globus. Since 2000 he has been a correspondent and columnist for the Jutarnji list newspaper.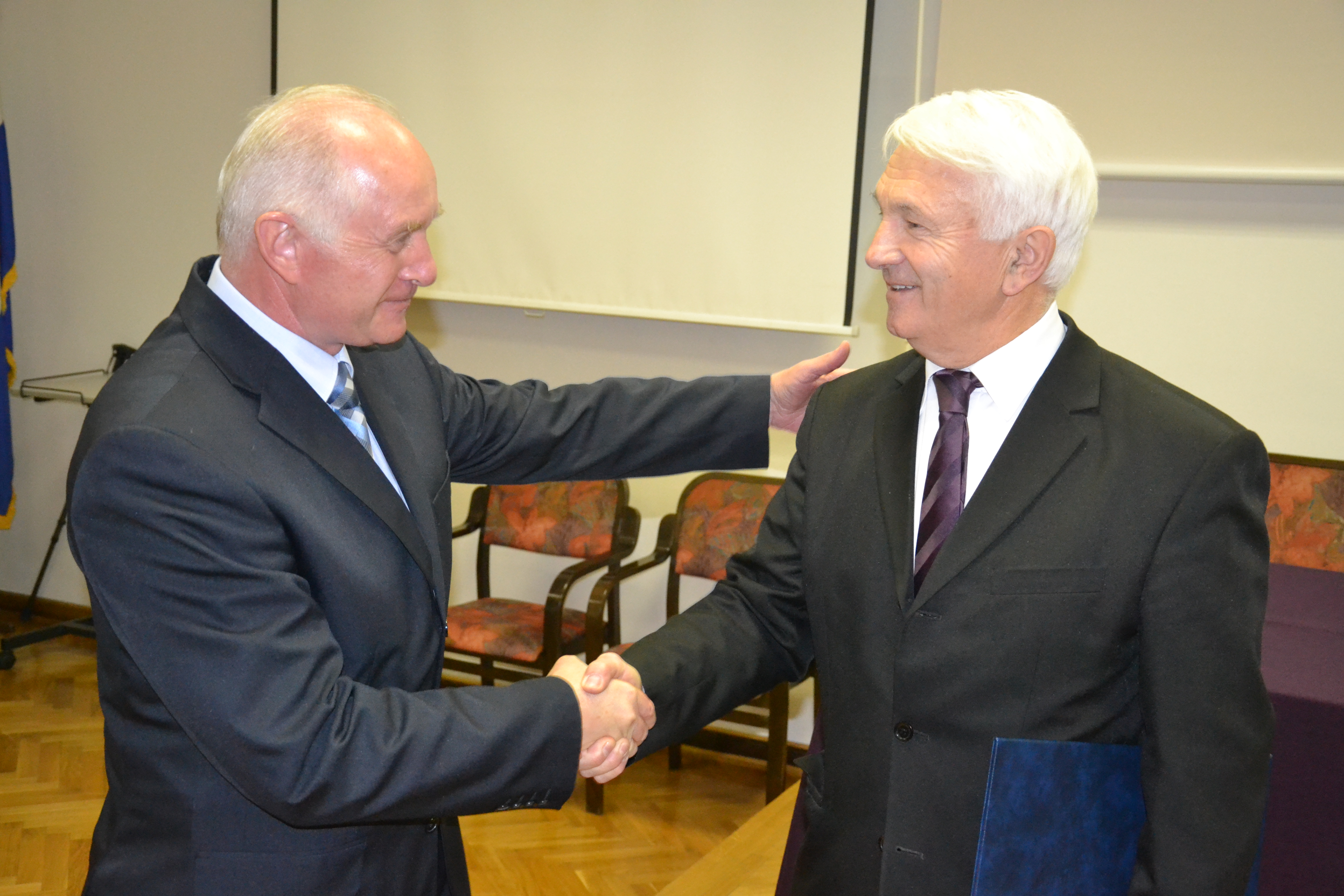 Pastor Drago Mojzeš congratulates Dr Dragutin MatakBešker was named Journalist of the Year by the Croatian Journalists' Association in 2003 and received a Life Achievement Award from the same organisation in 2007.
The Seventh-day Adventist Church in Croatia and the Adriatic Union is fully supportive of Religious Liberty and Human Rights issues for all communities. This was evidenced by Pastor Drago Mojzeš, president of Adriatic Union and a number of his associates choosing to be present at the ceremony. [tedNEWS]
---
tedNEWS Staff: Victor Hulbert, director; Esti Pujic, editor
119 St Peter's Street, St Albans, Herts, AL1 3EY, England
E-mail: This email address is being protected from spambots. You need JavaScript enabled to view it.
Website: www.ted.adventist.org
tedNEWS is an information bulletin issued by the communication department of the Seventh-day Adventist Church in the Trans-European Division.
You are free to re-print any portion of the bulletin without need for special permission. However, we kindly request that you identify tedNEWS whenever you publish these materials.