22 April 2022 | Warsaw, Poland [David Neal]
In a building located just a few hundred metres away from Warsaw's Old Town, with its colourful tenement houses and narrow streets, evangelist Mark Finley is bringing hope to a troubled world by reminding listeners about the promises of God. As the daily news continues to report neighbouring Ukrainian cities under attack, the message is delivered not only in close European proximity to the theatre of war, but in the evocative heart of a city once destroyed by war between 1939 and 1945.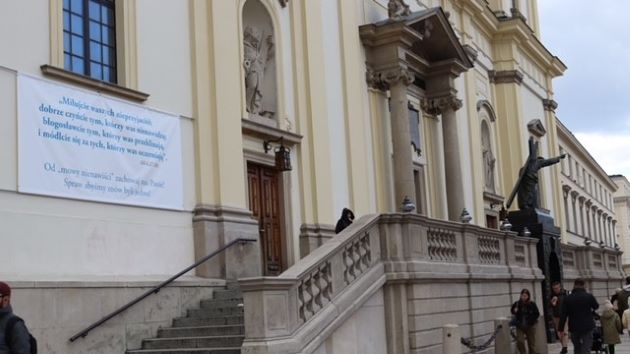 "What do we do when crisis strikes?" asked Finley at the opening night of a series of five twice-daily evangelistic presentations at Warsaw Central Church, Poland. His Christ-centred messages are being simultaneously translated into Polish and Ukrainian. "How is it possible to hope when all hope seems gone?" is the guiding question of the presentations that are bringing hope to hundreds.
Finely is no stranger to the mission of the church in Northern Europe. During the 1980's he served the Trans-European Division (TED) as Ministerial Secretary and lead evangelist, conducting division-wide campaigns, among them in the Polish cities of Gdansk and Katowice. 35 years later, the purpose of this visit to Poland is clear – to bring hope and spiritual encouragement to a people Finley describes as both 'determined' and 'persevering'. It is a hope he wishes to share with church members, their neighbours, and guests from Ukraine of whom thousands of Polish families are hosting.
In his opening remarks, Finley brought words of thanks and prayers from the General Conference President, Elder Ted Wilson to Polish members for, "opening their homes, opening their churches, but most of all opening their hearts to their Ukrainian neighbours."
Designed to meet the spiritual needs of the moment experienced by distressed and fear-filled people, "Each Christ-centred message focuses on Christ's compassion for suffering people, His divine presence in suffering, and the ultimate solution to the problem of suffering," Finely remarked.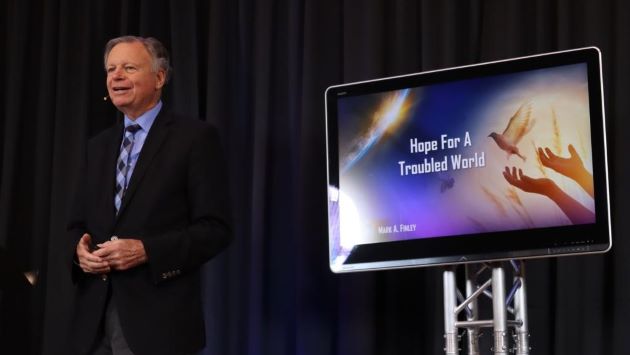 Surrounded by uplifting music provided by Polish and Ukrainian members, the message of the first presentation left the listener with three spiritual values to hold on to because of Christ:
God promises never to leave us or abandon.
We can have hope amidst life's conflicts with the presence of the Holy Spirit to strengthen us.
Our hope is not grounded our circumstances, personal strength, other people, but in the promises of God.
As a result, a final instruction followed: "Don't let fear strangle your joy!"
How to Watch the Presentations
Streamed live each evening from 20 to 25 April, with themes; "To Hope, when all Hope Seems Gone", "Jesus: The Healer of Broken Heaths", "Why Do Innocent People Suffer?", "A Touch of Faith", the presentations can be viewed live or on demand: