14 January 2022 | St Albans, UK [David Neal]
Trans-European Division (TED) to host free COVID Symposium on Wednesday January 19th 
Without warning the COVID-19 pandemic changed our world: economically, socially, and even spiritually. Some of us grieve the loss of family and friends, while others continue to experience poor health after infection. Economies shudder and will hopefully recover soon. 'Social distancing' has become the new norm, as is wearing masks. New behaviours are enforced as we struggle with a public health emergency. We hear the advice, "For optimum protection take the vaccine", not once, not twice, but thrice.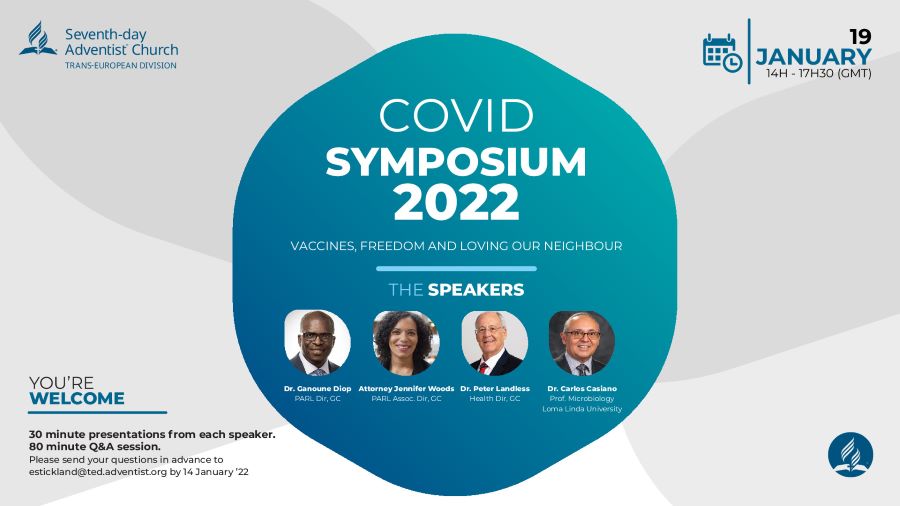 And, so, the conversation begins:
 "You've taken the vaccine? Why did you do that? I don't believe it's a good idea to jab strange chemicals into my body."
"How could you not take the vaccine during this public health emergency?"
"I believe in maintaining optimum health the natural way…"
"I don't trust science."
"I don't trust the government."
"This vaccine was developed too quickly without thorough testing."
"My body, my choice!"
"Doesn't the Bible predict that one day the government will take away my freedom? 
"And who is my neighbour?
"There's so much noise on this matter. I wish I could find objective answers to support my faith."
The COVID Symposium will take place online on Wednesday 19 January, from 14.00-17.30 (GMT) and will be aired via the TED YouTube channel. Two medical doctors, Dr Peter Landless and Dr Carlos Casiano, a theologian, Ganoune Diop, PhD, and an attorney, Jennifer Woods, will explore different aspects of the COVID crisis and debunk the most dangerous Coronavirus myths. There will be 30 minutes of presentations from each speaker, and 80 minutes dedicated to answering questions. Watch the live event, for free, on YouTube.
Helping us grow together in Christ – a symposium hosted by the Trans-European Division.