27 October 2022 |Bucharest, Romania [David Neal and Vanesa Pizzuto]
GAiN Europe, an annual conference designed to foster collaboration among Adventist communicators, is reaching out to influencers. For the first time since its conception in 2017, GAiN Europe organisers are actively targeting social media influencers and enthusiasts. "It is absolutely vital that we place influencers at the centre of our communication strategy if we wish to remain relevant. We must learn from young influencers and support them wholeheartedly," said Vanesa Pizzuto, Associate Communication and Media director for the Trans-European Division (TED).
"The Creative Video Competition is an initiative we took as a team to better identify and support content creators from across divisions," Pizzuto explained. The idea is simple; Adventist content creators were invited to create an original short video – from only 30 seconds to 10 minutes long, exploring the topic of happiness from a Christian perspective. Participants were then required to publish the video on their social media platforms and submit the URL to the judge's panel. The competition rules warned participants that the judges were not "NOT looking for a sermon, but creative content" which would resonate with non-believers, avoiding both "Christianese and Adventist jargon." The prize was an all-expenses paid trip to attend GAiN Europe 2022, at the Sheraton Hotel in Bucharest, Romania.
And the winner is… Doreen Lohr!
TikToker (@Chretien.mais.pratique) and drama teacher, Doreen Lohr, is the winner of this year's competition. The young and bubbly influencer, currently based in Switzerland, impressed the judges with her heart-felt message of hope. "Knowing that I have value, is a little miracle that can change everything," Lohr shared in her video.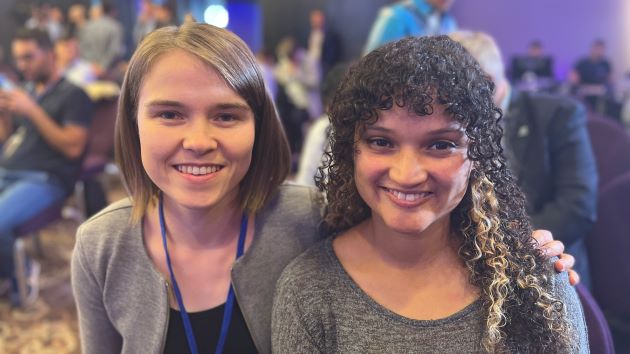 "We live in a very interesting time! For TikTok users, viewing non-professional videos is the norm. So, it is a great place to start," Lohr commented explaining how the platform is a real mission field. Anyone can become a digital missionary, "We are not looking for professional skills or really deep theology," Lohr continued. In one of her most popular videos, Lohr talks about being angry at God, "I recorded it as I was walking to a meeting, saying 'God loves you so much that He will let you be angry at Him, though He is perfect, to work through your anger.'" What is needed is that simple and authentic approach, "So if you want to do it, just do it," Lohr concluded.
Larysa Nalchadzhy's video was highly commended. This YouTuber from Ukraine submitted an entry reflecting on what if means to believe in happiness, in the face of war and suffering. Is happiness having "fame, a career, status, success or money?" Nalchadzhy poignantly asked in her video. Considering how difficult circumstances make people reconsider their priorities, Nalchadzhy concluded, "Now I know that true happiness is with God."
Both videos were premiered during the conference and warmly received by the audience.
What next?
The Creative Video Competition will return in 2023! "We will expand it to include not only influencers on YouTube, TikTok and Facebook, but also bloggers," Pizzuto announced during the award presentation. "As they say, we must put our money where our mouth is. It is not enough to say that we want to see more young people engaged in the local church and in leadership, we must pave the way."
[Photos: Tor Tjeransen, AME, CC BY 4.0 and Vanesa Pizzuto. Video: Pedro Torres] Learn more about Doreen Lohr here.