1 September 2022 | Mazury, Poland [Antonia Kozak with tedNEWS]
Through the collaboration of Ukrainian and Polish Pathfinder leaders, from 22 – 29 August, a summer camp was organized for Adventist scouts (Pathfinders). With open hearts Polish Pathfinders opened up the camp to their new Ukrainian friends, now living in Poland.
Located in the picturesque region of Mazury, Poland, and at the Waszeta Recreation Centre near the city of Olsztynek, the camp welcomed 200 teenagers and their instructors.
The theme of the camp "Chronicles of the Last Battle" provided an opportunity for campers to deepen their faith and believe in Jesus as the ultimate solution to conflict and sin.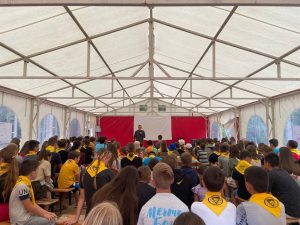 The best of teams
The summer camp was teamwork at its best, while the Ukraine team ran the programme – the Polish ran the logistics. "On behalf of the Ukrainian church family, we want to give special thanks to the sponsors, the Polish Union of the Seventh-day Adventist Church, the districts, and the Fundacja Pociecha (Polish Children's Aid Foundation)," said Ukrainian Pathfinder leader, Antonina Kozak. Everybody contributed to make sure the children received everything they needed, "comfortable transportation, carefully planned and balanced meals, city tours with gifts and sweets for evening bonfire meetings."
The camp chosen by the Polish team is set in the wonderfully picturesque region of Mazury, Poland. It is a cozy and quiet venue, situated in the middle of a coniferous forest and within walking distance of a lake. Twice daily campers went swimming, or enjoyed kayaking and paddleboarding, sharing the lake with seagulls and ducks.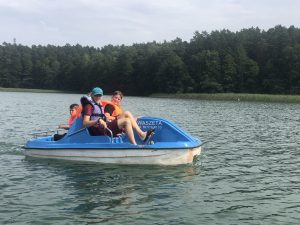 Activities galore
Each day campers could choose two activities out of the 20 scheduled.  Activities included field games, crafts, and camping skills. In addition, they could play football, volleyball and table tennis, or try to overcome their adreanline driven fears at the rope park constructed by the instructors.
The gift of safety
"Without the generous support of the Polish Union members and its leaders, this camp would not have been possible," leaders commented. "In addition to the provision of an abundance of activities, perhaps most of all – children were given a safe place, and the opportunity to hope for better future and forget for a brief moment in time about sadness. Each day spent without the sound of sirens, was an indescribable gift for everyone and will forever remain in their hearts."
The camp ended on a high with the baptism of 18 teenagers who gave their lives to Jesus. "Thank you for showing true Christianity," said Kozak. "Thank you, the Polish Union and the Fundacja Pociecha (Children's Aid Foundation).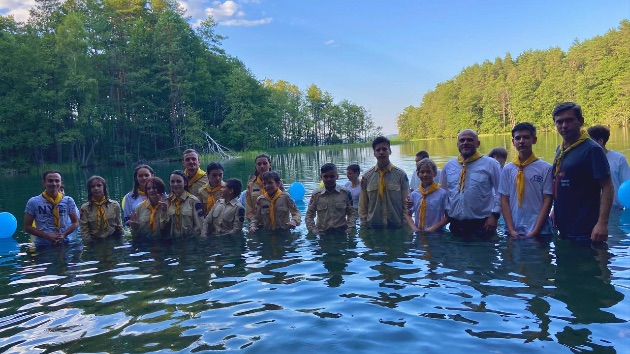 Our friends – without you, none of this would have happened. Glory be to God and many thanks!"