26 January 2022 | St Albans, UK [Dejan Stojković with Vanesa Pizzuto]
The Trans-European Division's Youth Ministries department hosted "Vision Song Contest 2022" on Saturday 8th January. This lively music programme, now running for its second year, was an occasion for laughter and joy, it was an opportunity for young people around the division to begin the New Year together with a virtual, musical event.
The programme was broadcast on both the TED YouTube channel and Youth Ministries Facebook page. Through the VoxVote website (accessible via a QR code), viewers could take part voting for their favourite songs. This year fourteen songs were submitted, from the thirteen countries who participated in the event.
Pastor Dejan Stojković and Audrey Andersson hosted the lively evening watched across the division by over 4,000 people. They took the opportunity to share fun facts about the countries as their songs were introduced. Cyprus opened the competition with a beautiful rendition of "True Friend" written and performed by sixteen-year-old Anastasia, with lyrics by fifteen-year-old Nikki. Song after song, singers from across the division shared their talents and the unifying love of Christ.
The climax in the programme came when the audience were given their last opportunity to vote after a short clip from each country was played. Nearly 350 people voted online, and then it was the turn for the judges, from nine different countries, to cast their votes. In an unexpected twist, Sweden, with "Going Home" by Sara Sundvik, and Finland, with "Fear My Soul Will Not" by Betel Akustic, were crowned joint winners of the event. Hungary came in second place with "Through the Fire" by 8 in 1 Singers, and Croatia in third place with "To the Creator of The Universe", by Noel.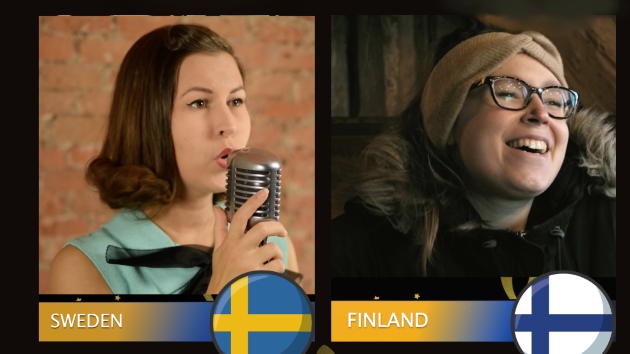 "What gives me hope in times like these is the assurance that Jesus soon will bring us home," said Sundvik reflecting on the evening. "I was surprised to win and didn't expect it at all. I´m very honoured to share first place with Finland."
Seidi Vartiainen, Betel Akustic's lead singer, says she wrote the song as "an encouragement to this COVID era." The whole team behind this hope-infused song "is very happy with the outcome and humbled to gain so many votes alongside with Sweden."
"A massive thank you to all the Youth Directors across the TED for sending us your beautiful songs and the people who worked in the production and in the studio to make this event possible" said Stojković, who is already planning and dreaming about the next Vision event which will take place on 7th January 2023.