12 July 2022 | Västeräng, Sweden [Linda Schwartz with tedNEWS]
After waiting for three years, due to Covid19 restrictions, young adults in Sweden were finally able to meet again and spend a weekend at Västeräng Camp. The long-awaited reunion took place from 25 to 29 May 2022. The dates were planned to coincide with Ascension Day, a public holiday in Sweden that commemorates Jesus Christ's ascension into heaven.
"As the result of the Covid19 pandemic and churches being closed, young adults started 'disappearing' from the church scene," reflected one of the event organisers, Linda Schwartz.  During the lockdown, "Church was slowly replaced by other activities. And when churches reopened, as restrictions were lifted, some people did not feel the need to attend." The Västeräng Young Adult Camp was organised to revitalise the faith of young adults and to remind them of "their value and worth given by God."
Guest speaker, Dejan Stojković, Youth Ministry director for the Trans-European Division (TED) shared inspirational messages "full of energy and humour" challenging participants to "be a follower of Jesus and not only a fan," Schwartz reported.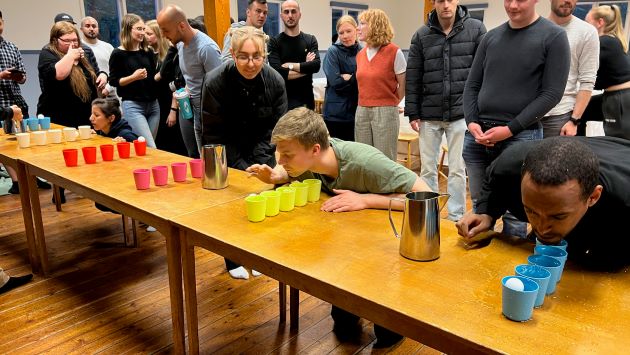 How much God loves and values every person was the thread weaved through Stojković's messages. "I am worthy, and the church needs everyone," said one of the participants reflecting on Stojković's words. "God helps us in all situations, and we can trust that He is there for us," said another. "I am worthy just as I am," said another young adult. "There is a real need to feel loved and accepted by God.  We hope this message will continue to inspire young people," Schwartz remarked.
The Västeräng Young Adult Camp was planned by young adults for young adults. "The weekend atmosphere was filled with laughter, conversation and fellowship," Schwartz commented. Activities such as a mystery night, campfire games and relaxing sauna times made an enjoyable weekend for everyone. And there was even something for those on a tight budget! By joining the clean-up team and making sure the camp was ready for the next group, campers received a fee reduction. "Young people came not just from Sweden, but from the USA, England, and New Zealand too. We are already looking forward to our next event and hope many more will join," said Schwartz.