20 December 2021 | Ljubljana, Slovenia [Katja Kotnik with tedNEWS]
Since the beginning of the COVID-19 pandemic, the Adventist Development and Relief Agency (ADRA) in  Slovenia looked for ways to mitigate its impact on vulnerable populations. A variety of projects were organised to provide immediate support, these initiatives included assisting health institutions and elderly homes, distributing care packages and even computers to facilitate distance learning.
As the pandemic progressed, projects began to focus on providing psychosocial support. With this aim in mind, ADRA Slovenia, in partnership with the Trans-European Division (TED), the Slovenian Conference and ADRA Netherlands, started running Together At Distance, an eight month long project aimed at providing emotional support to isolated people.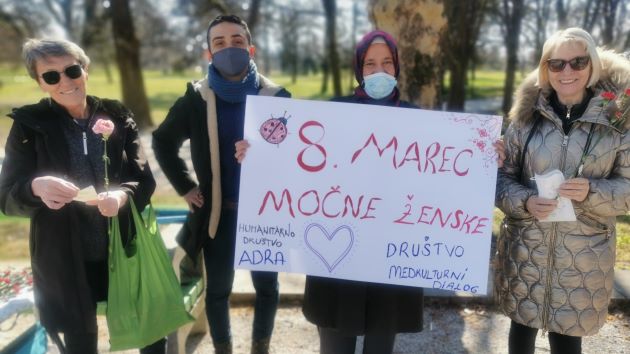 This initiative helped individuals and communities to gain a greater sense of connectedness and safety during the COVID-19 crisis. Participants received assistance in the following four areas: (1) Psychosocial Support, (2) Health and Disease Prevention Support, (3) Children and Youth Support, and (4) Spiritual Support.
The beneficiaries had the opportunity to participate in 25 online workshops covering a variety of topics from improving mental health to developing a thriving spiritual life. These talks were organised by ADRA Slovenia, with the support of the local and ministries. Among other initiatives, two special outreaches were implemented, reaching 107 elderly people with care packages and over 420 children with school supplies. Additionally, ADRA Slovenia shared 16 educational videos on YouTube to support families and children out of school during the pandemic.
In total, over 1,200 people were reached with this project and their feedback was very positive. Rado, a 62-year-old man who attended workshops on computer literacy, parenting and psychosocial support said, "I attend online meetings on regular basis… it can be very helpful to stay connected…  COVID19 has done a lot of damage at the mental health level, and much more should be done in the field of psychosocial support in the future as well." Fatma, a member of the Women's Club that prepared Slovenian and Turkish food for the community said, "When I saw the happy faces of the women, I felt very good about myself. Other women in our Turkish community also said they hadn't felt so useful in years."
"The project achieved all proposed aims and the responses of the beneficiaries motivated us to design even more projects with related content in the future," said Katja Kotnik, ADRA Slovenia director. "We wish to express our deepest gratitude to the TED, the Slovenian Conference and ADRA Netherlands for supporting this project that reached more than a thousand individuals and their families."
---
tedNEWS Staff: Victor Hulbert, editor; Vanesa Pizzuto, associate editor
119 St Peter's Street, St Albans, Herts, AL1 3EY, England
E-mail: [email protected]
Website: www.ted.adventist.org
tedNEWS is an information bulletin issued by the communication department of the Seventh-day Adventist Church in the Trans-European Division. Readers are free to republish or share this article with appropriate credit including an active hyperlink to the original article.