15 September 2022 | Fratarski otok, Croatia [Melinda Deduš with tedNEWS]
The theme of AYC 2022 was Plug In, and that is exactly what Croatian youth and guests from all around the world did this summer! On the small Croatian island of Fratarski, bathed by the beautiful crystal-clear water of the Adriatic Sea, 130 young people, representing ten countries, unplugged from all the distractions of this technological modern society to plug in with each other and with God.
Camping on Fratarski island is now a 15-year-old tradition! It started out when a small group of friends from Pula – a seafront city near Fratarski – wanted to spend quality time together during the summer. The event grew year after year, even though there is no electricity or mobile-phone reception on the island (or perhaps precisely because of that!). The only buildings on the island are showers and toilets, making it a perfect oasis to connect with each other free from distractions, to enjoy nature, and get closer to God.
A regular day at Fratarski summer camp includes an inspiring morning worship, swimming in the beautiful Adriatic Sea,  followed by a tasty barbecue lunch. This is followed in afternoon with games, workshops,  and more swimming and playing volleyball. The day ends with dinner, more sports, evening worship, and social night.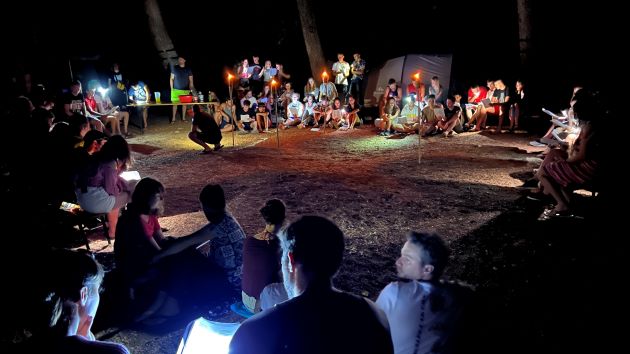 Friday night and Saturday worships were a special time for all campers, "This year's worships were not only inspiring due to the sermons, but also because so many youth shared their testimonies," said Melinda Deduš, a camp participant.
Guest speaker, Pastor Dejan Stojković, Trans-European Division (TED) Youth director, joined Fratarski Camp with his whole family. His messages revealed that "God really does accept us just the way we are and that we should not hesitate to become true followers of Jesus and not just fans," Deduš shared.
The highlight of the week was the Sabbath baptism service in the Adriatic Sea. "More than 200 people joined us in the celebrations as seven young people made the best decision of their lives," Deduš said. "But we know there are many more angels celebrating with us too!"
"I have been camping at Fratarski for more than 10 years now and can say with full confidence that it never gets old or boring! I hope many more young people will get to experience what Fratarski is, and what it can mean in their spiritual journeys," Deduš concluded.