19 May 2023 | St Albans, UK [tedNEWS]
As we celebrate 160 years of the organisation of the Seventh-day Adventist Church, and as the Christ for Europe project gets under way, tedNEWS invites readers to take a look again at the 94 year mission of the Trans-European Division (TED). 
When Oxford Scholar, Reginald Heber, wrote the famous mission hymn, From Greenland's Icy mountains, he could easily have been describing the Trans-European Division (TED). His lyrics cover the imperative for sharing the Gospel to every corner of the globe, starting from the northernmost reaches of the TED to the southernmost. Those lyrics, written just 55 years before the first Adventist missionary arrived in Europe, soon became a reality through European Adventism's outward looking focus. Despite an initially small base, European pioneers influenced mission in Africa, Asia, South America and beyond.
Today the major challenge for the 11 unions and three attached fields that make up the TED is that while European Adventism sent missionaries out to others, Europe itself has since stagnated spiritually. In some countries, only four percent of the population attend church while in other former communist states, religion has been revived as more cultural than life changing.
Nevertheless, mission is alive in Europe! We praise God for the 89,404 members (as of 31 March 2023), some 600 pastors and 1,401 churches and companies that are spread across the TED territory: from Greenland's icy mountains, down through more secular Scandinavia, the United Kingdom, and the Netherlands, to more traditionally Catholic, Orthodox or Muslim countries as we head south and east through Poland, Hungary, and the former Yugoslavia towards the balmy Mediterranean climates of Greece and Cyprus.
As Dr Artur Stele, GC Vice-President, stated emphatically during the 2018 TED Year-End Meetings, "You are not big in numbers but big in challenges." He saw this as encouraging, both for himself and the larger Adventist world. Listening to the mission reports, the challenges, even the requests in special times of prayer, he emphasised that "you are big in providing the key for the future of mission," noting that the same issues faced in increasingly secularised Europe are becoming apparent in other parts of the world.
The 2019 Anniversary Celebration with a Renewed Passion for Mission
In 2019 the TED celebrated ninety years of mission both at home and overseas. Despite the considerable setbacks of two World Wars, years of communist totalitarianism in Central and Eastern Europe, and more recently the ravages of secularism, the division has a rich history. This was explored in Dr David Trim's celebratory book, A Passion for Mission and in a short video documentary. Trim noted that throughout the TED history over, 1,000 missionaries headed overseas to share the Adventist message across large swathes of the world.
Trim further develops the themes of A Passion for Mission in a keynote lecture "Becoming European: The Trans-European Division after 90 years", given at the 90th anniversary celebrations of the TED during 2019, which can be viewed here.
Outreach & Witness
Prior to Daniel Duda being elected to his current role as TED president, he was responsible for overseeing TED Adventist Mission. One of his favourite witness and outreach projects funded by the Adventist Mission fund, is the Three Angels Motorcycle club in Novi Sad, Serbia. This Adventist group of bikers mix and befriend others in the biking community and have produced special literature focused on their needs.
Reporting for the period from 2015 to 2022 Duda noted, "We have voted over £1 million (US$1.4 million) on 301 mission projects and 133 church plants," These include 12 Centres of Influence, and a network of Messy Churches that are having a significant impact on children and their families in hard-to-reach communities in Croatia, Cyprus, Greece, and many other countries.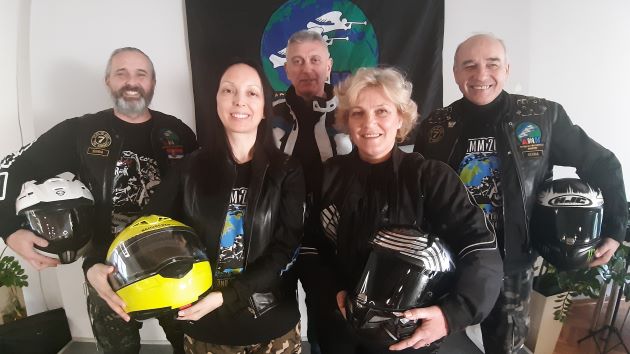 The TED also supported social projects such as 'Invasion of Love' in Jajce, Bosnia and Herzegovina. Adventist Youth, together with friends, spent a week in the community to paint park benches, offer free carwashes, hand out roses, and run health and community programmes. This was especially significant and appreciated in an ethnically divided community still suffering from the after-effects of war. In a cultural setting where Adventists find it hard to make an impact, seeing Adventist and other youth working together towards a positive community goal helped encourage local citizens to be proud of their community, to build self-esteem, and to assist in a process of reconciliation.
Total Member Involvement
Total member involvement (TMI) has caught the imagination of many members. This has led to significant lay-led initiatives; a youthful church plant, 'Kompass Church' in Tallinn, Estonia, another plant in a refugee centre in Ireland, the development of Public Campus ministries on a range of campuses – with particular success in Serbia and the United Kingdom – and the establishment of 12 Centres of Influence. Perhaps the most successful Centre of Influence is the The Cuisle Centre, tying in with a long running Mission to the Cities programme in Dublin, Ireland. The Cuisle Centre attracts a wide-ranging community to a variety of health, counselling, craft and spiritual programmes while Dublin itself has grown from one single congregation to a total of five, spread across the city.
Our mission and activities in the TED continue to connect with our communities, inspire them with the Gospel, and enable change. Our aim is big and may seem impossible, but, by God's grace, we seek to reach out to the varied cultures and religious attitudes in Europe and let people know "that by believing you may indeed have life in His name."
At the heart of the 2022 TED video report to General Conference Session were two dominant themes. Filmed and produced during the outbreak of war in Ukraine, we were reminded of the call of Christ,  "When I needed a neigbour – were you there?" And connected to this was the promise of Christ to "Open a door, which no person can shut." Take a look again at the story of TED members and their committment to reach Europe – empowered by grace.
Copy for this report is adapted from the Trans-European report to the 2022 General Conference Session.
Photo – featured image, David Neal