26 September 2023| Maruševec, Croatia [Svetlana Relić with tedNEWS]
The Music Summer Camp, now in its eighth year, is a masterclass for various musical instruments and music theory enthusiasts. Held from 20th to 23rd August 2023 in the picturesque town of Maruševec, Croatia, the camp brought together 80 young players of solfeggio, harmony, piano, violin, cello, accordion, flute, and saxophone. With the guidance of dedicated music teachers, these young musicians studied fervently and nurtured each other's creativity over six days.
Classes and Concerts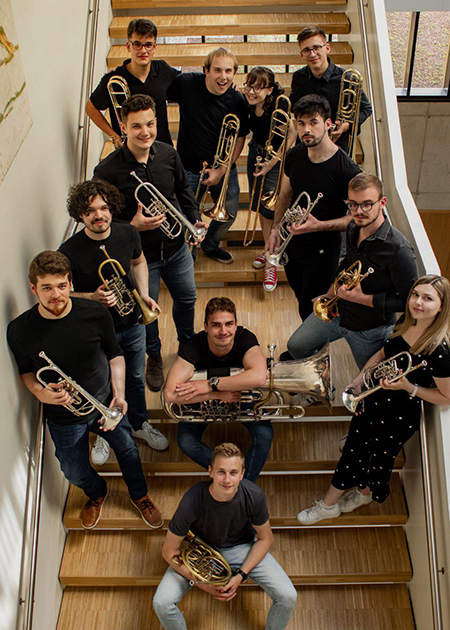 Students were asked to select and rehearse a musical piece before their arrival. Teachers provided young musicians with tips and skills to enhance their performance during lessons. Each participant developed their performance skills in individual lessons on their respective instruments. However, they also had the opportunity to participate in chamber ensembles, allowing them to further develop their interpretation skills and musical abilities through playing together.
"The fact that participants return year after year fills us with great joy," the camp's leaders commented. This year, the camp's opening was graced by a concert by KunstUni brass, students from the University of Graz, who accepted an invitation from Jan Mojzeš, a trumpet player and dedicated attendee of our camp since its inception. With a rich musical programme, these twelve young musicians shared their profound love for music and art, demonstrating the significant impact of the Summer Music Camp in Maruševec on their musical development. Luka Relić, an alumnus of the Music Camp, was invited this year by his saxophone teacher to join as an assistant lecturer in the class. Seeing our students develop this way brings incredible joy and pride in them.
During this intensive week of instruction, teachers also took the opportunity to practice, learn, and collaborate as a team. They not only benefited from attending their colleagues' lectures but also dedicated themselves to preparing an exceptional professor's concert for the students. This touching event, held on the penultimate day of camp, is a powerful reminder of the value and importance of creativity, cooperation, and the art of music in our lives.
Creativity and Leisure Activities
Beyond music-making, concerts, and classes, the week was punctuated with moments of exceptional creativity. Those who participated in the Gloria Hobby Art workshops, led by Slavica Radovanović, seized the opportunity to channel their free time into new creative ventures. Using découpage techniques (cutting out pictures, glueing them to an object and then coating the pictures and the object with layers of varnish) to transfer images to binders, the children created their miniature works of art to take home, where they could store their music manuscripts.
Additionally, the children crafted and adorned music boxes by painting on foil using stencil techniques. They also employed quilling techniques to embellish the Summer Music Camp banner. "The enthusiastic response to these workshops was a heart-warming testament to the multifaceted nature of children, each with varying abilities across different aspects of their lives," commented the leaders. "Allowing them to express themselves in areas they excel fosters spontaneity and bolsters their confidence."
The Grand Finale: Concert and Awards Ceremony
After studying and learning for a whole week, students and teachers came together at the final concert. Every camp participant and teacher had the opportunity to perform and receive recognition for their dedication. "The final concert feels like standing at the top of a conquered mountain peak, affording us a panoramic view of the parents and audience members who come to witness and appreciate our musical journey. Each year, our audience becomes dearer and more cherished, as this camp propels us to new heights and broadens our horizons," reflected Svetlana Relić, Camp Director.
What Students Said
"One class with a professor moved me to tears, but in the best possible way. Thanks to her and this camp, my love for life and music has grown stronger."
"My teacher imparted a wealth of knowledge in such a short time. I am grateful for the opportunity to work with her and hope for a chance to do so again next year."
"I loved this camp! It seemed to pass by in the blink of an eye, but I've never experienced so much in such a short time. I want to thank all the professors and organisers for this incredible experience."
"Saying goodbye on Friday felt like bidding farewell to a beloved family."
"These are wonderful people who generously share their knowledge. My heart is overflowing after this week!"
"I made new friends and enriched my life with wonderful experiences. Every moment we shared further convinced me that what we do here truly matters."
---
[Photos: Summer Music Camp Maruševec]