02 December | Toplice, Croatia [Zrinka Vukalović]
Imagine attending a church having to listen to a sermon in Chinese without a translation lasting "only" forty minutes, sitting on uncomfortable chairs with feet dangling in the air, and where you cannot see what is happening in front of you. Does it sound like a sermon you would understand, love to listen to, and look forward to? Does it sound like a pleasant experience to return to every Saturday. This is how our children often feel during our worship services.
Over the weekend of 11 – 13 November, in the pleasant and beautiful surroundings of Toplice, Croatia, the Adriatic Union children's ministries department organized a weekend for leaders and teachers under the title Intergenerational Church – it's time to be creative. Almost 80 leaders and teachers from the Albanian Mission, the Croatian Conference and the Slovenian Conference attended the weekend.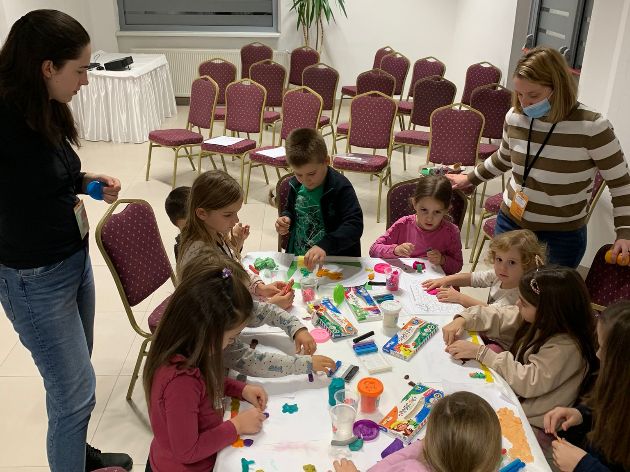 Karen Holford – Children's Ministries, Family Ministries and Women Ministries director at the Trans-European Division, and Maijo Roth – Director of the Department of Children, Teenagers and Families at the Spanish Union led the weekend presentations. Both leaders have many years of rich experience working with children, and through plenary presentations and workshops, they shared their thoughts on how to how to make our worships and church life interesting, creative, understandable, and useful for children. Their particular concern was how to help them feel comfortable and welcome in the Church.
The key conclusion we discovered together, was that if we want to keep our children in the Church, and attract new ones, we must do everything we can to make children feel accepted and included in the life of the church. This means that the whole church family, all generations, and departments need to participate in accepting and including children. To put it another way, this is not just a mindset for children's ministries leaders.
In addition to the main lectures, the program was filled with various workshops, which, in addition to the main guests, were led by Mateja Vučetić (Croatian conference), Tatiana Godina Marin (Slovenian conference) and Natieli de Moura Schäffer (Albanian mission). The workshops included topics of how to captivate and keep children's attention, how to encourage children to cooperate, and how to tell stories in a creative and imaginative way. We also learned about the importance of music in working with children, and how to make the study of God's Word interesting, so that the children adopt it for life. We also heard about an intergenerational Bible study lab, created during the pandemic. Finally, we participated in a fascinating workshop on how to help children flourish emotionally in times of various life crises. This important matter helped understand how children can be supported, along with adults, to activate their positive emotions and choose good, comprehensive activities that will help them achieve emotional balance.
In addition to being weekend full of imaginative ideas and practical advice, we also worshiped God together, with time for social engagement to support each other in this life changing ministry. Committed to making our church life child-friendly, we pray for unity as we travel on this journey of change together. Because children are both the present and the future of our church life, we are convinced it is necessary to work creatively with them from a young age, which we trust will result in them making a commitment to serve God.
---
[Photos: courtesy of Karen Holford]