26 September 2023 | Hackney, England [Darell J. Philip]
Musicians from the East London School of Music (ELSOM), a charity run by the Seventh-day Adventist Church to offer affordable music lessons to local children, were recently featured in a BBC Songs of Praise episode.
The BBC team drew inspiration from the documentary "Organ Stops: Saving The King of Instruments," broadcast on 24 December 2022. This documentary showcased the Nelson organ, which had been rescued and is now installed at the Clapton Church in Hackney, East London.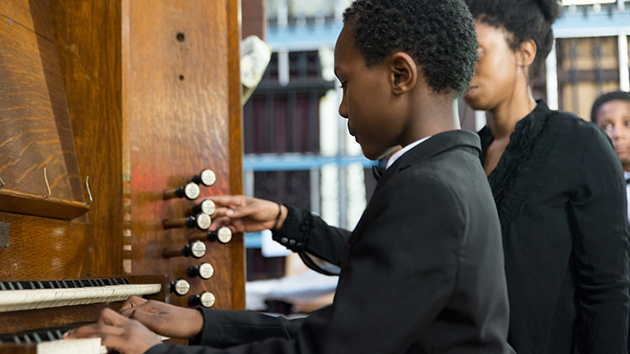 Fiona Pacquette, the Managing Director of ELSOM, expressed her surprise and excitement when the BBC Songs of Praise producers contacted them to visit their school. She said, "They got in touch with our organ builder, Martin Renshaw, to request a feature on pipe organs, including his work as a professional organ builder, and to highlight his charity, 'Pipe Up 4 Organs', dedicated to saving organs facing destruction."
In the episode aired on 24 September, Pam Rhodes, the presenter of BBC Songs of Praise, conducted interviews with Pacquette, Renshaw, and a few students. The episode included footage of Martin at work and performances by ELSOM students. Currently, eleven students are learning to play the pipe organ, an impressive number within the organ community. When asked by Pam Rhodes why so many young people were interested in playing the organ, Pacquette cited various reasons. "It's a unique instrument with numerous pipes that fascinate them," she further explained, "When I informed them about Martin's project, rescuing our pipe organ from destruction, and showed them its transformation from pieces to what it is now, I believe that was a complete game-changer for them."
One of the eleven young pipe organists, Kena, shared his fascination with the instrument. "When I first saw the organ, I was genuinely intrigued. The sound it produces is amazing; it's loud, and it doesn't require electricity. It's a very original and organic instrument."
Another young enthusiast, Yeron, explained why the pipe organ positively impacted him. "It's something not many people are aware of. It's unique, and I'm interested in it because its sound brings peace."
ELSOM is operated by members of the Seventh-day Adventist Church community at the Clapton Church in Hackney, East London, providing an opportunity for young people who wouldn't otherwise have access to music education to take affordable lessons. Pacquette emphasised, "It could lead them down various paths, such as becoming composers, teachers, or performers in their own right. It's a significant endeavour." She added, "There's a hymn called 'Ancient Words' that speaks about changing lives through the Gospel, and that's precisely what we're achieving here through our school of music."
If you live in the UK or Ireland, the 24 September episode of Songs of Praise featuring the East London School of Music can be viewed on BBC iPlayer.
---
[Photos: Laurine Francis and James Dawson] Featured image: BBC Songs of Praise presenter Pam Rhodes (centre) with Fiona Pacquette, director of ESOM (far right) and students and staff of the music school.