22 December 22, 2021 | St Albans. UK [David Neal]
In a very personal Christmas reflection, Hulbert states that he has found that joy and encouragement in Paul's letter to the Philippians.  Written from prison, Hulbert says, Paul was in his own 'lockdown'.  He was also writing to fellow Christians who were going through difficult times.  As such, it is a letter that speaks to our time.
Looking back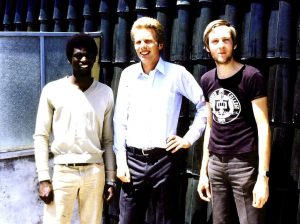 Hulbert's passion for positive Christian communication started in 1979 when he volunteered as a student missionary in Lisbon, Portugal.  Working with Adventist World Radio changed his life and deepened his faith as he prepared daily programmes in English, helped process programmes in various 'Eastern bloc' languages for broadcast back over the 'iron curtain', and handled listener correspondence.  It is also where he met his wife, Luisa.
Since then Hulbert's career has balanced ministry and media with almost forty years of service covering pastoral ministry in the North and South England Conferences, Administration, service with Adventist World Radio as director of the Global English Language Service, and, since 2006, Communication and Media director at the British Union Conference and then at the Trans-European Division.
"This is an amazing life," Hulbert states, noting how God has led in so many miraculous ways over the years.  He refuses to highlight any one part of his career as the best, but is simply grateful that he is able to make an impact for God beyond his wildest dreams.
Hulbert's final reflection demonstrates his love for placing the heart of God's word into a modern, understandable context.  During his time at the TED this is evident in video series such as Reformation Journey, Israel Reflections and Moments from Sinai.  In a further collaboration with Hope Channel Norway, he will release a series from Jordan in early 2022.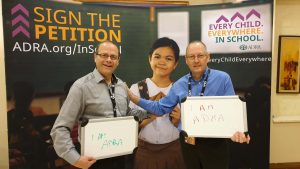 Hulbert jokingly reveals that he got paid to have fun.  This is partly because his work is his passion, whether providing training at venues across Europe, writing, or working on film projects.  He also worked closely with his counterpart in the Inter-European Division, Corrado Cozzi, covering and highlighting the European Refugee crisis and developing the now well-established GAiN Europe network.
Early retirement was not in his plans, but while full-time service for the church ends, we know that this will not be the last we will hear from Hulbert. With a hoped-for gradual recovery from Long Covid, he already has projects planned for the future.  Watch this space.
Looking forward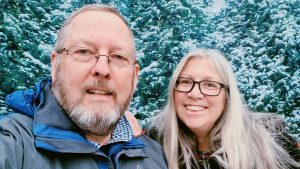 While Hulbert retires at the end of the year, the TED Communication department will continue with a fresh pace in 2022.  David Neal, former editor of the Stanborough Press is the new Communication director with Vanesa Pizzuto elected as Associate director.
SEE ALSO:
While the above video reflects more the Long Covid experience, watch a video from April 2021 when Hulbert, recently out of hospital, reflects on Covid and Peace.
_________________________________________________
tedNEWS Staff: Victor Hulbert, editor; Vanesa Pizzuto, associate editor
119 St Peter's Street, St Albans, Herts, AL1 3EY, England
E-mail: [email protected]
Website: www.ted.adventist.org
tedNEWS is an information bulletin issued by the communication department of the Seventh-day Adventist Church in the Trans-European Division. Readers are free to republish or share this article with appropriate credit including an active hyperlink to the original article.