11 August 2023| Riga, Latvia [Marcos Paseggi and tedNEWS]
More than 700 Seventh-day Adventist young people from 43 countries in Europe and beyond met in Riga, Latvia, for the 2023 Generation. Youth. Christ. (GYC) Europe Conference. The 9-13 August event included plenaries, breakout sessions, and outreach activities under the theme "A Chosen Generation."
"It is an amazing title and a challenge for all of us. Will we stand up and become that chosen generation?" Frederick, from Sweden and one of the hosts, asked as he welcomed participants to the 2023 conference. Emma, a Romanian living in Belgium and the other host for 2023 agreed. "We can only look forward to what God will do in our lives during these days together," she said.
To share Christ at a deeper level…
GYC Europe president Naison (a constant for GYC Europe members is to use only their first names) reflected on what it meant to be part of a chosen generation. "Usually when we choose something, we have a [set of] criteria of what good looks like," Naison, born in Zimbabwe and lives in England, said. He explained, "The gospel and the blood of Jesus that purchased our salvation does not only redeem us but also restores us. So, as we see Jesus working through His power in our lives, we have the joy, the privilege, and the desire to share to make Him known to others.… That's what this conference is all about: to share Christ at a deeper level than we have done before and be emboldened and encouraged to share Him with more people than before."
Event participants could access dozens of workshop sessions on various topics based on personal testimonies and ideas for ministry, while others covered theological, relationship, and health topics. If required, GYC members could also register for private counselling sessions with mental health professionals.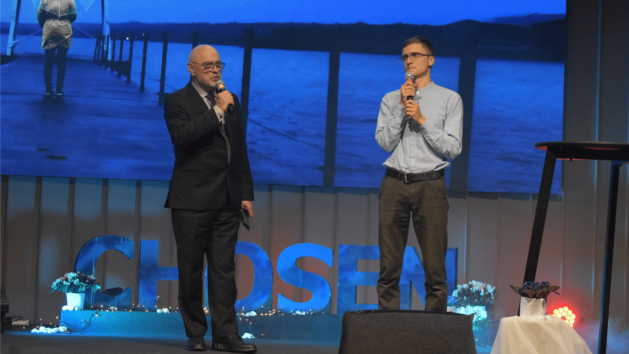 Sabbath Worship
The day began early with prayer groups and singing. Adventist Review executive editor Justin Kim coordinated a panel and small groups to lead the Sabbath School lesson, including GYC members from Austria, Belgium, and other countries. A local church choir sang in Latvian under the leadership of Mārtinš Subatovičs, pastor of the Central Riga Church. Subatovičs, the morning devotional speaker during the conference, is also trained as a choir conductor and music therapist.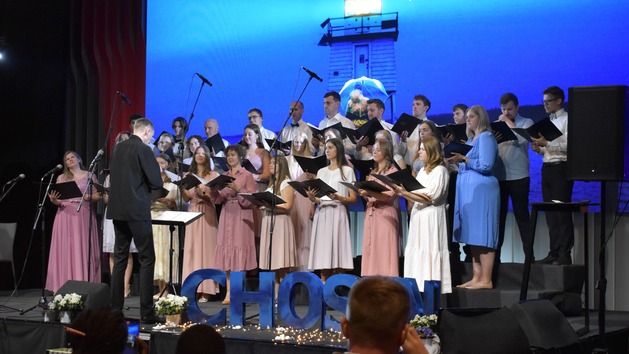 In his sermon, Pavel Goia (Associate Director of the General Conference Ministerial Association and editor of Ministry magazine) called GYC members to trust in the power of fervent prayer, be genuinely committed to God, and then give to Him by sharing Christ with others. "God called you to service," Goia told the gathered crowd, "He called you to be a light to this world." But how can one do it? He asked. "By being filled with the Spirit. Being baptised with the Holy Spirit," he answered.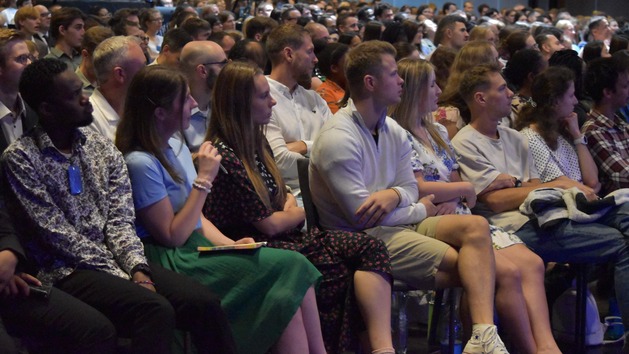 Filled with the Spirit to Serve
With the support of the Latvian Conference, GYC members also distributed copies of The Great Controversy and Steps to Christ. Three groups sang in the Riga Marketplace, a shopping mall, and outside one of the Adventist church buildings in the city. Still, other members were divided into small groups to visit designated places across Riga along streets and through parks for a prayer walk, organisers reported. "We are excited to present various engaging outreach activities designed to help us experience reaching out to the local community, foster connection, and inspire reflection," they said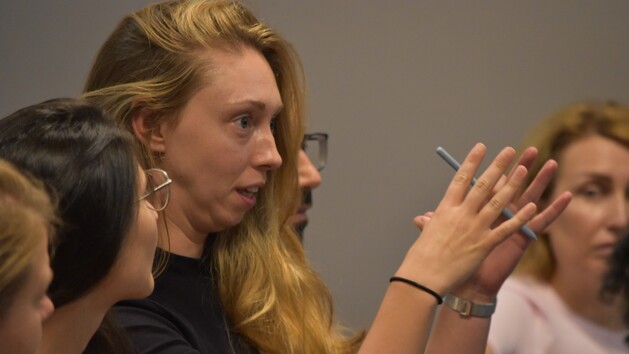 This aspect of GYC inspired Trans-European Division Field Secretary Ian Sweeney. "One of the abiding impressions I took from GYC was the number of young people present who showed their commitment and resolve to engage in mission activity. It was heartening to see so many of them wanting to do much more for Christ in making Him known in their communities."
Following outreach – there's always a story to tell.
During the evening program following the outreach, several GYC members shared some of what they called providential contacts with passersby. They included a man who was bored at home watching TV and decided to visit the market. As he was walking through the market, he heard singing and checked out what was happening. GYC members discussed biblical topics with him and invited him to a local church.
"I think God wanted me to be here," the man told them at the end as he promised to visit a local Adventist church in Riga.
For GYC members, it was a direct answer to their prayers. "To me, it was heart-melting," said one of the young women who talked to him with the help of a Latvian interpreter. "It just showed that God faithfully answered all our prayers before we went out. This was directly from this man's mouth. And for me, it was wonderful to hear and really, really encouraging."
"Today is a happy day," a young Latvian GYC member shared. "It's always a happy day when a person comes closer to God." He shared how, as he was walking, one of the books he was carrying fell to the ground, but he didn't notice it. Four women who saw the book ran after him.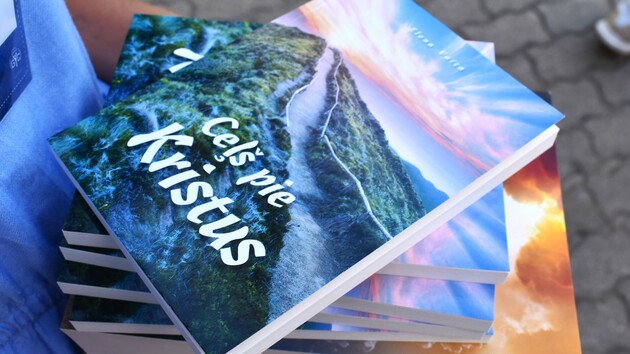 "This is your book," they told him.
"Oh, thank you!" the young man told them. "But it's your book now."
That triggered a conversation that ended up with the four women taking a copy of Steps to Christ and a copy of The Great Controversy. "And it all started because one of my books fell by accident — well, it was no accident," the young man said.
A third young person shared another providential encounter. "I was on a prayer walk, asking God to give us divine appointments," a young woman said. While walking, she met a man on a scooter and felt impressed to talk to him. She greeted him and gave him a flyer.
"Oh, this is religious," the young man told her. "I used to go to church." When she asked him which church he used to attend, he answered, "Seventh-day Adventist."
His acknowledgement triggered a conversation in which he shared a story of family heartbreak and resentment. It included a mother who forced him to go to church but then left, remarried, and is now living on another continent. Holding back tears, they discussed the importance of forgiveness.
"Is it possible to forgive?" the young man asked the GYC member.
"It is," she answered, "because God has forgiven us."
After reading the Bible, the young woman said she perceived the Holy Spirit working in the former Adventist's heart.
"He got so emotional," the young woman shared. "We prayed together, and he told me, 'This is not a coincidence.' 'No,' I told him. 'It's a divine appointment.' "
Seeing God working through them encouraged GYC members who participated in the afternoon outreach.
"I just want to thank God," a young participant said. "[He helped us] reach out to those looking for Him."
As Ian Sweeney further reflected on his experience in Riga at GYC, he commented, "I was pleasantly surprised by the age range, from those who were in their early teens to young graduate professionals who recognise that God has a greater plan for their lives beyond their education and career prospects." He continued, "Evangelism and mission are undoubtedly difficult in our European context, but I believe we can thank God for this cross-section of our youth who are passionate for God's cause."
GYC is a youth-led organisation that supports the spiritual mission of the Seventh-day Adventist Church but is an independent supporting ministry not controlled by or legally affiliated with the Church.
The original version of this report is a combination of the first two articles below by Marcos Paseggi published in the Online edition of the Adventist Review.
Read more at: https://adventistreview.org/news/if-god-has-put-something-in-your-heart-go-and-do-it/
Read more at: https://adventistreview.org/news/gyc-members-rejoice-in-singing-reflecting-and-sharing-god-in-latvia/
Read more at: https://adventistreview.org/commentary/focus-on-principles-to-make-sabbath-a-delight-presenter-says/