23 February 2023 | Nicosia, Cyprus [Helen Lockham]
Cyprus is a relatively small island situated in a strategic position between Europe in the West, the Middle East and Asia to the East. This has resulted in Cyprus being occupied by numerous foreign powers for much of its history. Having gained independence in 1960, Cypriots are a proud and hardworking people, the vast majority of those in the Republic of Cyprus (south) being Greek Orthodox.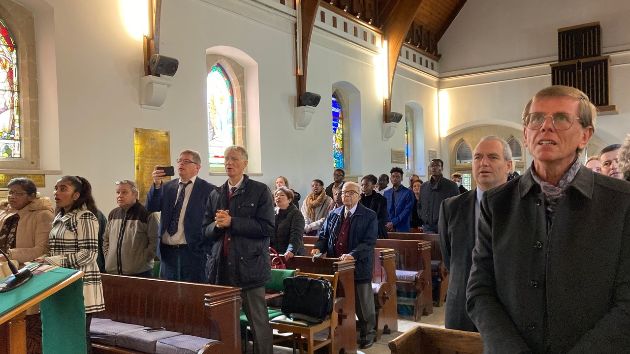 The Seventh-day Adventist Church has had at least one church group in Nicosia operating for many years, with the grandfather of our eldest member [Moses Elmadjian] having been the first Cypriot SDA member.  Three language groups meet separately to worship each week within Nicosia, but we still have no building in which to meet. On our behalf the Trans-European Division (TED) received the 13th Sabbath overflow offering in 2020 but, due to the COVID epidemic causing the closure of public worship in many countries across the globe, the amount received was not sufficient to fulfil our plan to build a purpose-built church.  We hope to be able to purchase part of a building in which at least one language group will be able to worship soon.
On Sabbath 18th February (The Saturday of Souls for Orthodox Cypriots) Adventist members across the island met in Nicosia to celebrate the birth of a new church:
Εκκλησίας Αντβεντιστών  Έβδομης Ημέρας στη Λευκωσία
Greek SDA Church in Nicosia!
Pastor Robert Csizmadia, Secretary of the TED, joined with us to inaugurate this new church. He shared a message with us about taking actions which can have risks attached in order to follow God's will and enter the 'Promised Land'.  Pastor Kim Papaioannou, the pastor of the Greek-speaking church, ensured that all members were aware of the solemn charge of commitment at the beginning of their journey as a fully-fledged church.  19 members signed to commit to serving the church faithfully as they begin this new stage in their relationship with each other, the SDA Cyprus Region, and with our amazing God.  The Sabbath day was one of praise, joy and thankfulness for His leading in the lives of many people to enable this first Greek-speaking SDA church in Cyprus (where the first language is Greek).
This is 'one small step for man, but a giant leap' for our potential to reach out to the majority population in Nicosia, Cyprus.