27 October 2022 | Polis Chrysochous, Cyprus [Kim Papaioannou]
Cyprus has a long Christian tradition. It was the first country in Europe visited by Paul and Barnabas and has maintained a Christian outlook through the centuries. The Adventist community numbers just over 100 baptised members and is a vibrant and welcoming community.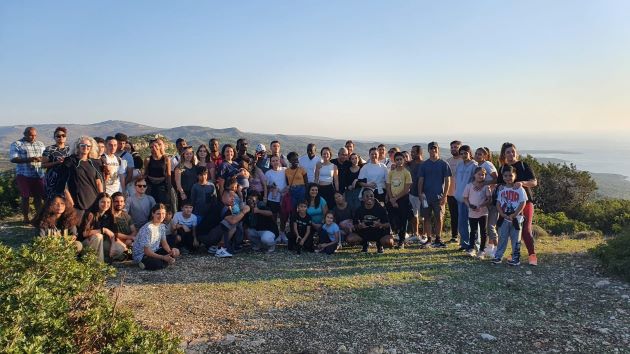 October 27-30 was a special time for Cyprus Mission, as 96 persons, Adventists, and friends of the church, mostly from Cyprus but also with a most welcome representation from Greece, gathered in the small coastal town of Polis Chrysochous, for the annual youth and family weekend.
It was a blessed weekend! The keynote speaker, pastor Dejan Stojković, Trans-European Division (TED) Youth director, inspired us with his engaging story-telling style. He challenged everyone to be not just fans of Jesus but committed followers.
With music an integral part of worship in Bible times, it could be no different during this special weekend. Most Cyprus congregations are small which makes congregational singing a challenge – but not this weekend. Having a larger number of people praising God in unison, and led by a talented worship team, we were offered a worship experience to savour.
Alongside the spiritual nurture were opportunities for fellowship and wholesome enjoyment. On Friday afternoon we joined a cruise to the famous Blue Lagoon where we had the opportunity to swim in the cool but refreshing October-sea. At 61, pastor Branislav Mirilov, president of the Cyprus Mission, led all in diving from the top deck of the boat!
It was during Sabbath afternoon that we experienced God's nature from a different angle. We climbed to the Smigies fire lookout Station which offers stunning vistas of the surrounding countryside. God's nature, even after 6,000 years of sin and corruption, is amazing in beauty and tranquillity.
In between worship services, meals, and other activities, participants had the opportunity to get to know each other and talk about God, life, and friendship. We are grateful that every year, for several friends of Adventist families who join with us and participate in the activities. God works in mysterious ways and sometimes we impact people we never expect to. One such moment was during our retreat this year.
We have been using the same venue for many years. The proprietors, Katina and her husband, have been very welcoming and often listen in on the songs and sermons. Katina's brother who lives In Nicosia, on the other side of the island, was present on a couple of past events helping his sister. A quiet retired man, he would say little but observe a lot. This year, he was there when we arrived, but could not stay on. He approached one of our pastors and asked for details of our church location and meeting times in Nicosia. It seems that God has been speaking to him through the weekends he'd been observing. It is our prayer that the living witness of a group of believers interacting in love and harmony, marks the beginning of a new life for this kind gentleman.
---
[Photos: Dejan Stojković and Kim Papaioannou / CC BY 4.0]