27 April 2022 | Tirana, Albania [Andreas Mazza with tedNEWS]
Saturday April 23 was a big day of celebration for the Seventh-day Adventist Church in Albania as hundreds gathered in Tirana to praise God for the 30th anniversary of the church. Leaders from the Albanian Mission and the Adriatic Union were present, and many international guests joined digitally as well.
Among the prominent guest speakers was Audrey Andersson, executive secretary of the Trans-European Division (TED), who thanked the church in Albania for its commitment to mission and delivered the best wishes of Raafat Kamal, TED president. "We'll soon celebrate in heaven, as Jesus is coming back soon," Andersson remarked. Officers of the Adriatic Union Conference (AUC) also took time to thank church members for their commitment and resilience.
Pastor Delmar Reis, Albanian Mission president and event organiser, shared a glimpse into the future of the Albanian church pointing out that much will be done in the fields of communication and mission. "We are here, not only to celebrate the past, but also to look into the future!", said Reis.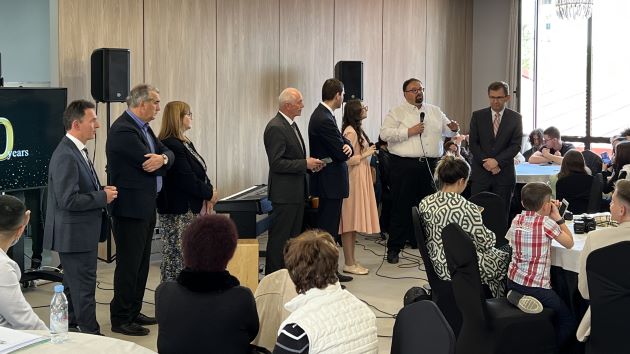 Touching testimonies, inspiring songs, and heartfelt prayers were shared throughout the programme. Former Albanian President and Prime Minister Sali Berisha sent a congratulatory video. In his message, Berisha expressed his esteem for the Adventist Church, recalling its great work in supporting the Albanian people. "Thousands of Albanians have been helped by the Adventist Church and by the Adventist Development and Relief Agency (ADRA)". Former president Berisha, who saw the birth of the Adventist Church in Albania during his tenure, said that "Adventists are like the Good Samaritan in the Gospel," always ready to rescue and help.
Finally, Berisha recalled how former U.S. President Jimmy Carter, a good friend of his, repeatedly asked him to help and support the mission of Adventists in Albania. "Jimmy Carter visited Albania two times in the 90s. On those occasions, but also through letters that I've keep, he asked me to [keep] an eye out for the Adventists," Berisha said.
Sali Berisha and Religious Liberty
Sali Berisha served as the second president of Albania from 1992 to 1997 and as Prime Minister from 2005 to 2013. In 2012, Berisha was commended by the Religious Liberty Association for the outstanding and exemplary level of religious liberty and the peaceful coexistence among religions in Albania. The same year, the then president of the TED, Bertil Wiklander, presented Berisha a plaque in recognition of his unique contribution to religious liberty and the promotion of humanitarian values for the Albanian people.
History of the Adventist Church in Albania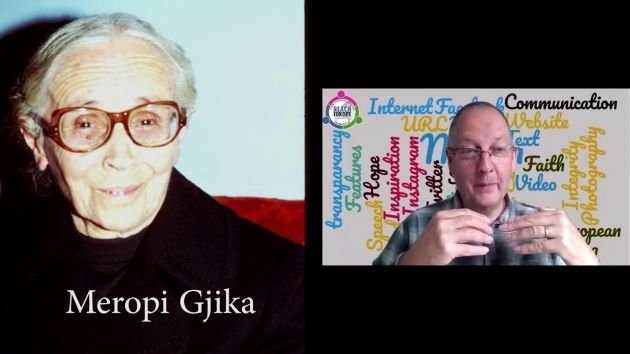 Adventism in Albania has much older roots, reaching as far as a hundred years ago. Albania's Adventist martyr of faith, Daniel Lewis, a pharmacist from Boston, returned to his native Albania in the 1930s to share the Advent message in the Land of Eagles. Following World War II and the instalment of a repressive communist regime, Daniel Lewis was later imprisoned and tortured, and he died in prison because of his Scripture-based religious beliefs, including keeping the Sabbath day holy. Meropi Gjika, after studying the Bible with Daniel Lewis in the 1940s, accepted the Seventh-day Adventist message of Christian hope. When Christian churches were banished from the country by the post-World War II communist government, Gjika endured more than four decades of religious repression. Despite having no contact with a larger Adventist community, she continued, for 46 years, to put aside tithe and offerings from her small income.  In 2001, Ray Dabrowski, communication director at the time for the Adventist Church worldwide, called Gjika a "symbol of faith, hope, love, and obedience."
For more information about the church in Albania and ADRA Albania, please visit www.adventist.al