22 December 2021 | Türi, Estonia [Averonika Beekmann]
Pastor Andres Ploompuu, president of the Seventh-day Adventist Church in Estonia, was among religious leaders who met with Alar Karis, the president of Estonia.
The meeting, on Monday, 20 December, lasted for an hour. Among a variety of topics, the mental health of youth and children was discussed.  Church leaders shared an overview with the president about the activities and initiatives that different denominations have taken in this area. This included a review of the Adventist Church's activities. Ploompuu stated, "I emphasised that often the role of the churches in maintaining a good mental health balance is overlooked. We always try to engage young people in different activities to help and boost their mental health."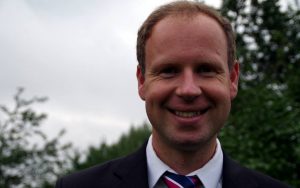 Ploompuu explained that Youth and Children's ministries are vital for the Adventist Church. "We have departmental leaders who work daily in these departments and we also have a well-functioning Pathfinders movement," he stated. "I told the participants that we are looking for ways to host the Trans-European Pathfinder Camporee in 2023 in Estonia where thousands of participants would come from all over Europe."
This kind of presidential meeting was the second one for Ploompuu. "We also met up with our previous president together with the members of the Church Council. It was a very pleasant encounter, the hour that we could spend together just flew past."
The president inquired about the relationships between different denominations. "It was nice to hear all of the heads of different churches proclaim that we have good relationships while we all have our own mission. This kind of Council of Churches which we have in Estonia is not seen in many other places in the world," added Ploompuu. "It was a day of building bridges. The president was exceedingly friendly and it was obvious that he really was interested in hearing about the role of churches in our society."
The Seventh-day Adventist Church has three representatives in the Estonian Council of Churches: Andres Ploompuu, Ivo Käsk, and Jaanus-Janari Kogerman. In addition to the main Council, there are also a number of sub-councils where the Adventist Church is also represented.
This article was first published on the Estonian Church website.
_______________________________
tedNEWS Staff: Victor Hulbert, editor; Vanesa Pizzuto, associate editor
119 St Peter's Street, St Albans, Herts, AL1 3EY, England
E-mail: [email protected]
Website: www.ted.adventist.org
tedNEWS is an information bulletin issued by the communication department of the Seventh-day Adventist Church in the Trans-European Division. Readers are free to republish or share this article with appropriate credit including an active hyperlink to the original article.