1 June 2023 | Tirana, Albania [ Sarah Dornelis and Natiéli Schäffer]
"What are our expectations when young people come together for a noble cause? When we believe in the influence and power of today's generation, lives can be transformed," said Pastor Delmar Reis, President of the Albanian Mission (AM).
Recently Albanian youth had the opportunity participate in ministry through the "Youth Alive" programme, a pilot initiative from the General Conference that focuses on young people and adolescents reaching out to others through actions that prioritize all aspects of health and wellbeing.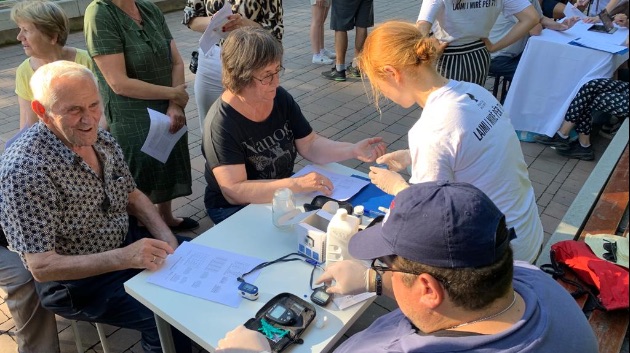 During April and May 2023, Albanian youth ran "Health Challenge", inviting members of the Tirana and Korçe community to understand and use the eight natural remedies (pure air, sunlight, abstemiousness, rest, exercise, proper diet, the use of water, trust in divine power). As part of this initiative, citizens were encouraged to complete a brief survey about their quality of life, health, and habits. Survey respondents who were willing to take part in the challenge received a magazine recently published in the Albanian language, covering topics on health and wellbeing.
Klodjana Kolec, a 17-year-old participant shared her excitement, "When we first started, I faced a lot of rejections, but I didn't let it discourage me. With the support of my friends and God's help, we managed to find people who were interested and willing to challenge themselves." Additionally, she shared how the experience "provided valuable insights into what constitutes good health."
The "Health Challenge" did not take place in a vacuum but is a part of an ongoing effort to reach Albanians for Christ. "Throughout the years, various outreach activities have been carried out to foster relationships, build trust, and support the community," Reis reported. Activities included lectures on physical and mental well-being, healthy cooking classes, health fairs, outdoor movies, and regular meetings that facilitate honest conversations on topics such as smoking, drugs, and sexuality.
Fatjon File, now a project leader in Korçe, is a living testimony of the impact of these initiatives. Initially he only intended to attend the meetings and volunteer for a good cause. Over time, however, he felt a deeper calling, began to study the Bible and eventually got baptised in July 2019. Since then, he has become a church leader himself. "My life has completely changed since I started participating in the project," said File. "I also feel that the atmosphere and energy of the members have changed," he added, emphasising his gratitude for the opportunity to be a Youth Alive leader. "It's a dream come true, a tremendous avenue for personal growth," File concluded.
"Ministries like Youth Alive help adolescents and youth have better health, resulting in an increased quality of life," shared pastor Adriel Henke, Youth Alive Programme director in Korçe. "This also provides opportunities for them to develop as leaders and make a difference in the lives of others".
"God has an important calling for young people and involving them in community projects is part of God's mission to reach people for His kingdom," Reis reflected. "When I read the gospel, I see that healing was essential to the ministry of Jesus. When we take care of people's physical needs, we also have an opportunity to address their spiritual needs. This is a privilege we cannot ignore," Reis concluded.
---
[Potos: courtesy of the Albanian Mission]