16 November 2022 | Warszawa, Poland [ADRA Poland]
Since February, 6,114,787 refugees—mostly women and children escaping the war—have crossed the Polish-Ukrainian border. Many of them have lost loved ones to war, and their cities have been destroyed. Additionally, residents of numerous Ukrainian cities were forced to return to the bunkers as a result of the intensified Russian attacks on civilian infrastructure that destroyed many homes.
Ukrainians are looking to the winter season with terror. Many houses are in ruins and there is no electricity in the areas that saw combat, meaning they won't be able to heat their houses. The wellbeing of civilians continues to be seriously threatened by military action.
Back in September, Deputy Minister Pawel Szefernaker, the Government Plenipotentiary for war refugees from Ukraine, informed that 500,000 refugees could be moving from the east to the west of Ukraine, with some of them would be heading to Poland. Marta Jaroszewicz, a specialist working with the Centre for Migration Research at the University of Warsaw, concurred with the deputy minister's remarks. The second wave of migration, according to the expert, will collide with the winter season because this year Ukraine's energy prices will be record-high. Ukraine will not be able to provide social assistance to millions of internally displaced people, some of whom live in cities where the heating infrastructure was destroyed.
The Adventist Development and Relief Agency (ADRA) in Poland is helping victims of the war on Ukraine and will assist throughout winter. "Although it is extremely important for us to keep the shelters functioning, we are forced to limit their numbers together with the numbers of beds, due to the lack of financial resources," ADRA leaders commented.
How can you help?
ADRA Poland shelters are a home to many who survived the war, facing the death of their relatives and friends. "We are seriously concerned about the scenario when we might be forced to reduce or refuse to provide humanitarian aid. Please help us protect the most vulnerable ones by donating to your local ADRA office," leaders commented.
Eugenii's Story
On February 24th, at 4:00 am, Eugenni was notified about the outbreak of the war by a soldier of the Ukrainian army. Without taking a second to think about it, Eugenii urged his wife Alodna to pack the essentials, and, facing his fears, he drove to a petrol station to fill up the tank. However, their initial attempt to exit the city was unsuccessful.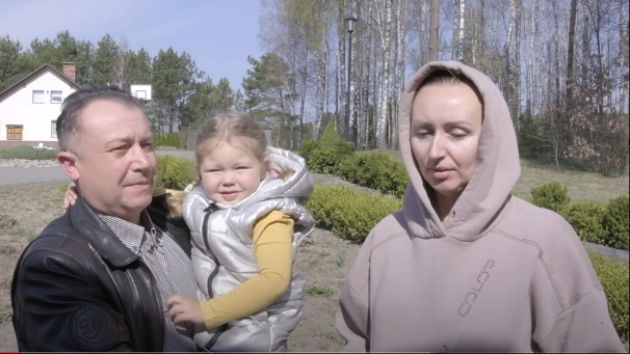 On March 6th, they made another attempt and this time they were successful. They put their lives at risk and began their arduous trip through the nearby villages in the hope of eventually finding a secure haven. After three days of fleeing the bombings, they finally managed to reach Transcarpathia (western Ukraine), where they spent a month living with close friends.
The war in the east and south of Ukraine continued. Their hope of the war coming to a quick end faded away day by day. One day, an acquaintance in charge of Chernihiv's humanitarian transports asked Eugenii for help with one of the transports. Unfortunately, on their way home, they were stopped at a checkpoint with soldiers who inspected their vehicle, their documents, and phones. Something raised the suspicions of the inspectors and Eugenii, together with his friends were taken into custody and brutally interrogated for several hours.
After many rounds of interrogation, the soldiers suddenly led the entire group out onto the street and placed them in front of a firing squad. Kneeling for a long time, the prisoners did not realise that there was no one around them. Eventually, one of the men managed to untie his hands and unfold the blindfold. After a few minutes, they were all free. In fear of their own lives, due to enemy's troops approaching, the soldiers fled and failed to implement their murderous plan.Through villages, forests, and fields, Eugenii and his friends reached the border with Belarus. There, good people fed them and bought them tickets to Poland. On 1 April, they safely arrived in Warsaw and found shelter in a refugee camp. On 12 April, the family was placed in an ADRA shelter where they remain to this day.
Aldona and Eugenii express their extreme gratitude to all who kept helping them unconditionally, and they pray that the war will not follow them.