10 February 2022 | Brussels, Belgium [Corinna Wagner ADRA Europe with tedNEWS)
The response to the Turkish and Syrian earthquake Monday 6 February increases daily, as the need for help increases.  In this dispatch received by tedNEWS 9 February, Corinna Wagner (ADRA Europe's Fundraising Coordinator) interviews ADRA Hungary Country Director Zoltán Sitkei, a part of the Hungarian Government's Search and Rescue team deployed to Turkey.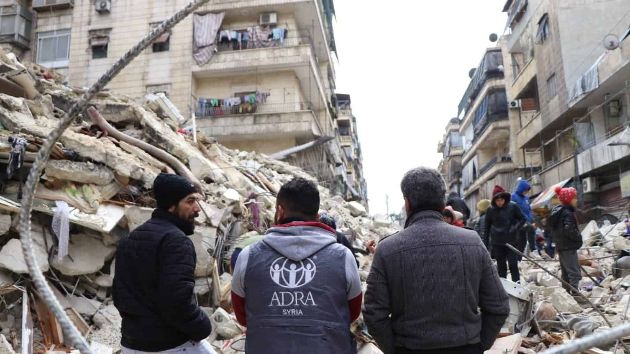 As we all know, ADRA doesn't usually get involved in search and rescue projects (saving people from under collapsed buildings after an earthquake). Because of this, we are all the more pleased that ADRA Hungary is represented in the Hungarian Government's Search and Rescue (SAR) team deployed to Türkiye.* ADRA Hungary Country Director, Zoltán Sitkei is a paramedic and internationally accredited search and rescue technician. Because of this unique education the Government has recognised his skills.
Zoltán, along with three colleagues from partner NGOs, has been deployed as part of the contingent with 19 persons and 7 rescue dogs. He arrived 0n the 7th of February in Türkiye. This morning we had the chance to connect with him by phone. We are happy to share the interview with you! Let us keep Zoltan and his team in our thoughts and prayers during this very difficult operation.
Corinna Wagner
Hello Zoltán, thank you very much for taking the time to talk with us. How are you?"
Zoltán Sitkei
Okay, I am fine. A bit tired because we had a very short sleep, but we are so effective. Of course, the adrenaline is high, therefore we sleep less than in normal circumstances.
CW
Where are you now?
ZS
We are with the rescue team in Hatay area (Türkiye), where we are working in the ruins on daily basis. We are meeting very unusual circumstances. In this area nearly every house, is a ruin or damaged. People need shelters. They are sleeping in cars and in local services. I think NGOs and Governmental organisations will set up tents for them. We have seen distribution of food. The situation regarding food and shelter is very critical.
CW
What exactly is your task during the day?
ZS
First, we must find and rescue people, survivors. We are in contact with the Rescue Hub but basically, we are working with the local police. They are ordering us to different places where we go to rescue people. We have a lot of possibilities. In the last 36 hours we rescued six people including two children. Unfortunately, after being rescued, we lost a young boy because of his injuries. But he was still alive when we took him out of the ruins. We are quite an effective team, but sometimes we are facing very difficult situations. It took us 14 hours to save a lady, found by our team. We worked last night from yesterday noon to 2 am this morning. It was very difficult to get her out. We worked with the Turkish fire brigade. But finally, we found a solution and got her out.
CW
Do you use machinery, technical equipment or shovels or how do you do that?
ZS
We have special tools for the work. We do that. But in these times, we are using any kind of tools: hand tools, electric tools, …
CW
What are the most urgent needs in the area where you are?
ZS
Food and water as we can see, and the government has organised distributions but there are very long queues. In this area everybody needs something.
CW
The shops are not getting their stock now, right?
ZS
Yes, yes.
CW
Is this a rural area in Türkiye?
ZS
We are near the City of Hatay. About 1.5 million live in Hatay and about 500,000 local people lost their homes.
CW
How long will you be there?
ZS
I think just two more days. Because by the time the likeliness of the survival is decreasing
CW
We are praying for you and for the whole people there, wishing you strength to go on with the amazing work you are doing there. Thank you for sharing!
---
* Türkiye – since 2021 the country began a push for the wider world to adopt the same spelling and pronunciation.
[Photos: courtesy of ADRA]