22 February 2023 | Brussels, Belgium [Corinna Wagner, ADRA Europe and tedNEWS]
One year after the start of the war in Ukraine, the Adventist Development and Relief Agency (ADRA) in Europe remains commited to assisting those affected and calls for peace.
"In the past year, ADRA transported more than 55,000 people to safety (in Ukraine alone). We shared 16,5 million loaves of bread, 412,000 liners of water, and handed 2,3 million food kits. We sheltered 66,000 people, and more than 18 million euros were allocated for various interventions, reaching more than 7 million beneficiaries in Ukraine," ADRA Europe leaders commented.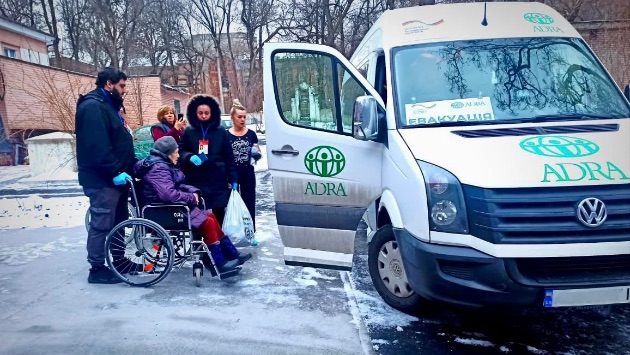 Activities coordinated by ADRA, both in Ukraine and neighbouring countries, include humanitarian aid transports, distribution of food and non-food items, evacuations, water supply, accommodation, basic shelter reconstruction, and emergency winterisation assistance. Psychosocial and mental health support is also provided, as well as basic medical check-ups for refugees and internally displaced people, and legal advice.
"As humanitarian workers, we see the daily suffering of children, women, men, elderly and young people affected by the war. We see  destruction, violence, death. And this trauma will carry on as long as war goes on. After one year of such an unprecedented tragedy in 21st century Europe, it is time to bring hope and peace back to the people and land on both sides. Therefore, I appeal to all decision-makers to open the way from darkness to light. My cordial thanks and appreciation go to all who contribute to mitigating suffering and bring hope to the depressed. ADRA will persist in serving and fulfilling its mission as stated in the ADRA motto: justice, compassion, and love," said Thomas Petracek, ADRA Europe's Head of Programs & Emergency Response.
"Millions of people in Ukraine have seen their lives affected by the armed conflict that started one year ago. The suffering cannot stop if the war continues. The only way for lives to be preserved and for people to live with dignity is to achieve peace. We cannot continue this way, as more lives will be lost and future generations' future compromised," added João Martins, ADRA Europe's Executive Director.
At the same time, ADRA Europe calls upon the global community to ensure that core humanitarian principles are respected in Ukraine and the neighbouring countries of Poland, Slovakia, Romania, Hungary, and Moldova, which now host millions of refugees. "ADRA has and will continue to respond to the needs of all people affected by the war. It will continue to support them through financial and material resources, with the involvement of professionals and volunteers in daily activities," ADRA leaders concluded.
---
Please support by donating to your local ADRA office. [Photos ADRA Europe]