25 July 2022 | Warsaw, Poland [Urszula Hajn and Katarzyna Matysik with tedNEWS]
More than 4.16 million Ukrainian refugees have crossed the Polish-Ukrainian border since the beginning of the war. As the fighting continues, their needs multiply, calling for "more comprehensive assistance," report the leaders of the Adventist Development and Relief Agency – Poland (ADRA). To support refugees throughout the country, ADRA Poland is running 48 aid-points and will open three Integration Centres, to provide assistance with legal, financial, emotional and language needs.
"Initially, people were completely in shock. It was not uncommon for them to leave [Ukraine] with only one bag and the set of clothes they were wearing," said Karol Templin, manager of Comprehensive Support for Ukrainian Refugees (CSUR), working in partnership with ADRA Poland. "They had no time to plan what to do next… Our priority was to provide accommodation and essential items." In addition, ADRA Poland has also organised and provided refugee transport for 1,167 people to date. "Last week 41 residents from the frontline Ukranian city of Mykolayiv were successfully evacuated, and travelled 1,000 km, arriving safely in  Rzeszow and Warsaw, in Poland," leaders shared.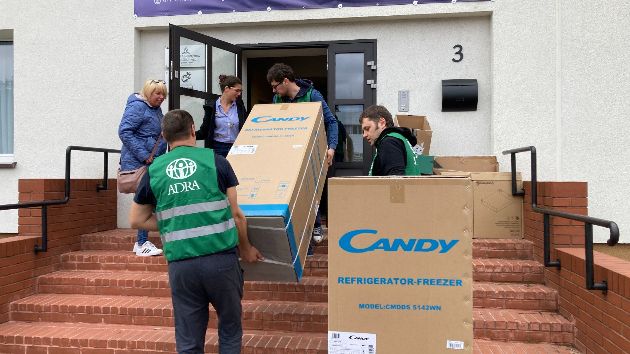 As the conflict continues, refugees are interested in obtaining permanent residency in Poland. "They have plans to find permanent, legal work and to stay in our country for six months, a year, or longer. Their children are already attending our schools," said Elżbieta Krzynówek, ADRA Poland coordinator. They no longer need temporary shelter accommodation, but a more permanent solution. "Refugees are establishing relationships with each other and with their Polish neighbours, becoming part of the community. They are finding jobs and planning to stay longer, especially if they come from areas devastated by the war and have nothing to go back to," shared Renata Karolewska, fellow ADRA Poland coordinator.
"Satisfying basic needs opens room to address other needs, like adapting to the new language and culture of a living in a foreign country," explains Roksana Korulczyk, one of four Ukrainian psychotherapists working in partnership with ADRA Poland. "Each person has been individually affected by the tragedy of war… through the death of a loved one, separation, loss of a home or loss of work", Korulczyk explained. Through a help line and chat rooms, the psychotherapist team is helping refugees to heal, to find a "new normal" and to adapt to a different culture. They are mostly contacted by refugees struggling "with a sense of guilt, though they don't know where it is coming from" or trying to "regain a sense of safety."
"July will be a rough month for Ukrainian citizens who fled the war and came to Poland," Templin said. As the Polish government ceases to reimburse hosting families, refugees will face a double whammy: rising rental prices and fewer options due to the holiday season. "Women with children in their care," continued Templin, "will need support to find their way in the Polish labour market." To support such families, ADRA Poland has launched a Cash Assistance Project. "ADRA coordinators are currently traveling all over Poland collecting applications from people who need financial support," leaders reported. Beneficiaries of the programme will receive 710 Polish złoty (128 British pounds) for the first person in the family, and 610 (110 British pounds) for other family members, for a minimum of three months.
ADRA Poland is also setting up Integration Centres for foreigners to provide comprehensive assistance for refugees. The centres will provide expert advice on immigration and visas, language skills and mental wellbeing. "Many refugees will stay with us longer," said Templin. "This is why we need comprehensive and specialised support, to help them heal from the wounds of war, to learn a new language, to find jobs and successfully integrate into Polish society." The first centres will open in Warsaw, Lublin and Katowice; at a later stage ADRA will open further centres in the rest of the country.