17 October 2016 | St Albans, England [Victor Hulbert]
Take a blank sheet of paper. Sit quietly for a few moments and jot down five ways that your church could best tell its story.
Finished? Pause again. Think big. Think very big! Think Hollywood big!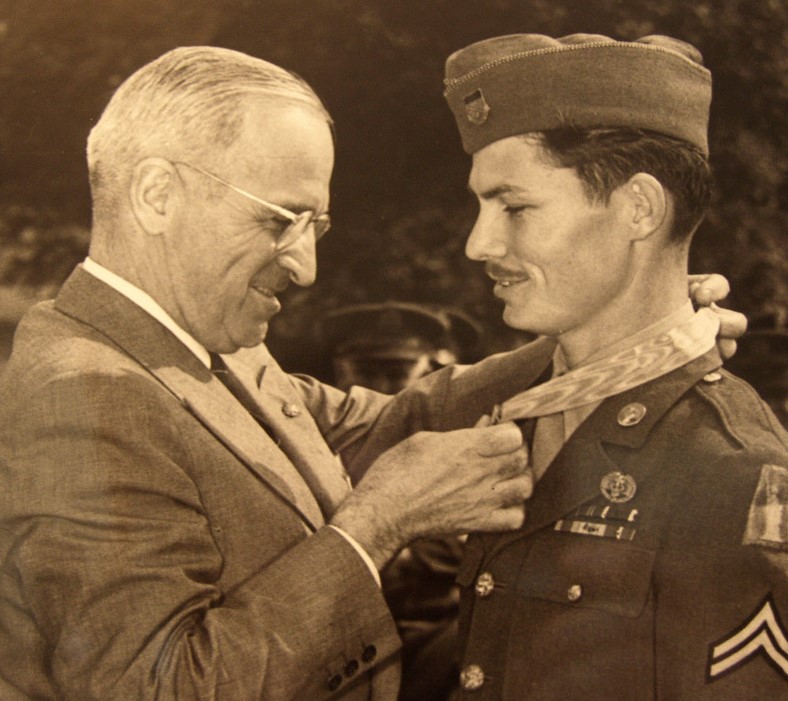 President Harry Truman presenting Desmond Doss with the Medal of Honour on Oct. 12, 1945. (Desmond Doss Council)Could one of the ideas you just jotted down be for the church to spend US$40 million to tell the story of one of its 'heroes'? Could it be to make a film so compelling that it will become a significant talking point in the media, around the water-cooler at work and, undoubtedly, in the school playground?
Ridiculous? Maybe, but what if somebody has already spent the $40 million and done it for us?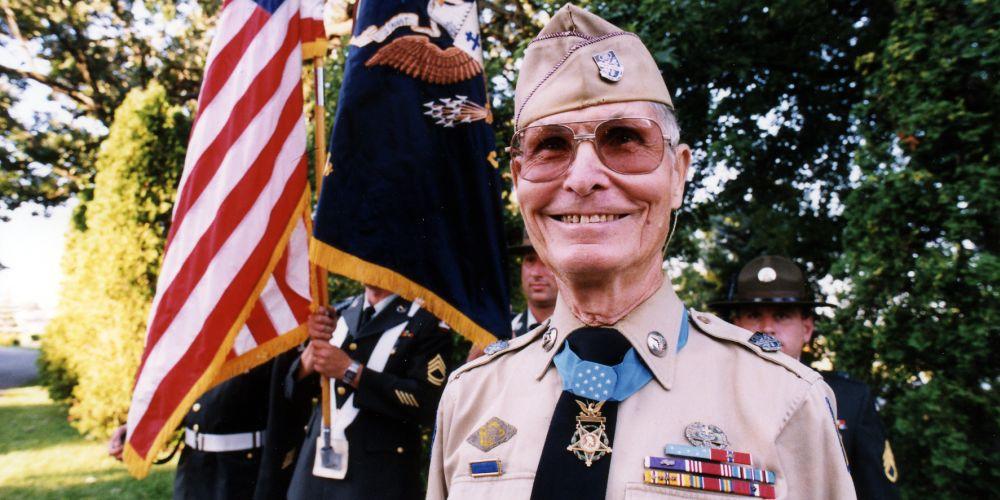 Desmond Doss with his U.S. Congressional Medal of Honour. (Desmond Doss Council)This November the name 'Seventh-day Adventist' will be splashed across cinema screens world-wide in a film that recently got a ten-minute standing ovation at the Venice film festival. Pundits predict Oscar nominations and multiple awards.
Are you excited now? Don't you want to tell your friends? Don't you want to sing it from the rooftops? You should!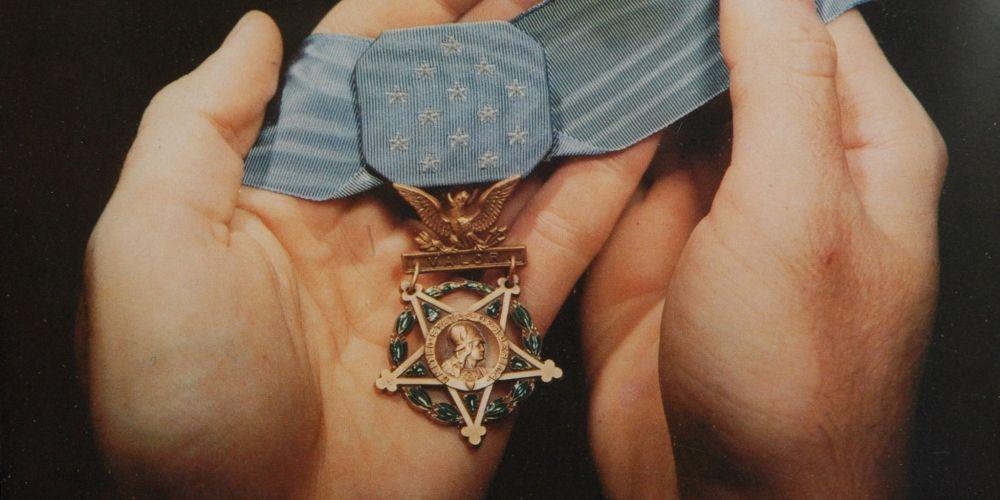 Desmond Doss' Congressional Medal of Honour, the highest U.S. military honour. (Desmond Doss Council)'Hacksaw Ridge', a Mel Gibson film about Desmond Doss, the man Adventists know as WWII's unlikeliest hero, is about to hit our screens. You may not like the violence – after all, portraying a bloody battle scene where Doss saves 75 lives is not going to look very pretty. You may not like cinema. That is fine. Doss didn't like it either, but he gave permission for his life story to be turned into a film, as he realised that his humble journey could help others discover faith.
'Hacksaw Ridge' is the biggest PR opportunity the church has ever had. Mel Gibson, a man from a radically different faith background was convicted that this is a story he had to tell. It is a story of moral courage, faith, pacifism and Sabbath keeping. Even the evangelical world is enthused with the Sabbath keeping part of the film – comparing it favourably with the classic 1924 story of Olympian Eric Liddell in Chariots of Fire.
So now to test number 2.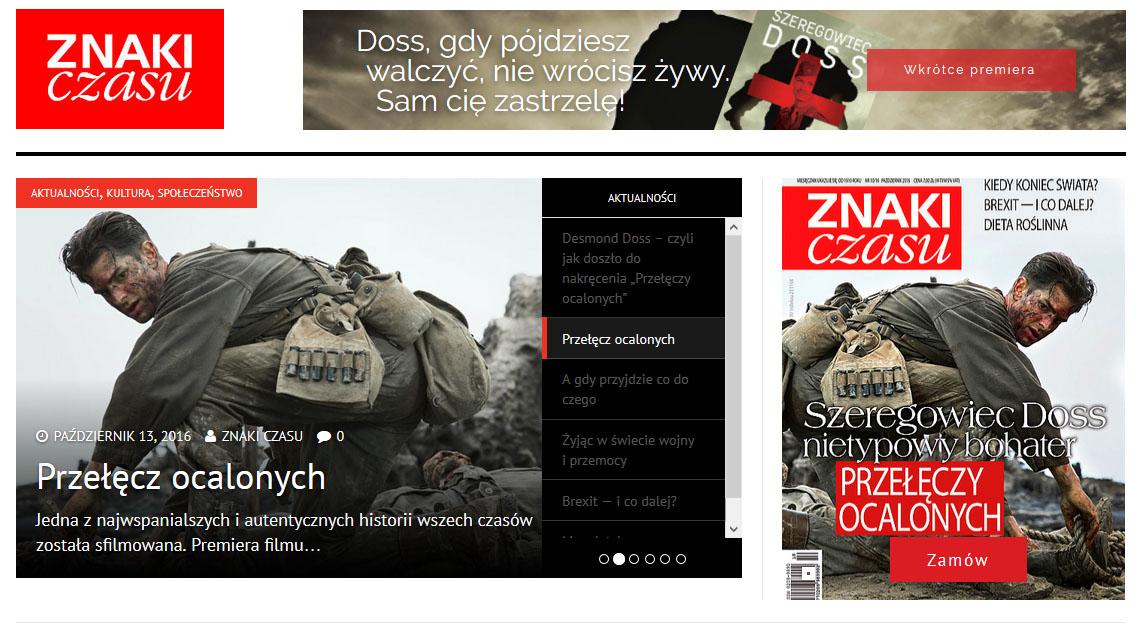 Polish magazine "Signs of the Times" featuring Desmond Doss' storyTurn over your sheet of paper. Take a few minutes to think how you can share more of the faith that you hold dear and that Desmond Doss portrayed so well in "Hacksaw Ridge".
Got some ideas?
Ok, here are a few to help you.
1. Count how many non-Adventist friends, colleagues or neighbours you have. Order and give each one the special 'Hacksaw Ridge' edition of FOCUS magazine (in the UK) or the special magazines being produced in your Union. Spread them like the leaves of autumn. You may find people especially receptive after watching the film.
2. Use your social media to share positive stories about 'Hacksaw Ridge', linking people to Adventist resources that tell more of the story.
3. Let you friends know that Desmond Doss is not unique. For instance, British Adventists have courageous stories from WWI. Point them to www.adventist.uk/ww1. Arrange a showing in your church or small group, of the UK film, "A Matter of Conscience". Follow it with a discussion on moral values, pacifism and faith.
4. Follow the lead of youth in Poland and arrange a Desmond Doss fun run. Don't just run, do it with a load on your back representing the 75+ lives he saved. Donate the funds raised to help refugees from Syria, disaster victims in Haiti, or a charity of your choice. (The Polish have a pile of other ideas as well. Why not run a memes contest, make a vblog, or run a hashtag #belikedoss.)
5. Keep an eye on newspaper reports or blog entries. Post a positive comment sharing that you have been inspired by the faith of Desmond Doss.
Got any more ideas? Let us know and we may share them on our TED Facebook page. [tedNEWS]
See Also:
Adventist Review: Would Desmond Doss be happy with Hacksaw Ridge.
Deadline Hollywood: Mel Gibson interviewed during his Venice Film Festival comeback.
Adventist Review: 'Hacksaw Ridge' talking points: A guide for church members.
---
tedNEWS Staff: Victor Hulbert, director; Esti Pujic, editor
119 St Peter's Street, St Albans, Herts, AL1 3EY, England
E-mail: This email address is being protected from spambots. You need JavaScript enabled to view it.
Website: www.ted.adventist.org
tedNEWS is an information bulletin issued by the communication department of the Seventh-day Adventist Church in the Trans-European Division.
You are free to re-print any portion of the bulletin without need for special permission. However, we kindly request that you identify tedNEWS whenever you publish these materials.