10 October 2016 | Silver Springs, USA [tedNEWS]
How do you pack the essence of mission into a five-minute time slot? That was the challenge given to Victor Hulbert, Trans-European Communication director when asked to prepare a presentation on Mission to the Cities for Friday night vespers at the Annual Council meetings of the Seventh-day Adventist World Church. His answer, the only one he knew: "Tell stories".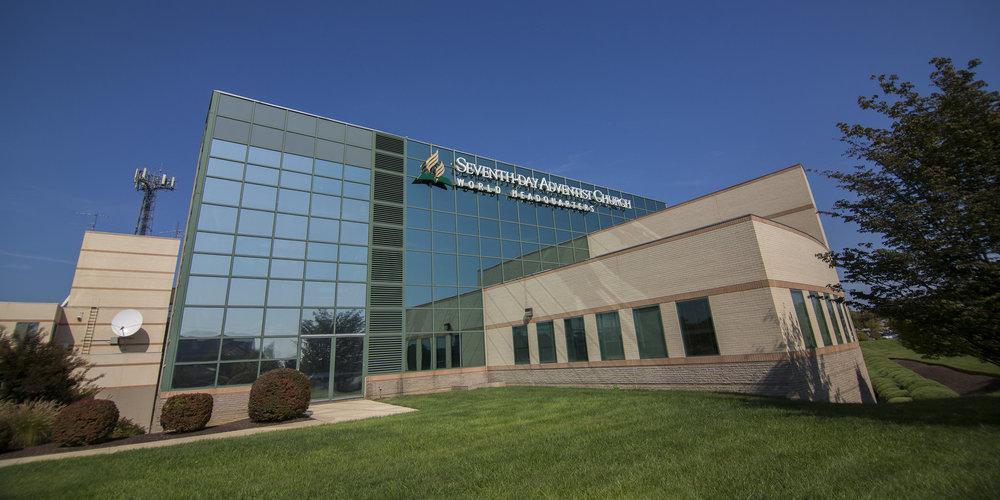 The Seventh-day Adventist Church world headquarters in Silver Spring, Maryland. (Brandan Roberts/ANN)Following days of intense meetings, several hundred leaders from across the world of Adventism packed the auditorium at World Church headquarters in Silver springs, Maryland, USA, to see in the Sabbath with a time of worship including mission reports from around the world. Friday evening, 7 October saw the stage and screen become a portal to an Adventist world of member-involved evangelism.
That screen came alive during the TED presentation as the story jumped from a large evangelistic initiative in London, England, to a small bookshop breaking through Orthodox prejudice in Belgrade, Serbia, to Pathfinders as one of the best forms of outreach in Scandinavia, covering health outreach, youth initiatives and church plants in the Netherlands.
The video closed with the personal story of Valdis Zelčs, an engineer who changed career path to open a health food store in Riga, Latvia – using the principle of business evangelism. With an appeal calling for prayer not just for Valdis, but for the many thousands of church members across the TED who are committed, using their particular skills, to share their faith across the Big Cities and rural communities of Europe.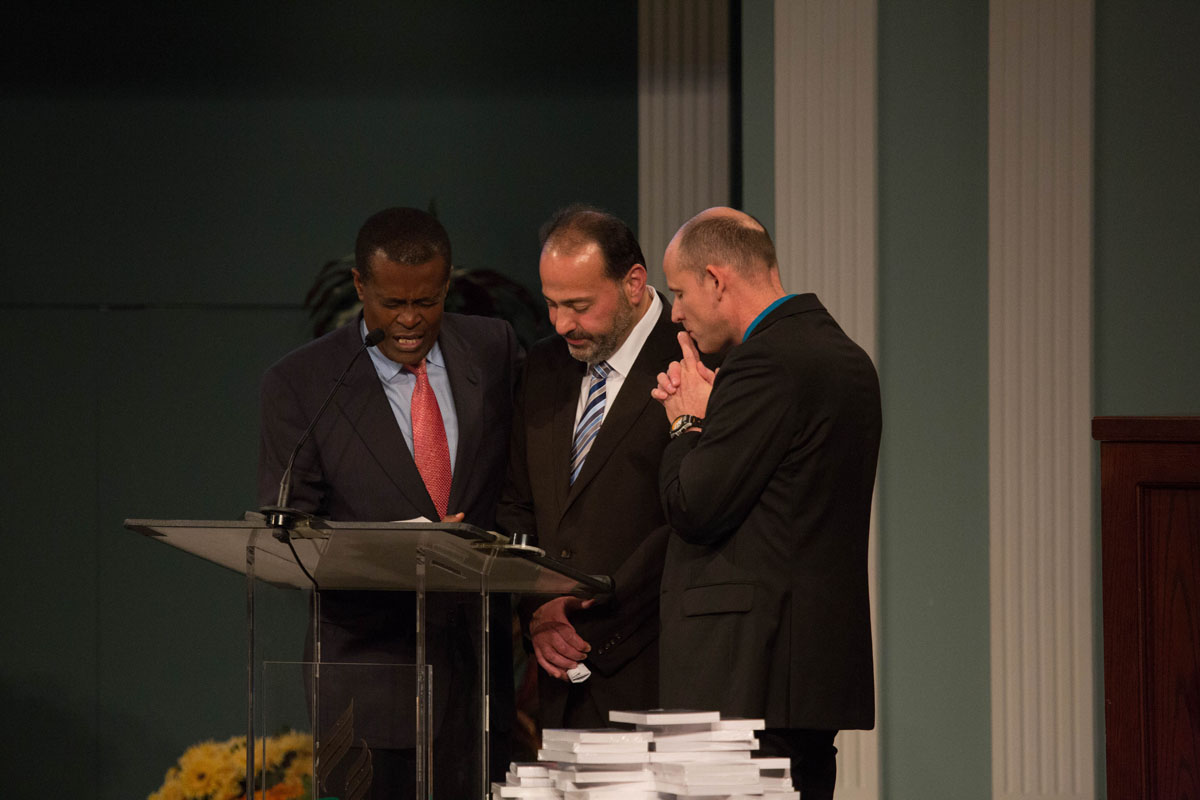 Geoffrey Mbwana prays with Raafat A. Kamal, TED president, and Doug Venn at the Friday evening Council on Evangelism and Witness. (Photo: Brent Hardinge / ANN)Those stories, simply presented, made an impression. Greg Scott, VP for Adventist World Radio called it "an excellent report" while Prince Bahati, Communication director for the East Central Africa Division stated that it is "inspiring and very contextual".
Contextual is very important. The 22 countries of the TED are a rich mix of cultural and religious backgrounds. Each one needs to find the best way to share faith. "In my limited travels around the Division this year I have been continuously impressed by the commitment and vision that our church members and leaders are making," Hulbert stated. "In this video I just wanted to share their passion with a wider audience."
Other reports during the evening came from North America, Australia and, in particular, Africa. World Church VP, Duane McKey shared how the church pulled together in Total Member Involvement for a month long evangelistic campaign in Rwanda, conducting programmes in 2,200 sites. "You can do anything for Jesus, just so long as it is connected to a plan," he said.

1. One of the sites of a month long evangelistic campaign in Rwanda; 2. Pr Ted Wilson at a baptism in Rwanda
Adventist Review News editor, Andrew McChesney, was part of the Rwanda programme and rejoiced in the 100,000 baptisms that came as a result. More recently he also travelled in Europe and recognised the challenge and differences of witness in European society. He was present at some of the locations where the TED report was filmed. "I am just so thrilled to see how God moves and changes people's lives," he said, "whether that be in the multitudes of Rwanda or a small bookshop in Belgrade."
Those few examples stimulated more ideas as the video spread on social media. Daniel Pedley commented about the Vegana restaurant that is a centre of influence in Finland, while Elisabeth Sangüesa Abenia commented on another lay-led bookshop that is making a difference. A minister in the Netherlands thrilled in how she saw "some of the work being done in parts of Europe by Adventists, reaching across sharing the Good News." She concluded, "God is love, God saves."

1. Health store in Riga, Latvia; 2. "Knjigolovka" bookstore in Belgrade, Serbia
That is a thought that world church president, Ted N C Wilson would agree with. "We have packed this annual council with so much mission emphasis that you will be excited," he told delegates.
"We only had time to share a few stories Friday evening," TED Presdient, Raafat Kamal expressed. "What I am impressed by is seeing how God is working in so many different ways, within our own contexts and cultures, both in more secularised Europe, and across the world. That thrills me." [tedNEWS]
For more on the Annual Council evangelism programme including links to other video reports visit the Adventist Review website.
---
tedNEWS Staff: Victor Hulbert, director; Esti Pujic, editor
119 St Peter's Street, St Albans, Herts, AL1 3EY, England
E-mail: This email address is being protected from spambots. You need JavaScript enabled to view it.
Website: www.ted.adventist.org
tedNEWS is an information bulletin issued by the communication department of the Seventh-day Adventist Church in the Trans-European Division.
You are free to re-print any portion of the bulletin without need for special permission. However, we kindly request that you identify tedNEWS whenever you publish these materials.