3 December 2015 [Fabrice Baker-Livingstone, ADRA-International and ADRA Serbia] At one month old, Qamar has nowhere to call home. Her parents, Mustafa and Hala, are refugees who fled Syria to escape growing violence and the threat of terror that surrounded them.
They had left their home in Damascus two months earlier. During their difficult journey, Hala gave birth to beautiful Qamar.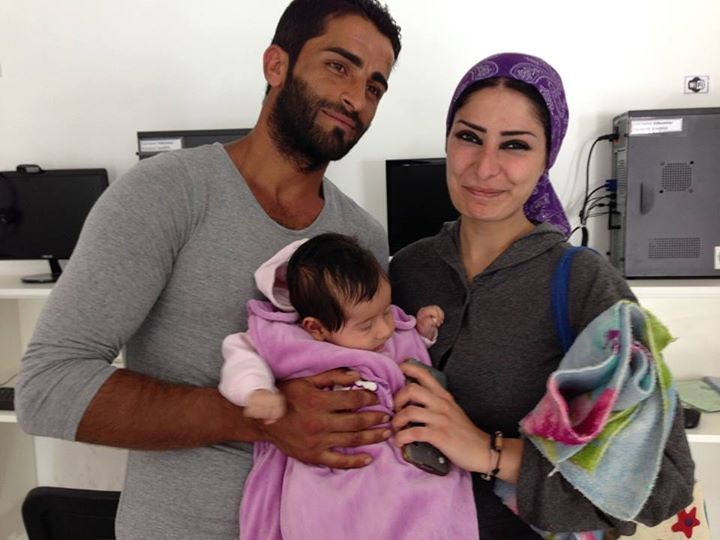 [Photo credit: Margit Waern, ADRA Norway]In Serbia, ADRA runs a successful refugee centre that provides critical resources to connect refugees with information and local services they need in order to travel safely and to stay in touch with those they love. This centre, along with other ADRA teams working with refugees in this crisis, also provides warm winter clothing and baby essentials.
As winter approaches, Mustafa and Hala turned to ADRA for warm clothes for little Qamar and themselves before they continued their journey to find a safe place to settle. They, like hundreds of thousands of other refugees across Europe, are facing the bitter cold with nothing more than what they wore on their backs when they left warmer climates weeks and months ago. ADRA is trying to help as many as possible.
ADRA-UK has already committed £15,000 towards the refugee crisis across the ADRA network with contributions divided between ADRA Croatia, Macedonia, Slovenia and Lebanon, helping prepare for the harsh winter ahead. It has also just approved a second donation of £3,500 towards the ADRA network emergency response working with refugees in Macedonia.
Please continue to help ADRA to help, whilst #GivingTuesday might be over – your help is still needed to keep these refugees warm! You can donate now at adra.org.uk/projects/emergencies or through ADRA International at adra.org. [tedNEWS]
---
tedNEWS Staff: Deana Stojković, editor
119 St Peter's Street, St Albans, Herts, AL1 3EY, England
E-mail: This email address is being protected from spambots. You need JavaScript enabled to view it.
Website: www.ted-adventist.org
tedNEWS is an information bulletin issued by the communication department of the Seventh-day Adventist Church in the Trans-European Division.
You are free to re-print any portion of the bulletin without need for special permission. However, we kindly request that you identify tedNEWS whenever you publish these materials.