06 February 2023 | Oslo, Norway [Tor Tjeransen with tedNEWS]
When Open Doors International reported their 2023 World Watch List (WWL) on 18 January, they presented a bleak picture of religious freedom around the world. This annual list, now in its 30th year, shows the top 50 countries where Christians experience the worst persecution for their faith, and creates awareness of  hardships that persecuted Christians face every day.
The WWL found that more than 360 million Christians suffer extreme or very high levels of persecution and discrimination for their faith – a rise of 20 million since two years ago. In the top 50 countries alone, 312 million Christians now face very high or extreme levels of persecution – representing one in seven Christians worldwide.
North Korea is once again identified as the world's most dangerous place to be a Christian (displaced by Afghanistan last year, following the Taliban takeover of this country in 2021).
"In North Korea, owning a Bible is associated with the death penalty or a prison camp," said Ole Petter Erlandsen, academic director of Open Doors, when presenting the report's findings. He also mentioned North Korea's new "anti-reactionary thought law", which criminalised any published materials of foreign origin in North Korea, along with the Bible. Open Doors estimates that there are 400,000 Christians in North Korea, taking a huge risk for the sake of their faith.
Afghanistan moved down from the top position in 2022 to the ninth position this year. According to Open Doors, the drop offers little cheer with persecution in this country remaining at an extreme level. "The large drop in its ranking is because convert life has gone deeper underground – which creates a bigger challenge to obtain verified violence data," leaders shared.
China leads the way in electronic surveillance
Many countries have embarked on a dangerous mix of force, nationalism, and the use of technology to control their citizens. China is a leader in the use and export of surveillance technology.
New laws have been passed introducing sweeping new rules on churches' use of the Internet, and it has become impossible to buy Bibles online or download Bible apps.  Internationally, China is pushing for a redefinition of human rights, where economic development and security become more important than the classical rights such as freedom of thought or expression.
Sub-Saharan violence reaching new heights
Erlandsen also pointed out that the persecution of Christians in sub-Saharan Africa is on the rise with religiously motivated killings in Nigeria rising from 4,650 last year to 5,014 – a staggering 89% of the international total.  With the country collapsing under Islamist violence, Christians are particularly vulnerable.
But the violence in Nigeria is not exceptional, as Jihadist violence is becoming commonplace across sub-Saharan Africa, with 26 countries in the region scoring very significant levels of persecution. Jihadist groups kill, maim, rape, kidnap for ransom and force women into sex slavery, and many are forced to flee.
Agnes, a girl who was abducted by Boko Haram (a militant group) last year, shared her heart-wrenching experience, "We were working in a field on a farm when we were surprised by gunmen. They kidnapped three of us… and killed two.  I'm the only one who survived."  Due to the violence and volatility in the region, hundreds of thousands more have been forced into internal displacement or have become refugees.
A barometer of human rights
"Attacks on Christians are a barometer of human rights," said Ine Eriksen Søreide, Norway's former Minister of Foreign Affairs, in response to the findings of the report. "The picture the report presents is a harbinger of what may come for other rights," she said, expressing concern about the way modern technology is used for surveillance.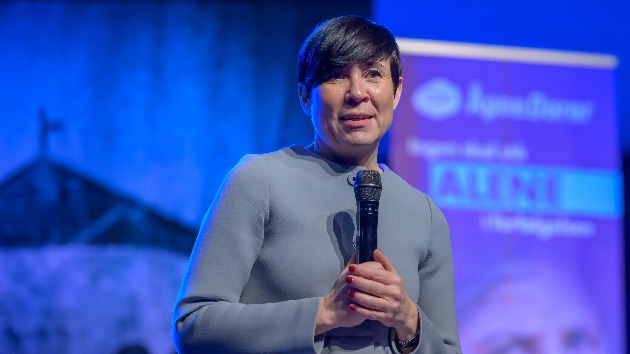 Some bright news
"Not everything is going the wrong way," said Ole Petter Erlandsen, mentioning three positive changes: Firstly, violence in Afghanistan has decreased, and the country has fallen  in the ranking. Secondly, Egypt is showing a decline in violence against Christians. And thirdly, some Gulf states have taken a different stance towards Christian migrant workers than before.
"It remains to be seen whether the improved conditions in Qatar in 2022 were a fluke, or a lasting trend," Erlandsen concluded.
---
This article contains material from an article first published by the Norwegian Union Conference and Open Doors. [Photos: Tor Tjeransen AME – CC BY 4.0]