13 March 2011 Watford, UK [Victor Hulbert, tedNEWS] Just two years and four months following a devastating fire at the British Union Conference offices in Watford, England, Pastor Ted Wilson, President of the Seventh-day Adventist World Church, was able to stand outside the doors of the rebuilt office and cut the ribbon – to the applause of several hundred guests who had gathered from as far away as Scotland and Ireland for the occasion.
Pastor Wilson reflected on the experience of the 12 spies exploring the Promised Land, the negativism of ten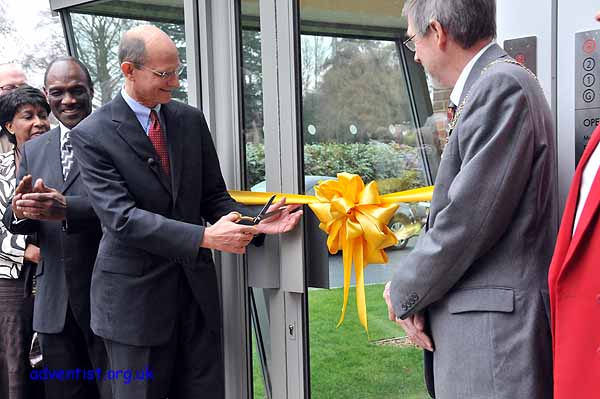 balanced by the positive nature of Caleb and Joshua. It would have been easy to be discouraged by the burnt out shell of a building, but using the 'glass half full' principle he exhorted the congregation – and those who work in the office, to look to the positive as they use the resources of the office to share the Adventist message more fully in the British Isles.
Architects, builders and planners all had their part of the story to tell, but Watford Town Councillor, Alan Burtenshaw summed it up in commenting that the new building had blended the best of the old with a new modern style that, as Victor Pilmoor British Union Conference Treasurer stated, demonstrated "the roundedness of the Adventist faith, drew one's eyes up towards heaven, and opened up the vista of the 'Eden' that is the Stanborough Park estate".
"It was a perfect day," reflected Audrey Balderstone, an active member of the Watford community. She was not referring to the weather, which at times was wet and overcast, but to the exhortation from Pastor Wilson, the uplifting music of the Adventist Vocal Ensemble, the history of the work of the church in the British Isles, and the rededication of the BUC office.
Pastor Don McFarlane, British Union Conference President stated his delight that the rebuild process has produced an office fit to serve the needs of a 21st century church. "The challenge for us who work in the office now is to make it, not merely a pleasant workplace," he said, "but a place where God is impacting the lives of church leaders and where we allow the Holy Spirit to take plans and ideas and make them into living experiences for God's glory." [tedNEWS]
Note: Photos gallery available at www.adventist.org.uk. There will be a video report available by Friday including an interview with Ted Wilson. This will be available via the same website.
 
---
tedNEWS Staff: Miroslav Pujic, director; Deana Stojkovic, editor
119 St Peter's Street, St Albans, Herts, AL1 3EY, England
E-mail: This email address is being protected from spambots. You need JavaScript enabled to view it.
Website: www.ted-adventist.org
tedNEWS is an information bulletin issued by the communication department of the Seventh-day Adventist Church in the Trans-European Division. 
You are free to re-print any portion of the bulletin without need for special permission. However, we kindly request that you identify tedNEWS whenever you publish these materials.