08 March 2011 Silver Spring, Maryland, United States [Bettina Krause/IRLA/ANN staff] A religious liberty conference held in Jordan last week represents a historic step forward in dialogue between the Islamic world and advocates for religious freedom, organizers said.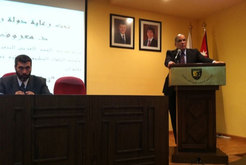 The Teaching Respect for Religions Symposium gathered scholars, political representatives and legal experts at the Amman College of Al-Balqa Applied University on March 1. The event marked just the second time the International Religious Liberty Association (IRLA) has met in the Middle Eastern in its 119-year history.
Organized in 1893 by the Seventh-day Adventist Church, the IRLA is the oldest association dedicated to freedom of conscience for people of all faiths and persuasions.
"This conference has opened up an extraordinary opportunity for meaningful conversation with key Islamic leaders and thinkers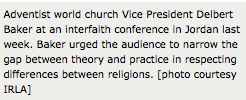 about what it means to respect different religious traditions, and to live in harmony with one another," said John Graz, IRLA secretary-general.
"Two of the most powerful forces we can use to fight religious prejudice are knowledge about each other and building personal relationships," Graz said in his address.
The symposium was co-sponsored by the Arab Bridge Center for Human Rights, a non-governmental organization founded by former Jordanian Judge Amjad B. Shammout. It brought together IRLA experts, Islamic scholars and Imams, Jordanian law-enforcement leaders, youth leaders and members of the diplomatic community. Jordan's Prime Minister Marouf Suleiman al-Bakhit lent his support to the event and was represented by Jiryis Samawy, secretary-general of Jordan's Ministry of Culture.
Delbert Baker, a vice president of the Adventist world church and vice president of the IRLA, spoke to the group about respect and freedom -- principles that he said are mutually valued by both the Islamic and Judeo-Christian worlds. Yet, he said, too often a gap appears between theory and practice. He challenged the audience to analyze whether these principles influence their interactions with people.
In presenting his paper "Beyond Tolerance," IRLA coordinator for Interfaith Relations, Bill Johnsson, defined the difference between respect and tolerance. "Respect" actively affirms an individual's right to religious freedom, while "tolerance" can imply a reluctance to grant people their religious views, he said.
According to Johnsson, Jordan provided an ideal location for the symposium, given its track record as "a moderate Islamic nation that models openness, tolerance and rejection of violence." Johnsson helped facilitate an earlier, smaller gathering of religious freedom experts in Amman last year, which he said helped pave the way for this month's more public event. [tedNEWS]
---
tedNEWS Staff: Miroslav Pujic, director; Deana Stojkovic, editor
119 St Peter's Street, St Albans, Herts, AL1 3EY, England
E-mail: This email address is being protected from spambots. You need JavaScript enabled to view it.
Website: www.ted-adventist.org
tedNEWS is an information bulletin issued by the communication department of the Seventh-day Adventist Church in the Trans-European Division. 
You are free to re-print any portion of the bulletin without need for special permission. However, we kindly request that you identify tedNEWS whenever you publish these materials.