16 September 2021 | Loma Linda, USA [Timothy G. Standish, PhD]

The latest film in the Seeking Understanding series has been released in the leadup to Creation Sabbath 2021, which falls, this year, on October 23.
The documentary revolves around Dr Arthur Chadwick, a scientific researcher, and a remote corner of Wyoming, United States, where, just under a cattle ranch's dust and grass, an amazing treasure-trove of dinosaur bones once lay hidden.

That was before Dr Chadwick was contacted by the ranch owner, who asked this Adventist palaeontologist to bring his unique set of talents and–unusually for a palaeontologist–his biblical worldview to the study of this dinosaur graveyard.

With a team of other scientists from Southwestern Adventist University, along with scientists from other Adventist schools, Dr Chadwick has been able to unravel the mystery of how all those bones got to this isolated area in the United States.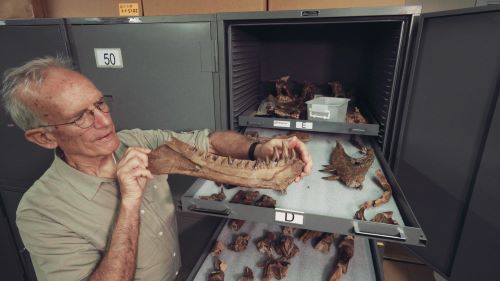 Dr Arthur Chadwick [Credit: Geoscience Research Institute]
The film reveals unique technologies used in recording the bones in the dinosaur bone bed. It also shares the story of how Chadwick, who as a young boy thought he was going to be a priest, instead was led by God to become a palaeontologist, grappling with a science that is commonly seen as undermining the claims of Scripture. The film explores why Chadwick didn't lose his faith and what it is about the science he does that leads him to worship the Creator God of the Bible.

"Working on this film was a thrilling experience", said Timothy Standish, senior scientist at the Geoscience Research Institute. "I'm a biologist, so I don't often have the thrill of actually holding dinosaur bones, let alone doing it while their discoverer explains them to me. Let's hope that some of that thrill is conveyed in this film".

"My hope is that Creation Sabbath can serve as a reminder of how wonderful the God we worship is and how beautiful even the sin scarred creation remains", said Standish. "Let's use Creation Sabbath as an opportunity to share with our communities the beauty of God's creation and the salvation He has won".

Creation Sabbath falls on the fourth Sabbath of October — this year on October 23. Creation Sabbath is a specially designated Saturday (Sabbath) in the Seventh-day Adventist Church's Calendar of Special Days. According to the Creation Sabbath website, it is a day set aside for contemplating God's grace in creating the world for our habitation, recognising our responsibility to care for what God made, and seizing the opportunity to learn from His works.

For more information and resources for celebrating Creation Sabbath, visit: creationsabbath.net
---
tedNEWS Staff: Victor Hulbert, editor; Deana Stojković, associate editor
119 St Peter's Street, St Albans, Herts, AL1 3EY, England
E-mail: This email address is being protected from spambots. You need JavaScript enabled to view it.
Website: www.ted.adventist.org
tedNEWS is an information bulletin issued by the communication department of the Seventh-day Adventist Church in the Trans-European Division. Readers are free to republish or share this article with appropriate credit including an active hyperlink to the original article.