1 September 2019 | Ardingly, UK [Audrey Andersson]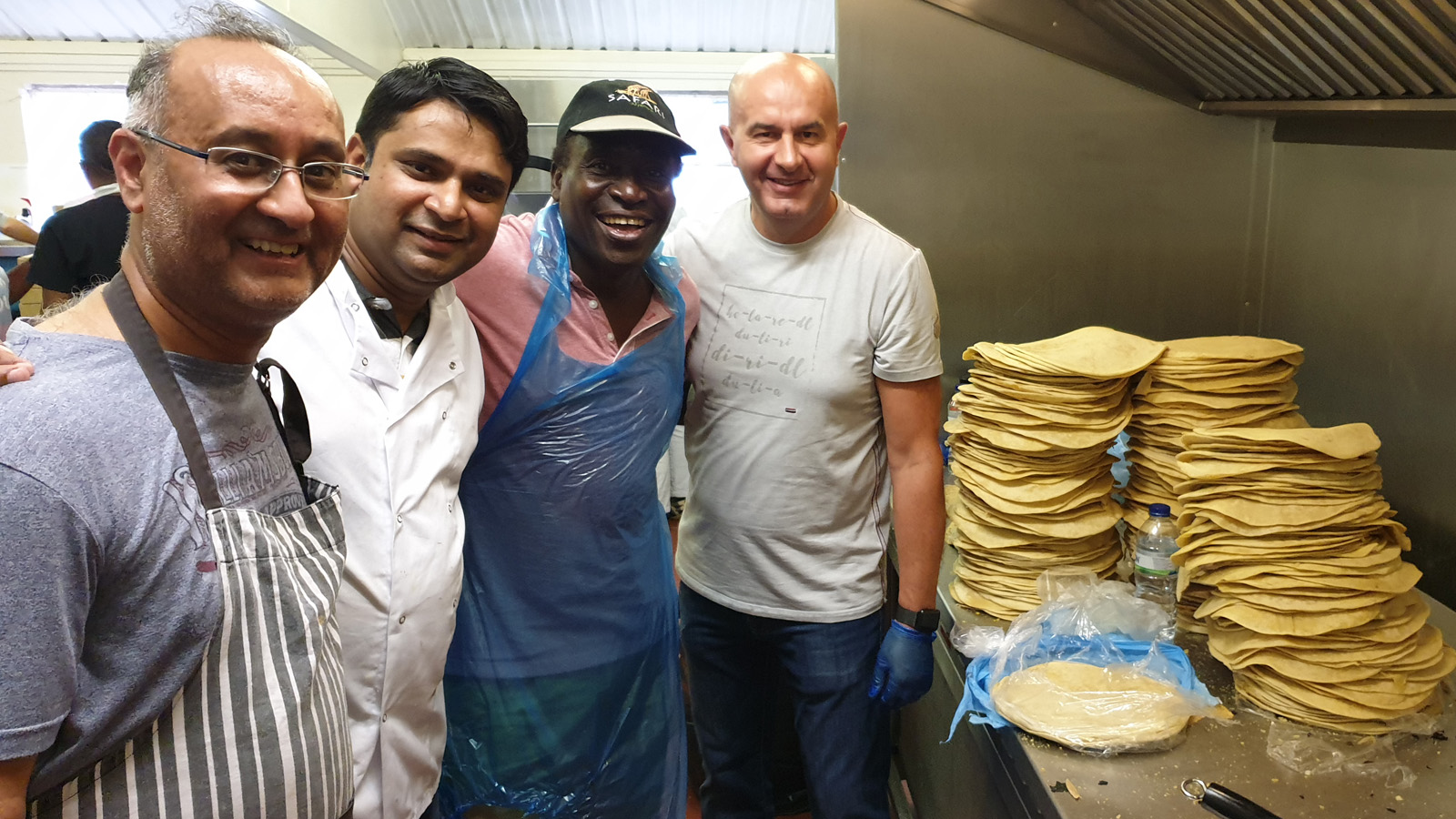 Earl Ramharacksingh leading the BUC & TED treasury chefs team [Photos: Victor Hulbert]Food is always an important ingredient in any event. If the food is good, people are happy. If the food is bad, or people are hungry, it does not take long before the complaints start. This has been the case for over 2,000 years.
Food distribution was one of the first recorded leadership challenges in the Christian church. Greek widows were being missed out in the daily allocation of food. The twelve apostles said to the other disciples, 'It is not good for us to wait on tables.'
The recent TED Pathfinder Camporee turned that logic on its head.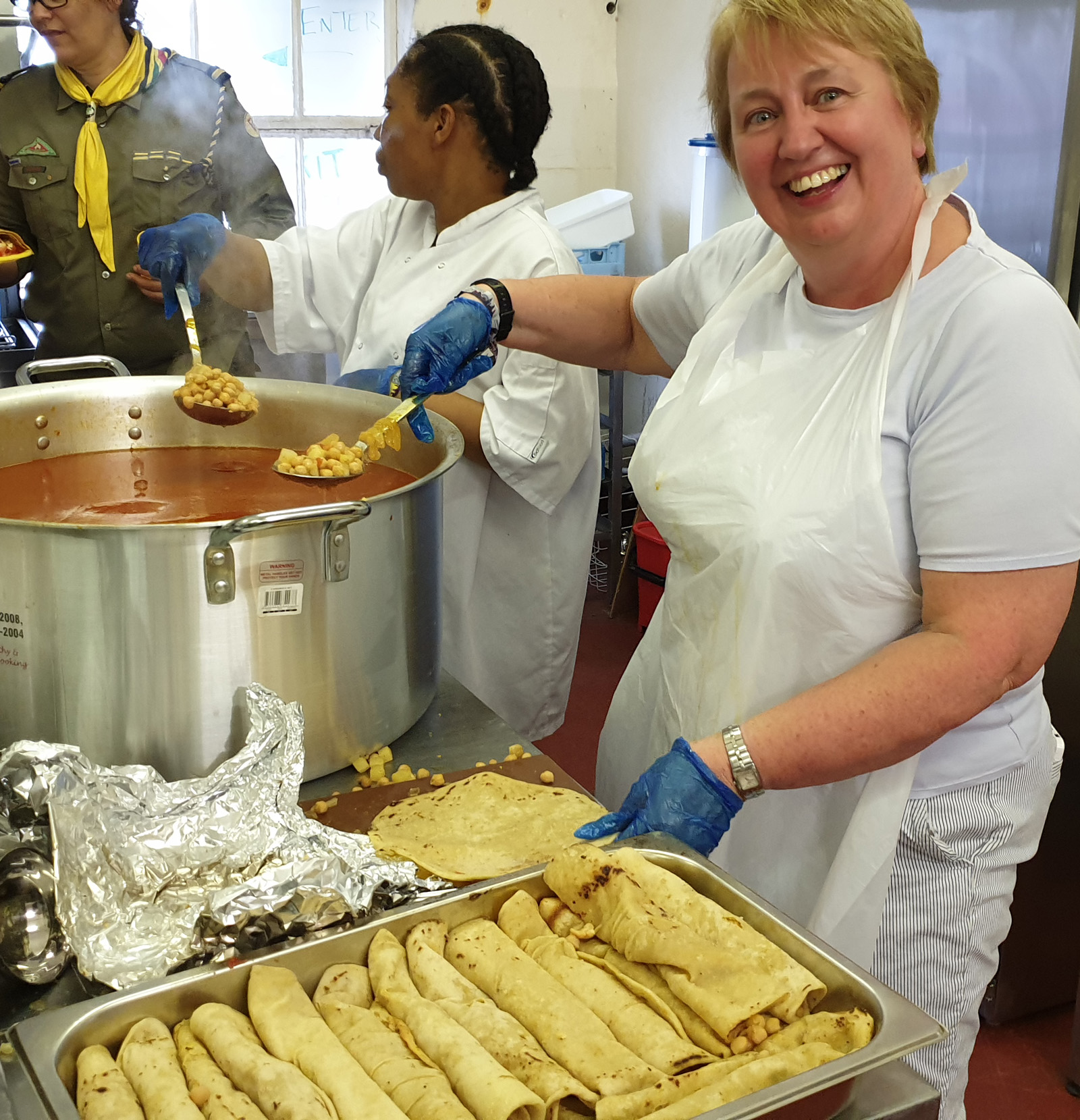 Not to be left out, Secretariat at TED, Union and Conference level joined in cheerful service. Pictured, TED Executive Secretary, Audrey Andersson.Opening night at the Camporee the feeding of 4,000. Unlike Jesus, who fed the 4,000 with seven loaves and a few fish, Master Chef, BUC Treasurer Earl Ramharacksingh, organised an army of volunteers in the kitchen to serve a delicious and welcome meal for the tired and hungry Pathfinders who converged on the South of England Showground, in Ardingly on Tuesday, 30 July.
For the rest of the camporee, Pathfinders used many creative solutions to cook their food. Some opted for open fires, while others used gas or electric rings. That left the question of how to feed the 250-plus who volunteered as ambassadors helping the clubs, manning the Pathfinder food distribution, leading out in activities, looking after the site, media, security, and first aid. They did not have the time to stop and cook. Once again, Earl stepped up and took on the challenge.
From previous events Earl has a dedicated core team who give of their time and culinary skills to cook and feed, but this was a larger and longer event than anything previously attempted. Where do you find people who will cut up salads, chop vegetables, roll roties, and then wash pots which are almost big enough to have a bath in?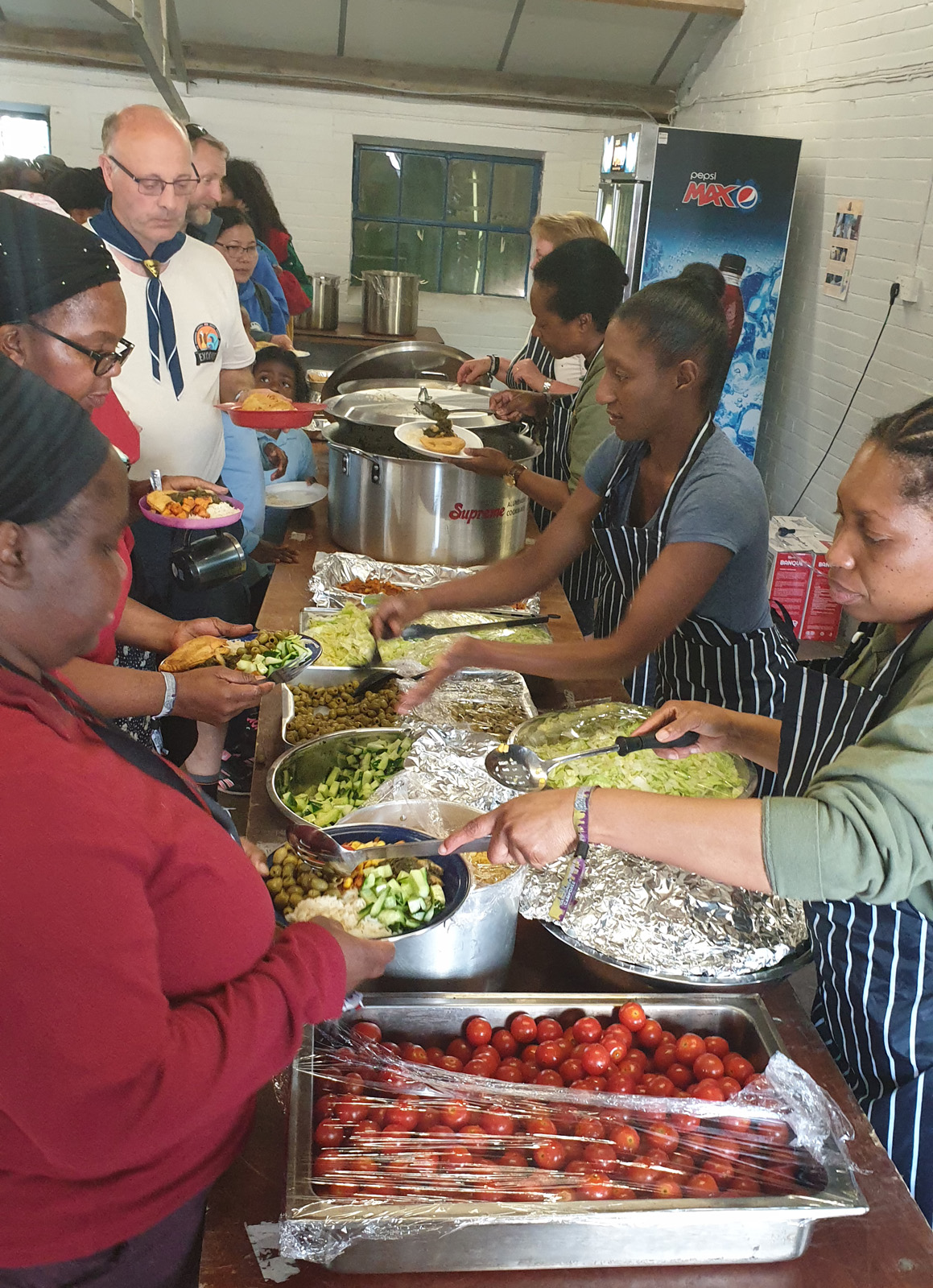 Undaunted, Earl sent out the call to Treasury teams within the BUC and the TED, as well as to the leadership of the British Union, its Conferences and Missions. They responded gladly.
The prize for the best pot washer goes to Pastor Ian Sweeney, who attacked the largest pots with good humour and elbow grease.
Leadership leads from the front. It is measured by where it invests its time and effort. Seeing the leadership of the BUC rolling up their sleeves and putting in long hours in the kitchen to ensure the success of the camporee spoke eloquently of their commitment to young people. Here are people who believe so passionately in the youth of the BUC and beyond that they are willing to ensure that those who are volunteering and serving are in turn served.
The twelve apostles said, 'It is not good for us to wait on tables' – but sometimes it is!

This article was first published in the British Union Conference Messenger, Vol 124 #17
---
tedNEWS Staff: Victor Hulbert, editor; Deana Stojković, associate editor
119 St Peter's Street, St Albans, Herts, AL1 3EY, England
E-mail: This email address is being protected from spambots. You need JavaScript enabled to view it.
Website: www.ted.adventist.org
tedNEWS is an information bulletin issued by the communication department of the Seventh-day Adventist Church in the Trans-European Division. Readers are free to republish or share this article with appropriate credit including an active hyperlink to the original article.