30 May 2019 | St Albans, UK [Victor Hulbert]
Messy Church has become an established programme for many churches across the Trans-European Division (TED) – but during an International Messy Church Conference, 2 – 5 May, Adventist participants recognised that it was far more than just a programme.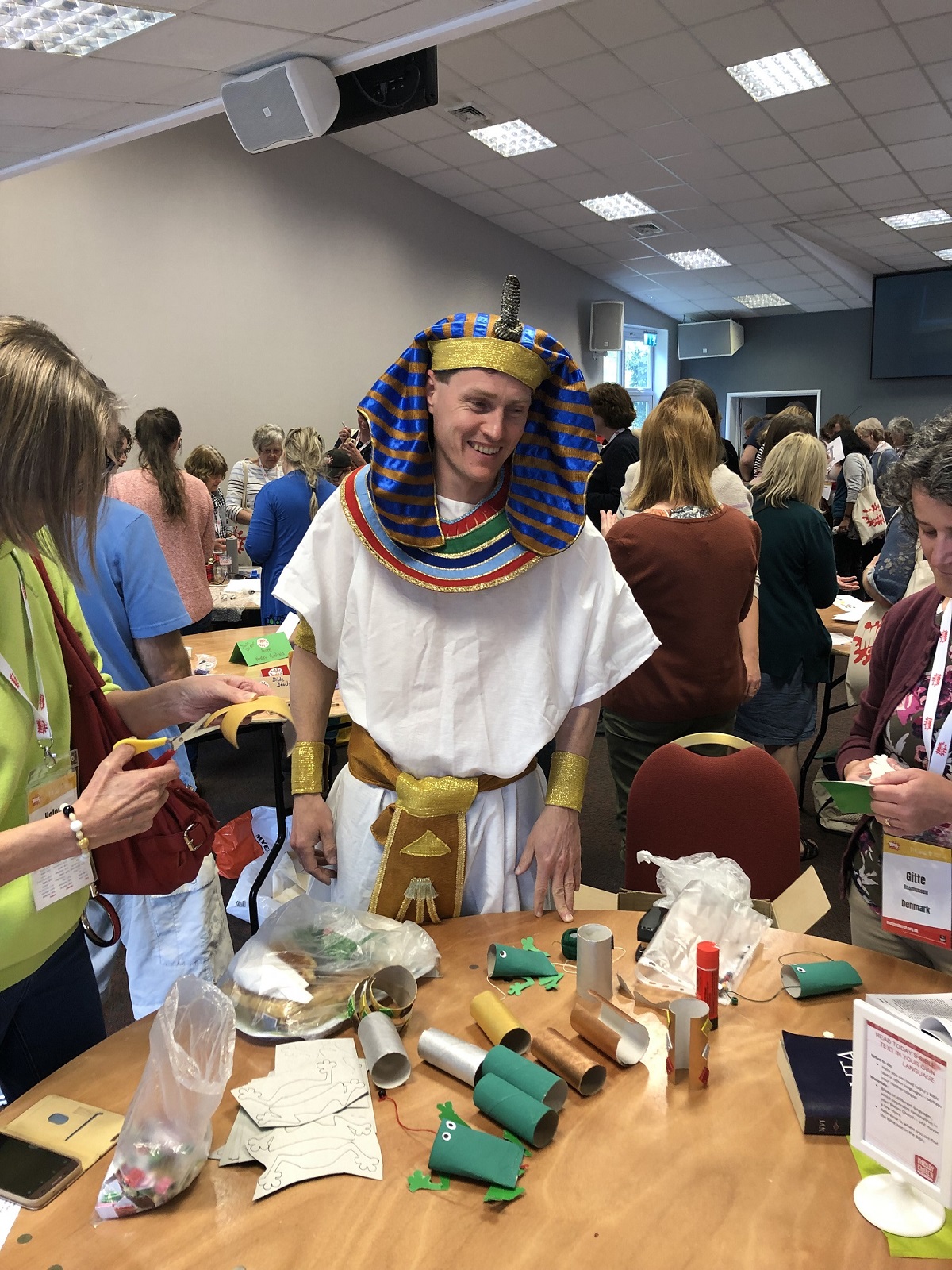 Fürj György in teaching mode as Pharaoh. [Photo credit: Judy Plaatjes]Fürj György from Hungary stated, "I was impressed by the many open-minded and cooperative people at this conference. The atmosphere was catchy. I've learnt that Messy Church isn't a programme. It is a church!"
György was one of five Adventist delegates among more than two hundred participants from around the world who have discovered that a concrete vision to create a welcoming church atmosphere for children and young families, not only revives the church, but also draws in friends from the surrounding community.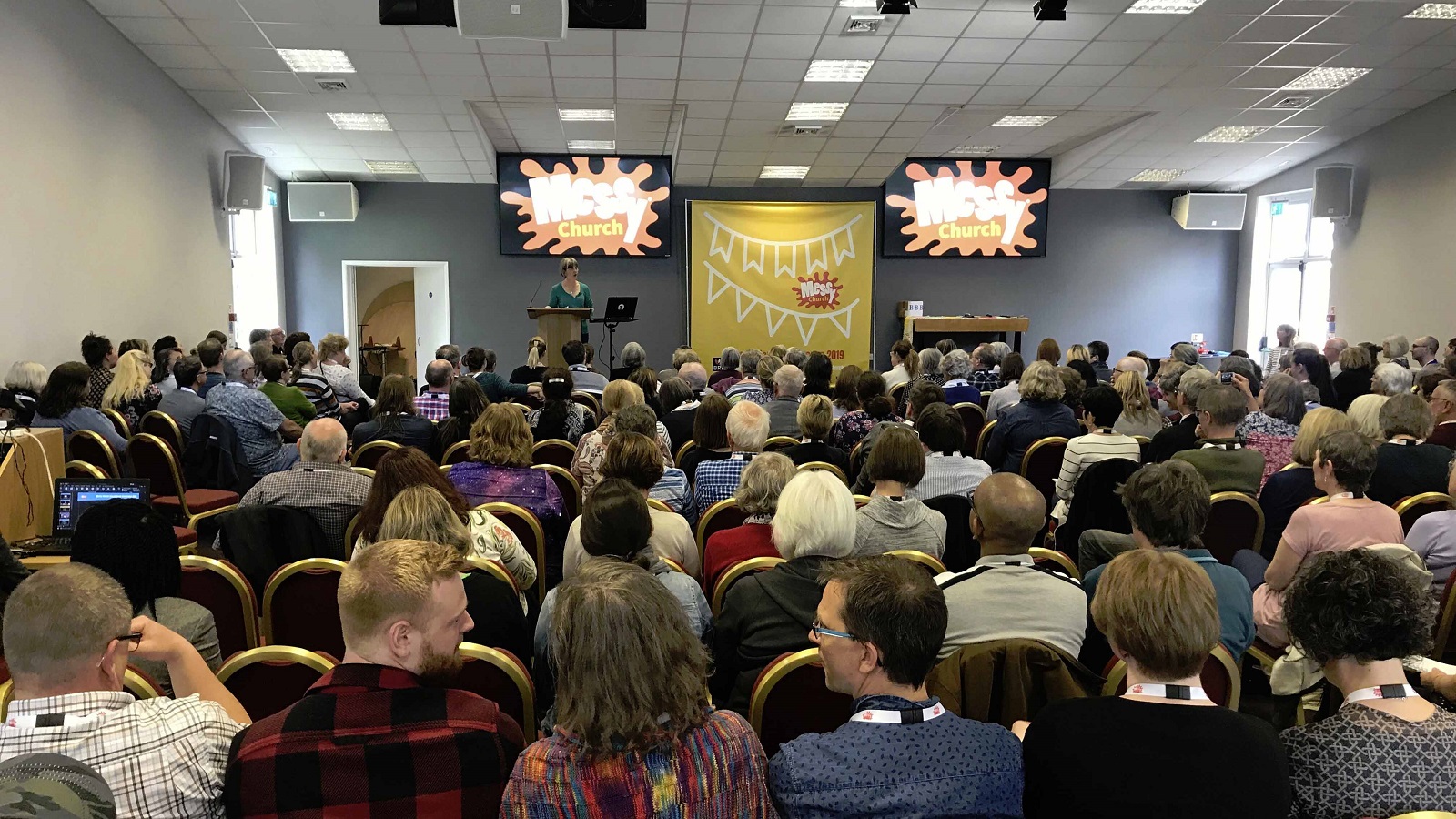 Messy Church audience.Matej Lukšić from Croatia appreciated all the workshops, craft ideas, and music sessions that use simple children's songs with lots of actions. "We have been exposed to great ideas on how to bring the Gospel to our children," he said. "All that encouraged us to put a fresher effort and energy in Messy Churches we already have across the TED – in the UK, Hungary, the Netherlands, Slovenia, Croatia, etc. and with God's help, we plan to plant some more!"
Clair Sanches-Schutte, TED Children's and Women's Ministries director, has been running a very practical Messy Church training across the TED. Attending the Conference at High Leigh Conference Centre in Hertfordshire, England, Sanches-Schutte discovered ideas that go wildly beyond the already positive programmes that local churches have been running. "How about 'Vintage Messy', sharing church values and good practice with older people." In a world where many older people struggle with isolation, a group of people who call themselves 'Christians together against Loneliness' have found an opening that generates friendships, gives purpose, and revives faith.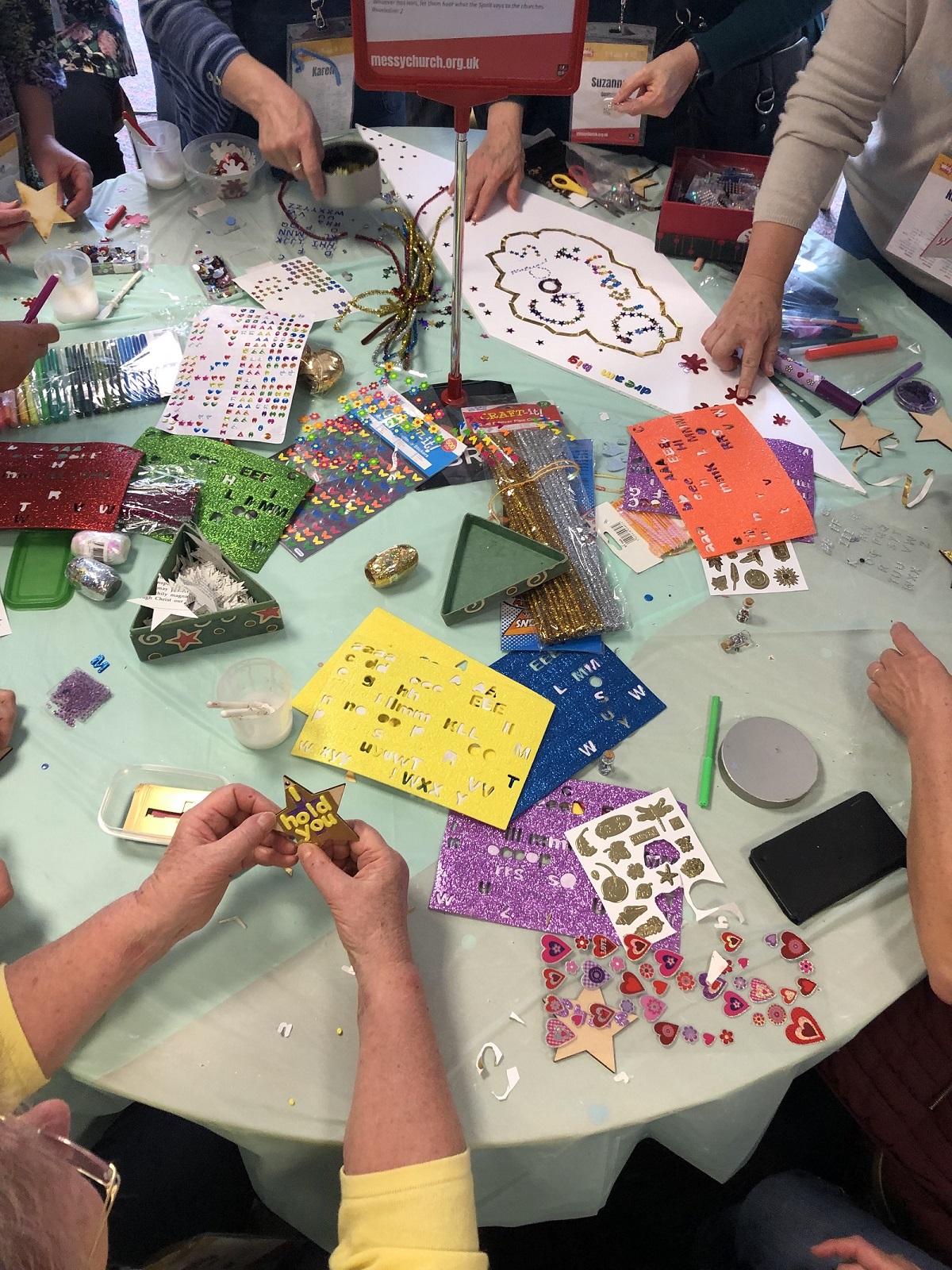 Messy Church craftsA number of Adventist Churches in the UK have started Craft Cafés, and this idea was expanded in another workshop. 'Messy Café' goes beyond the Messy Church concept as families spend time together in an atmosphere of discipling. This appealed to Edson Schorea from the Netherlands. A key point that stayed with him was creativity, and after hearing the testimony from a lady who came to faith through Messy Café and afterwards got baptised, he exchanged email addresses and is looking for ways to expand his Messy Church programme. "I am enormously blessed, and I am now full of ideas to continue."
The team met people who are doing Messy Prison or, at the other end of the spectrum, running extended Messy Camps.
Judy Plaatjes, from the UK, has been running Messy Church for ten years. She found attending the conference refreshing, "To be able to meet many likeminded Christians, who are passionate about sharing Jesus, was inspiring and uplifting," she said. She is part of the Stanborough Park Church team – one of the pioneers of Messy Church within Adventism.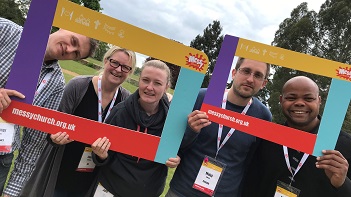 Messy church TED delegates.The conference was not just a one-way street. While the Adventist group went to learn, Sanches-Schutte also found herself invited to the front several times as a representative of the Seventh-day Adventist Church. During the closing address on Monday she shared how, in Greece, God had opened doors via Messy Church to start making an impact on local communities that had previously proved impervious to this positive Christian message.
Lukšić emphasises, speaking from experience, that "the work with children and young families should draw our special attention, especially in these last days of our history as we wait for Jesus to return."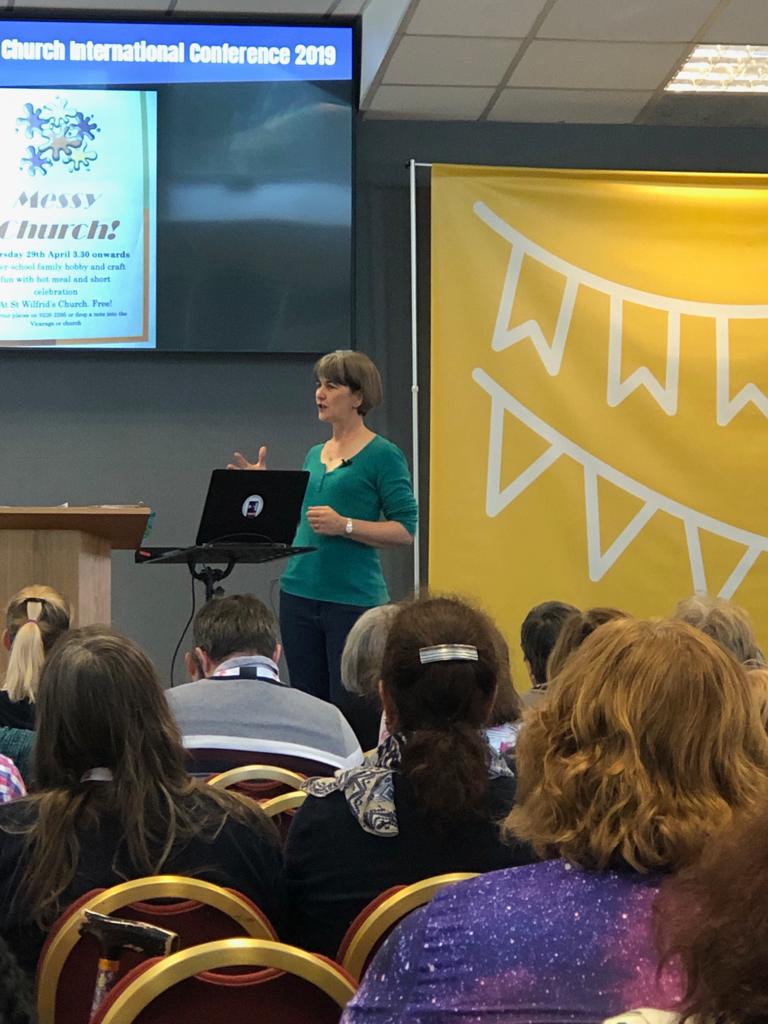 Messy church Lucy Moore opening address.What exactly is Messy Church? Allow this report from the Church Army to explain more: "Messy Church is reaching people who weren't previously attending church, growing disciples and modelling new patterns of leadership, and it is doing so across a wide range of economic and social contexts," the report states. Recent research from the Church Army's Research Unit confirms the serious effectiveness of Messy Church. Playfully Serious: How Messy Churches create new space for faith proves that Messy Church is not 'just a bit of fun', as some critics persist in believing.
Founded 15 years ago by Lucy Moore, and supported throughout its remarkable development by the Bible Reading Fellowship, Messy Church now numbers over 2,800 registered groups in England and some 3,500 worldwide.
---
tedNEWS Staff: Victor Hulbert, editor; Deana Stojković, associate editor
119 St Peter's Street, St Albans, Herts, AL1 3EY, England
E-mail: This email address is being protected from spambots. You need JavaScript enabled to view it.
Website: www.ted.adventist.org
tedNEWS is an information bulletin issued by the communication department of the Seventh-day Adventist Church in the Trans-European Division. Readers are free to republish or share this article with appropriate credit including an active hyperlink to the original article.