26 February 2019 | Amman, Jordan [ADRA/tedNEWS] One million signatures are being petitioned in a brand new campaign that aims to facilitate education for every single child, world-wide. The Adventist Development and Relief Agency (ADRA) announced the new global advocacy campaign, 'Every Child. Everywhere. In School,' during a combined ADRA and Adventist Communicators conference in Amman, Jordan.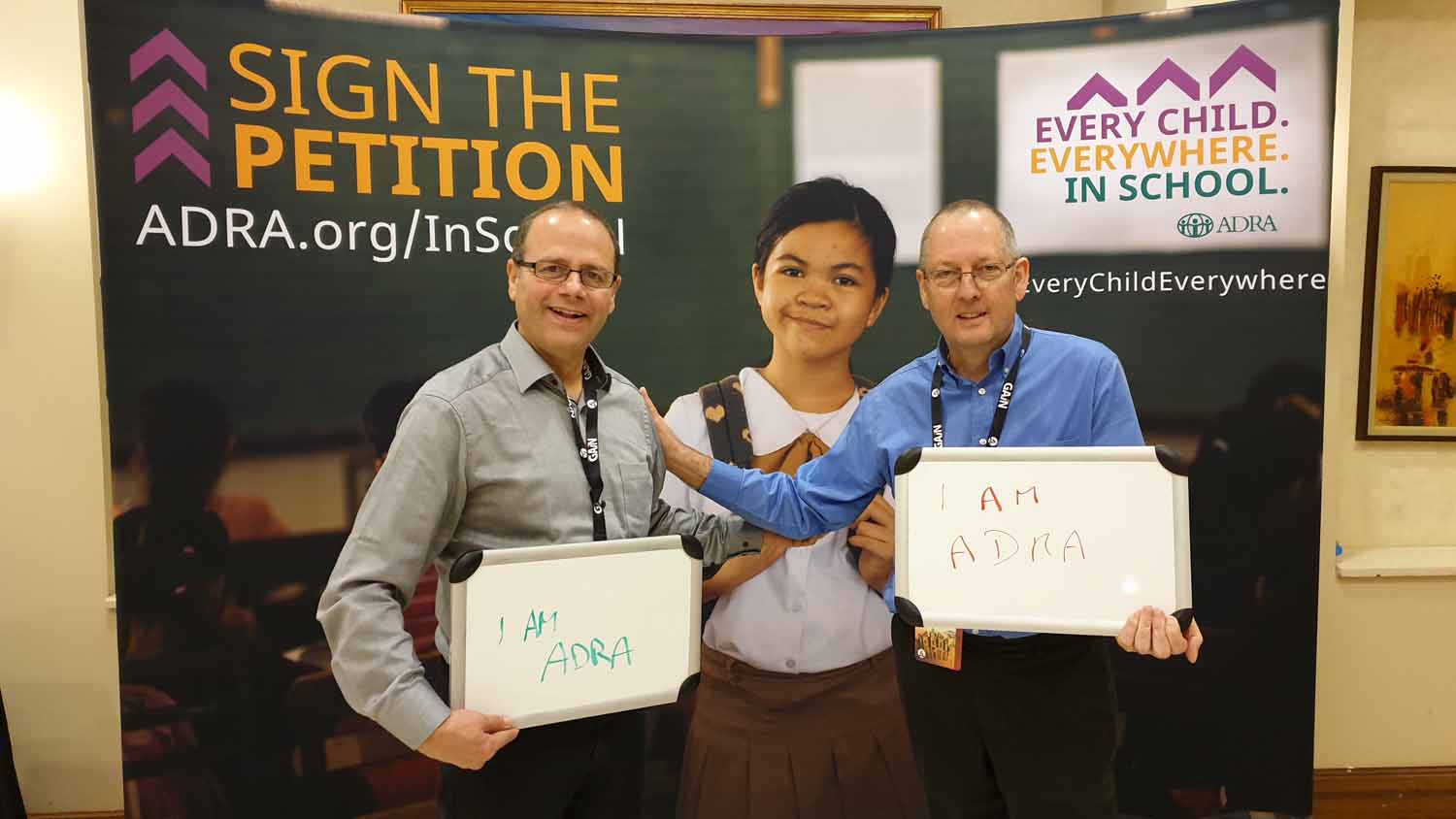 Corrado Cozzi and Victor Hulbert, EUD & TED Communication directors, fully support the initiative.The campaign is an urgent call to leaders around the world that all children, regardless of race, age, nationality, gender, religion or origin, have a right to earn and complete an education, and that being in school is a recognition of the value and potential of each individual child.
The Trans-European Division (TED) is fully supportive of this initiative and encourages every church member, along with their friends, to sign the petition.
"I have first-hand experience that one of the best ways to develop people and eradicate poverty is to provide education," states TED president, Raafat Kamal. He sees the Global Advocacy Campaign as a great initiative adding that, "education is the defining factor of any child's ability to develop. It offers them the chance to develop tools they require to craft a more positive future. As people learn to read, count and reason critically, their prospects for health and prosperity expand exponentially."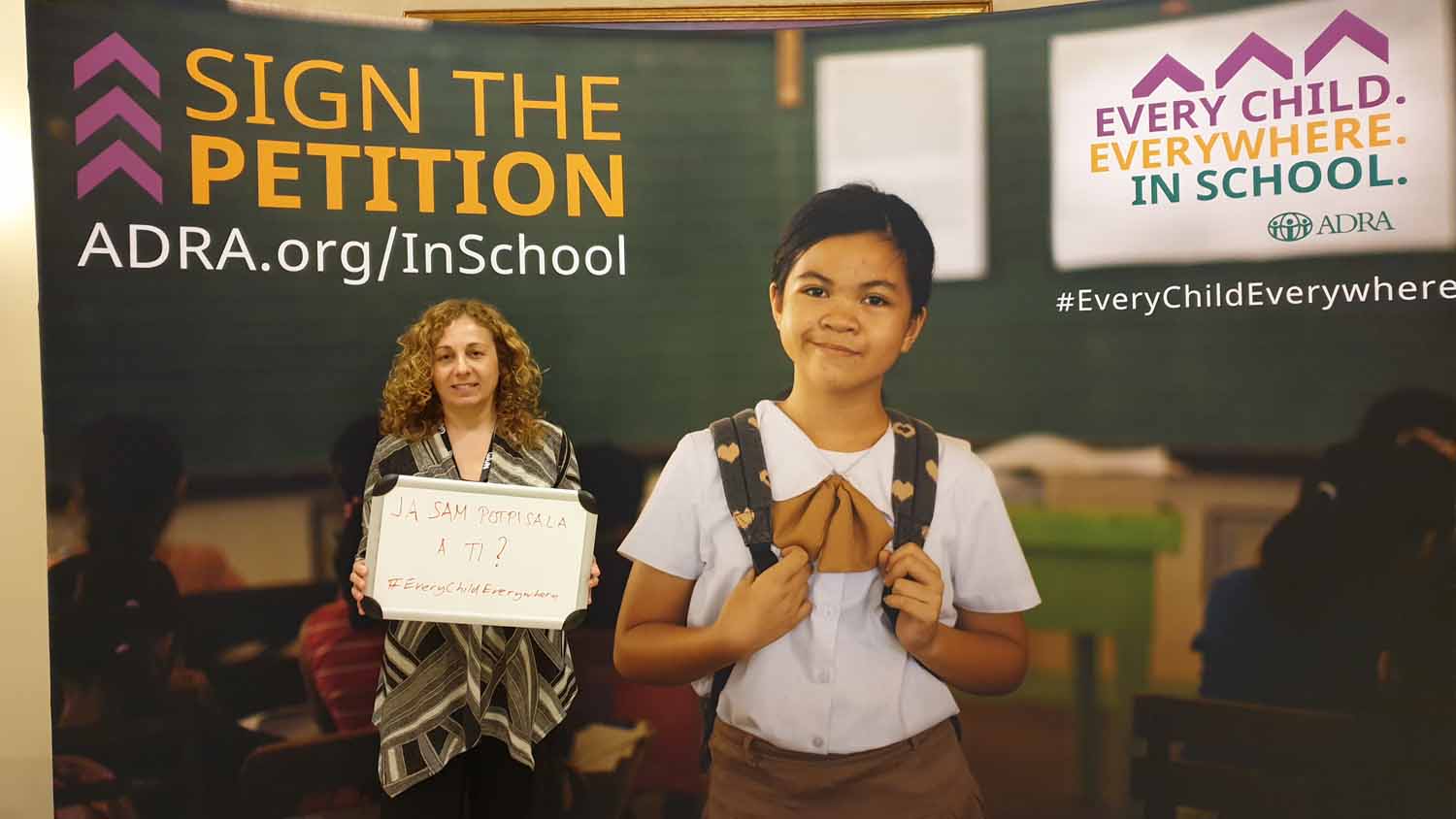 Alma Bosnić from the South-East European Union will encourage the 1000s of members there to sign the petition.The campaign aims to collect one million signatures by 2020 through grassroots efforts in collaboration with the Adventist church, and petition world leaders to take action for children to receive a quality education, and live free from exploitation and the shackles of intergenerational poverty. Already, 131 ADRA offices around the world have pledged support for this global campaign.
"Every child is a child of God—precious, unique, and filled with incredible potential. However, poverty, marriage at a young age, inequality, disability, and many other factors are keeping an unacceptably high number of children out of school. As a result, ADRA is partnering with the Church to call for greater investments in education globally and increased access to quality education for all children.
"It's time that we make education a top priority so that every child can fulfil their God-given potential," says Jonathan Duffy, president of ADRA.
A 2018 UNESCO study reported that there has been little improvement in the reduction of out-of-school children, adolescents and youth since 2012, and that since 2016, more than 262 million children around the world are still out of school. This represents nearly one-fifth of the global population of this age group.
Additionally, high poverty levels were reportedly linked to out-of-school rates.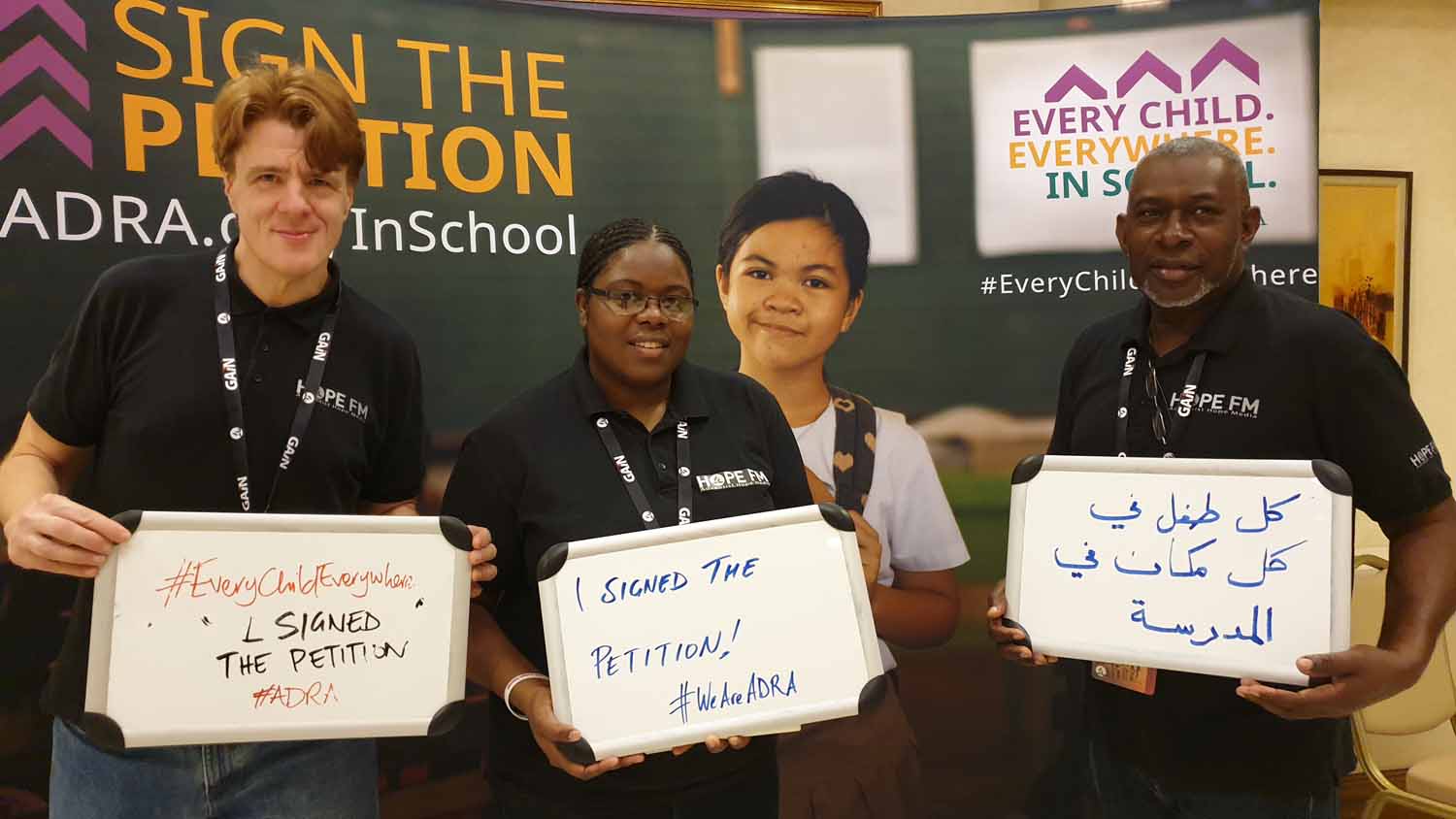 Staff at Hope FM in the north of England, sign the petition."'The Every Child. Everywhere. In School.' campaign builds on the Seventh-day Adventist Church's long tradition of responding to the needs of all human beings, namely to stand up in favour of human rights, the well-being of children, and the protection and integrity of families," Duffy says. "It is a call to action for all supporters to stand up with this Adventist-led movement and put into practice those principles we hold true."
Karen Holford, TED Family Ministries director, is excited about the initiative. She writes from a packed training schedule in Albania, a country where the Church has just set up a kindergarten in an area where children are struggling with educational needs. "I'm delighted that ADRA is advocating for the education of all children. Educating a child is probably one of the best investments we can ever make, and when we educate girls, we can empower them to change and inspire the next generation."
Over the years, ADRA has been a strong advocate on different social justice issues, including working with faith-based communities to champion support for refugees, migrants and displaced persons during World Refugee Day and World Refugee Sabbath, providing assistance to vulnerable families through emergency relief efforts, and giving greater access to children affected by displacement.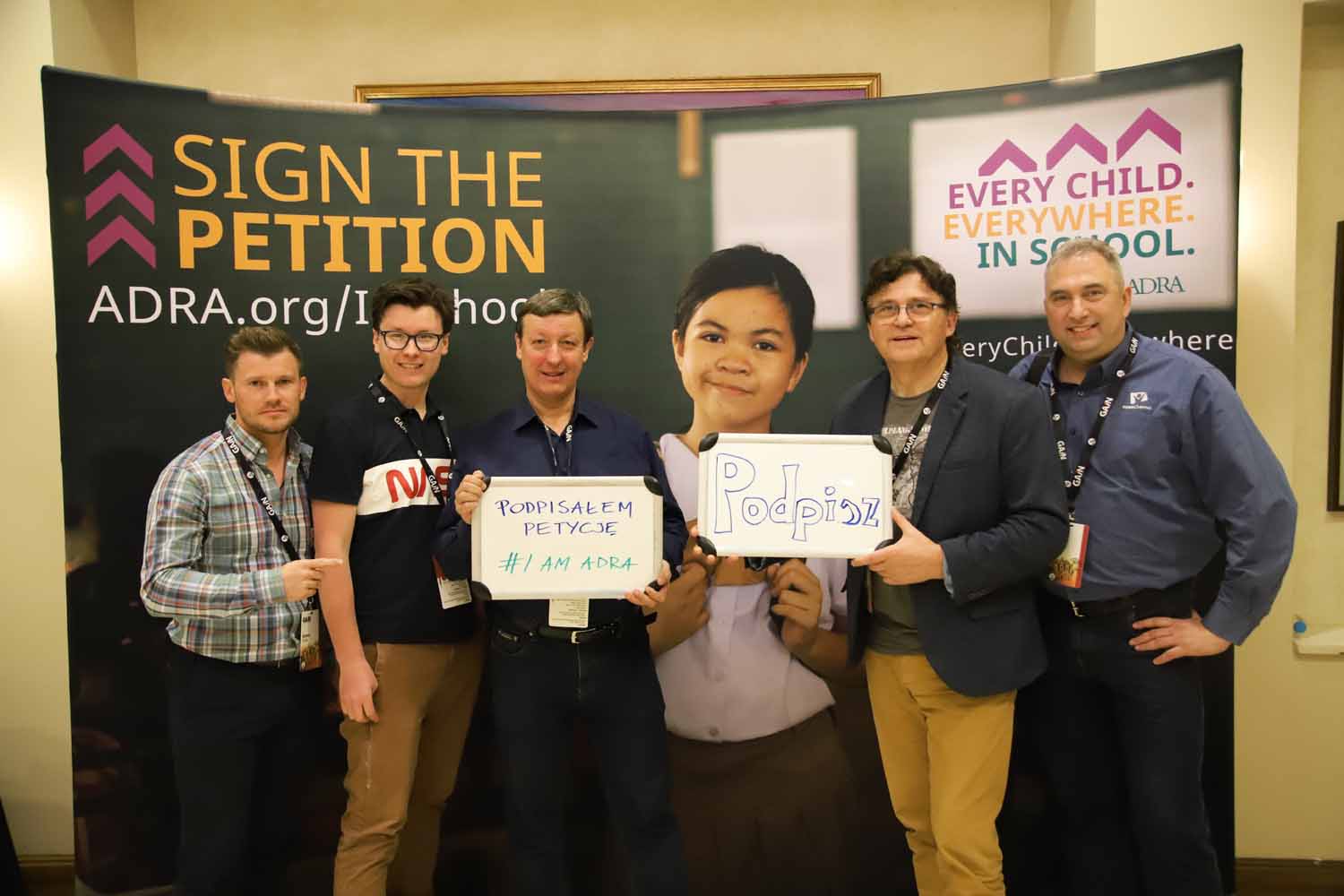 Leadership and Communicators in the Polish Union demonstrate their support.Over the past three years ADRA and the TED have partnered closely on world Refugee Sabbath programming with TED Communication director, Victor Hulbert, travelling on location to give refugees a listening ear and to help them tell their story. The next programme will air on 15 June.
ADRA has also pushed to end violence against women and girls, having supported the 'enditnow' campaign spearheaded by the Seventh-day Adventist Church's Women's Ministries department.
To sign the petition, please visit ADRA.org/InSchool/Petition.
For additional information and/or resources, please visit ADRA.org/InSchool/Resources.

ABOUT ADRA: The Adventist Development and Relief Agency is the humanitarian arm of the Seventh-day Adventist Church. Its work empowers communities and changes lives around the globe by providing sustainable community development and disaster relief. For more information, visit ADRA.org.
The original version of this story was posted in the ADRA Press Room.
---
tedNEWS Staff: Victor Hulbert, editor; Sajitha Forde-Ralph, associate editor
119 St Peter's Street, St Albans, Herts, AL1 3EY, England
E-mail: This email address is being protected from spambots. You need JavaScript enabled to view it.
Website: www.ted.adventist.org
tedNEWS is an information bulletin issued by the communication department of the Seventh-day Adventist Church in the Trans-European Division. Readers are free to republish or share this article with appropriate credit including an active hyperlink to the original article.