19 July 2018 | Tallinn, Estonia [Victor Hulbert]
In Estonia where church growth has been slow, or even stagnant, several new initiatives have been started with a desire to reach out to new people in Tallinn, the capital of Estonia, including a Centre of Influence called Terve Elu Keskus (Whole Life Centre), and a lay-led 'Kompass Church', focused on and reaching out to young adults and university students.
Estonia is one of the Baltic states with an Adventist membership of just 1,460 in a population of 1.3 million. Part of their membership decline has been due to significant emigration throughout the nineties and noughties, shrinking the population for the already small but strategic country tucked between Russia and Latvia, and just across the Baltic Sea from Finland.
Now immigration is providing new ways for the church to serve an international community that is developing in Tallinn, the capital, and also in Tartu the second largest city in Estonia. The church has recognised that there is a growing number of international people working, studying or married to locals. "Thinking of this new open door for ministry and evangelism, the Conference invited a family of missionaries to initiate an English speaking ministry for the growing international community," says Ivo Käsk, president of the Estonian Conference and one of two pastors serving the Tallinn First Church. "God blessed our work by leading a lovely mission minded family to us."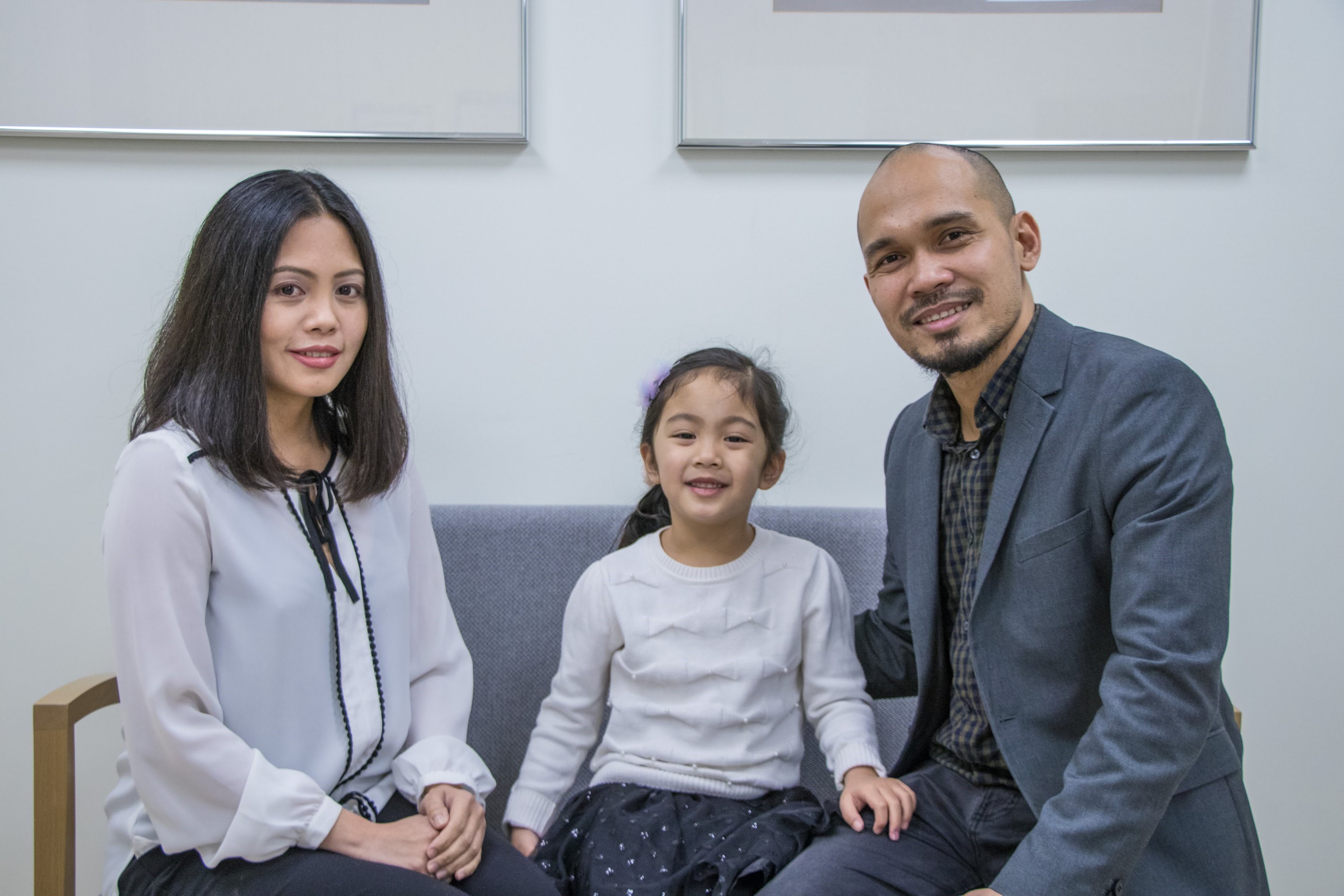 The Onde familyDel and Hannah Onde are from the Philippines. Together with 6-year-old Zion Amber, they are a welcome part of that international community, now having served as volunteer missionaries in Estonia for almost two years.
The couple help out at the Terve Elu Keskus centre, and their involvement has led to some interesting international projects including cooking shows, Filipino Community Gatherings and Christmas parties. There are around 60 Filipinos across Estonia but the only Adventists are the Ondes and one other lady who is married to a local Estonian.
The Onde's first started with an English speaking small group. This then led to an English Sabbath School Group in Tallinn First Church. Now, with the full support of the Estonian Conference and local church leadership, a separate English Sabbath worship group started at the Centre of Influence in January 2018.
"My wife and I prayed and asked God whether it would be a great idea to start a separately worshipping International Group," Del says. "God has blessed us to serve as missionaries in different parts of the world for a long number of years now. But we never thought of starting an English group that would eventually develop into an International Church."
Sixteen people came to the first service and at least thirty percent of them were from their personal contacts in the community. "So we thought, 'Ok, Lord if you really want us to do this then we'll do it. But please guide us!'" Del says. "So we started to meet at least twice a month then it became a bit more frequent and now we're doing it regularly every Saturday."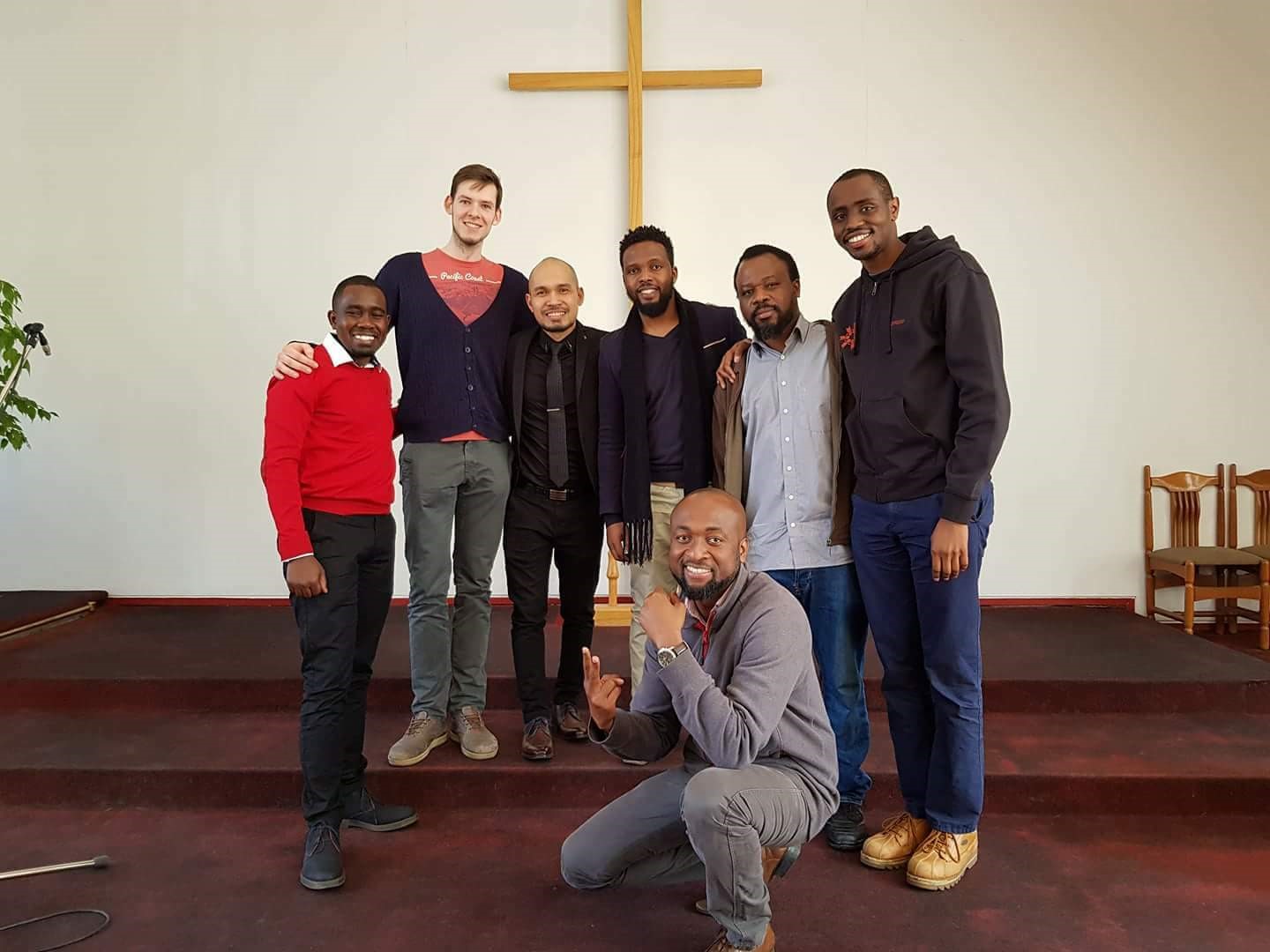 The group moved from the Centre of Influence to the basement of the Tallinn church. Because it's in the heart of the city, it's easier for international students and personal contacts, and is walking distance for tourists from the cruise ships. Thousands of tourists flock into Tallinn from cruise ships or on holiday, especially during the summer. Quite often Adventists are among them and seek a place of worship.
"On numerous occasions we have people joining us from different parts of the world like America, the Caribbean, Denmark, Africa, Mauritius, France, London, Norway, Russia, Pakistan and even Estonia," Hannah explains. Very regularly up to one third of the worshippers are non-Adventists. "Every Saturday we never know who will come through that door," she explains.
It is not all easy going. "My wife and I really need your support through your prayers because we're just starting and growing and there are some challenges along the way. And some of our members are international students so they come and go. But every time someone graduates and goes back to their country God replaces them."
Del notes that a good friend from the Caribbean recently went back home but God sent another to replace him. "It was the wife of one of our members from Africa. We had been praying for her to get a visa to Estonia. And she came just at the right time."
And the news is spreading. "As yet another member graduated and returned to Malawi, someone messaged us from Nigeria stating that he is coming to Estonia to study and wants to join the International English Church Group."
Del and Hannah ask for prayer for this fledgling outreach in Estonia, as they lead this small but active community. "Our dream is that one day very soon, this group will grow even more and become "Tallinn International Seventh-day Adventist Church" – a first for Estonia, where people from different parts of the world and from different walks of life can find refuge, comfort, healing and grow in His presence."
If you would like to know more about English speaking mission work in Estonia, Del and Hannah would love to hear from you. You can contact them at This email address is being protected from spambots. You need JavaScript enabled to view it..
See also 13 Years a Missionary.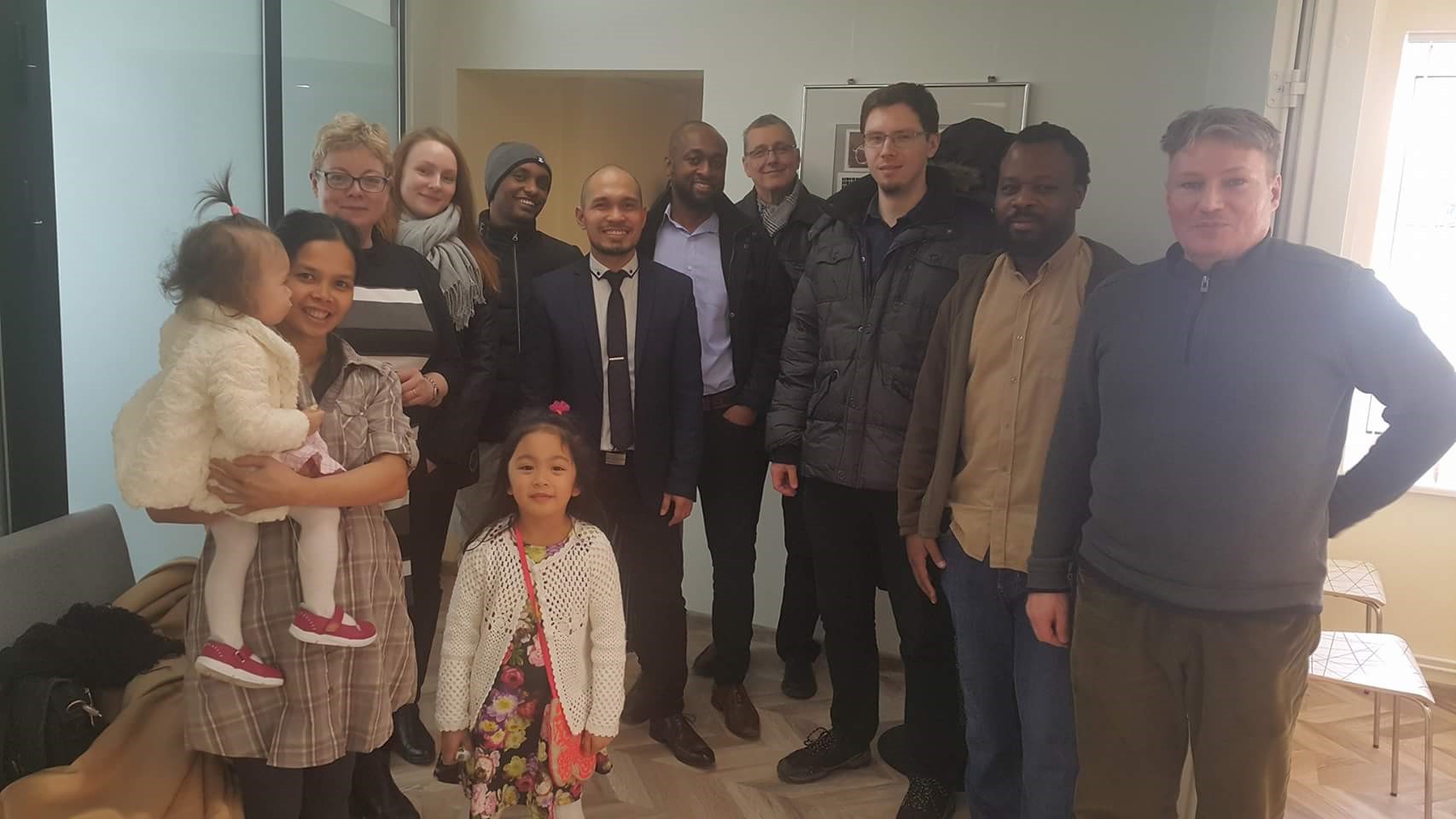 The Onde family with some attendees to the church plant
---
tedNEWS Staff: Victor Hulbert, editor; Sajitha Forde-Ralph, associate editor
119 St Peter's Street, St Albans, Herts, AL1 3EY, England
E-mail: This email address is being protected from spambots. You need JavaScript enabled to view it.
Website: www.ted.adventist.org
tedNEWS is an information bulletin issued by the communication department of the Seventh-day Adventist Church in the Trans-European Division. Readers are free to republish or share this article with appropriate credit including an active hyperlink to the original article.