3 May 2018 | Belgrade, Serbia [Marija Trajkovska]
Historically speaking, spring time is when kings and armies set out to start new wars and go on the offensive. Today one of our biggest wars involves the breakdown of marriage and relationships – something that is destroying people's lives.

To tackle this issue the Family Ministries department of the South-East European Union [SEEUC] organised two spring evangelistic series specifically dealing with healthy marriage and family relationships. They invited Willie and Elaine Oliver from the World Headquarters of the Seventh-day Adventist Church to visit the cities of Niš, southern Serbia and Novi Sad, northern Serbia.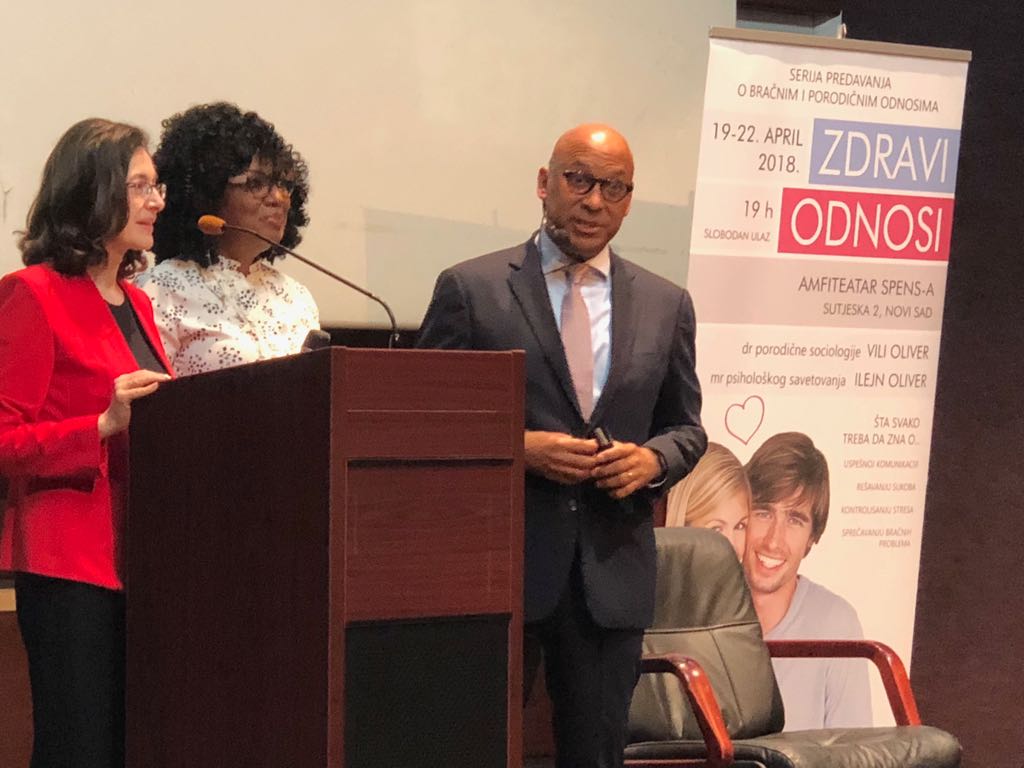 Left to right: Marija Trajkovska, Elaine & Willie Oliver. [Photos: SEEU]The main aim of the lectures held in the public halls, and seminars held in the local Adventist churches, was to prevent marital distress and so avoid separation and divorce.

The Evangelistic series, 'Healthy Relationships', held 13 – 17 April in the New City Hotel, Niš, started with a series of TV interviews with Willie Oliver. Mirko Perović, a journalist with Kopernikus TV, asked questions on how to improve marriage and family relationships.

Late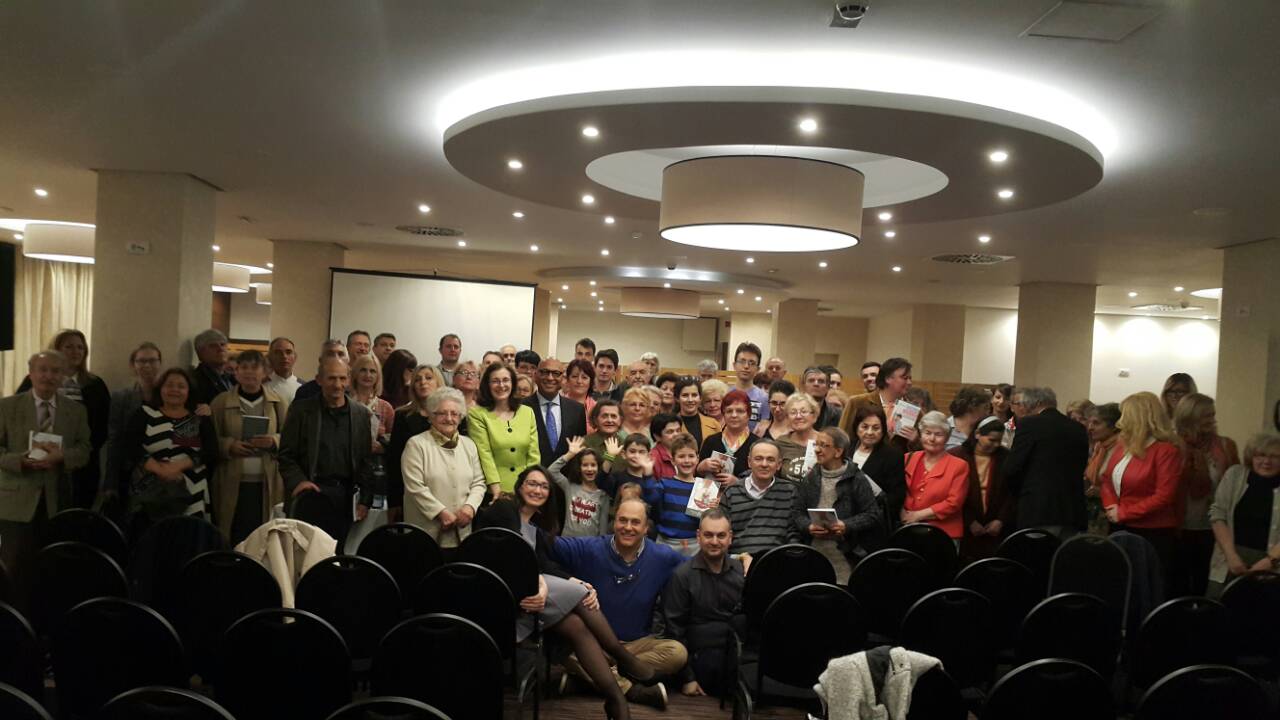 Healthy Relationship Participants at the Niš seriesr in the day Svetlana Petrović invited Oliver to the family programme on Belle Amie TV. He told her, "Love is not enough for having strong and happy marriages. A lot of patience, kindness, understanding, honesty and confidence are also essential… Very often marital distress is caused by opposite or unfulfilled expectations, so we have to learn how to deal with them." He noted, that while dating opposites attracts us, those opposites can repel us in marriage. However, he emphasised, "there is hope! We can learn how to be better husbands and wives and how to be even great husbands and wives."

Petrović, was so impressed by the practical advice, that she wrote a newspaper article under the title 'Why Love is Not Enough', published in 'Niške vesti' two days later. Oliver returned to the Belle Amie station the following morning for a second opportunity to answer questions and promote the lecture series.

T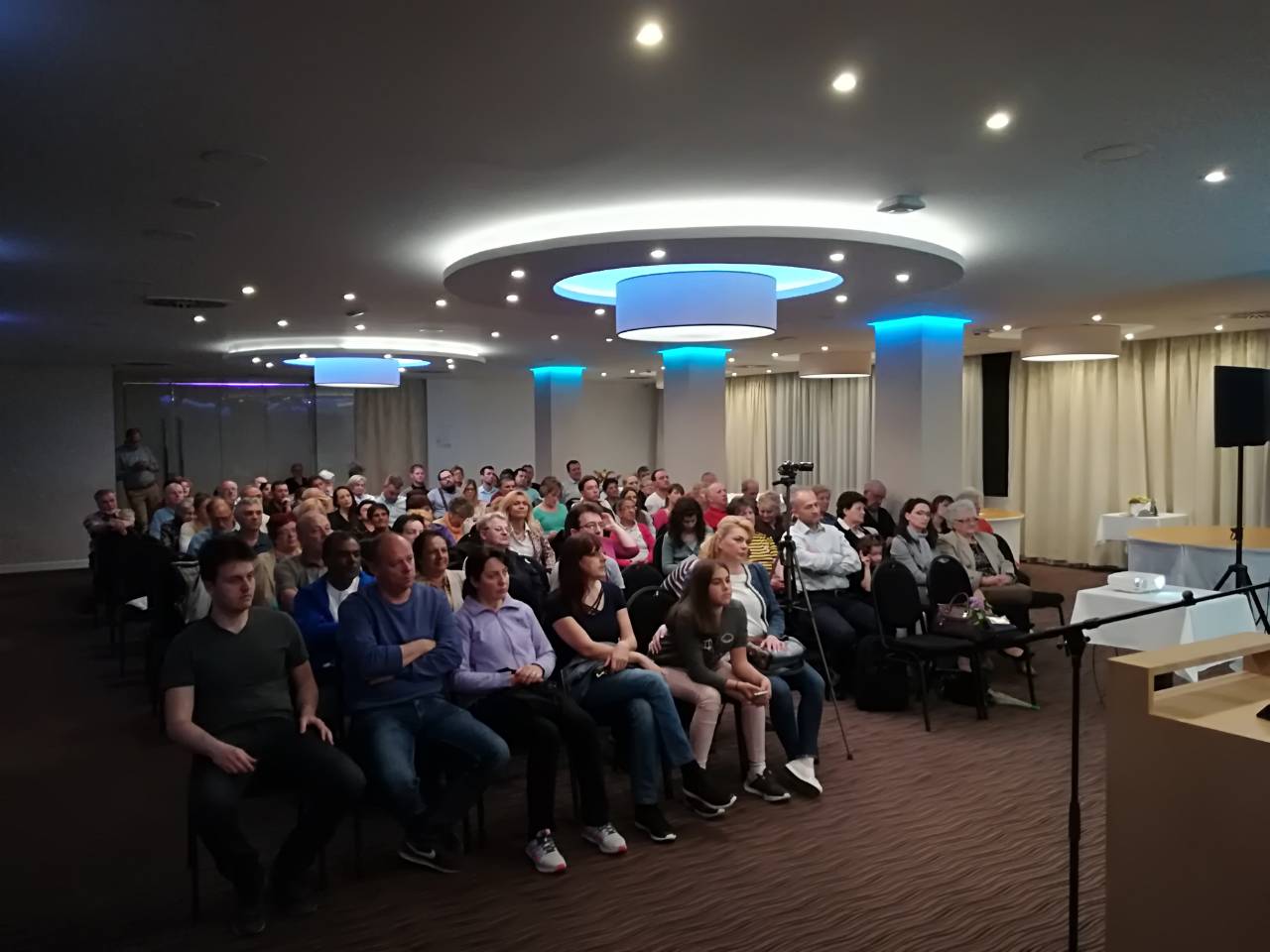 Lectures attracted up to 160 peoplehe lectures themselves attracted up to 160 people, more than half of them non-members who attend the very popular Adventist Health Club in Niš. Others were completely new interests, discovering the Biblical message on marriage and family for the first time in their lives.

Oliver also preached at the Niš church, touching the lives of church members. His strong appeal at the end of the morning service moved dozens of young people to indicate a desire to surrender their hearts to God and to prepare for baptism.

Continuing in the church, the marriage enrichment seminar "Stronger Marriages - Stronger Families and Churches", helped the participants to gain fresh insights into the secrets of strong, healthy and happy marriages and family relationships and to go home determined to improve and enriched their most intimate ties.

Elaine Oliver then joined her husband Willie to repeat the series in Novi Sad, northern Serbia, using the amphitheatre of the SPENS Convention Centre, 19 – 22 April.

T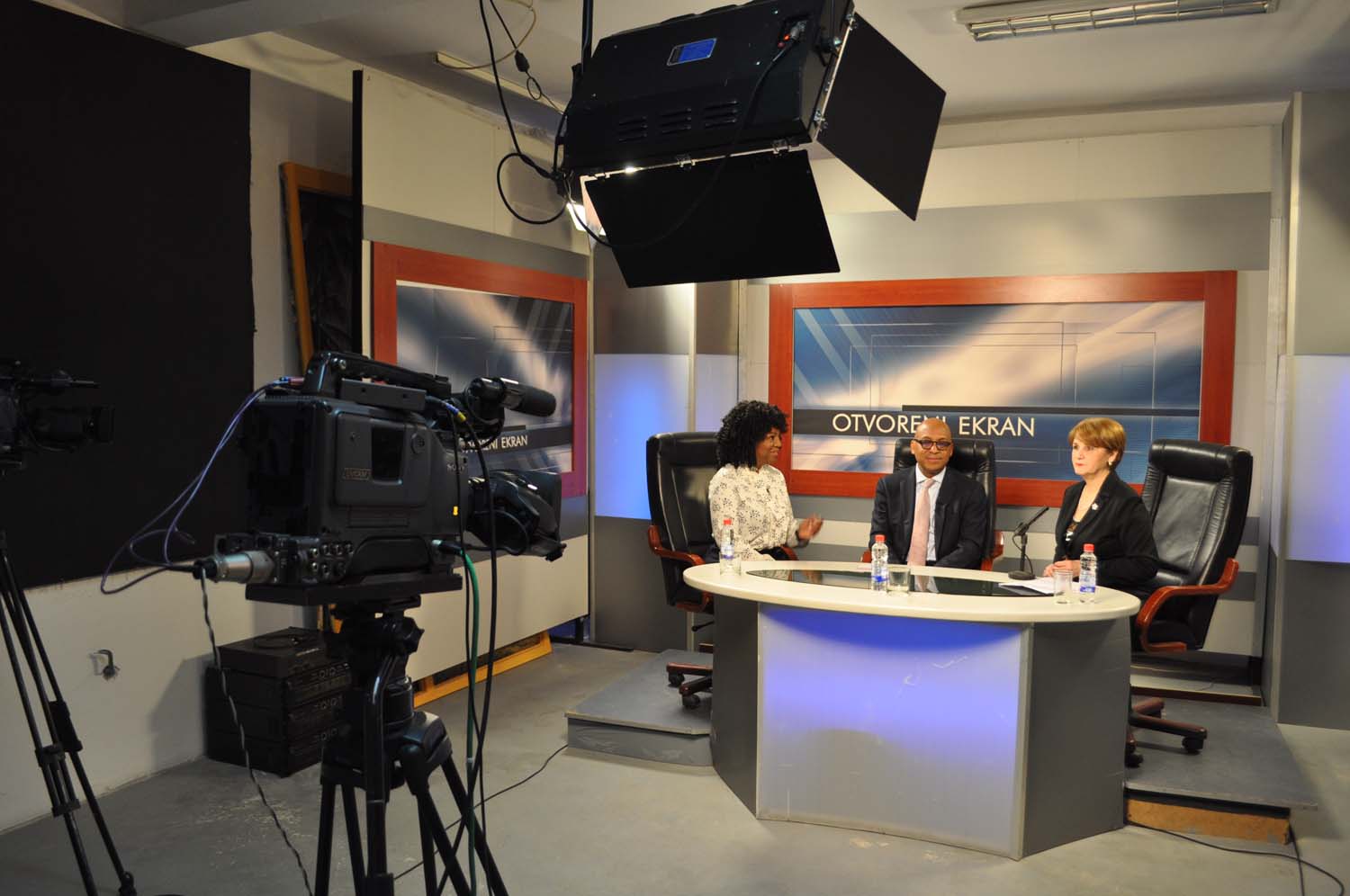 TV Kanal 9 interviewV was again an important part of the process, the Olivers appearing on the TV Kanal 9 where, in an hour-long interview, they shared about marriage and family values in Serbia, Europe and world-wide, helping the audience to get simple, practical and applicable instructions on healthier and happier marriages and family relationships. Due to audience interest, the programme was repeated on the following two days.

Some 150 attendees came to the lecture series, including up to 80 non-members. Topics like "What Everyone Should Know About Effective Communication", "What Everyone Should Know About Solving Conflicts", "What Everyone Should Know About Managing Stress and Enjoying Peace" and What Everyone Should Know About Preventing Marriage Distress" occupied everyone's attention and created interest in finding relevant solutions. Participants would surround the Olivers long after the meetings were finished, asking questions and looking for private advice.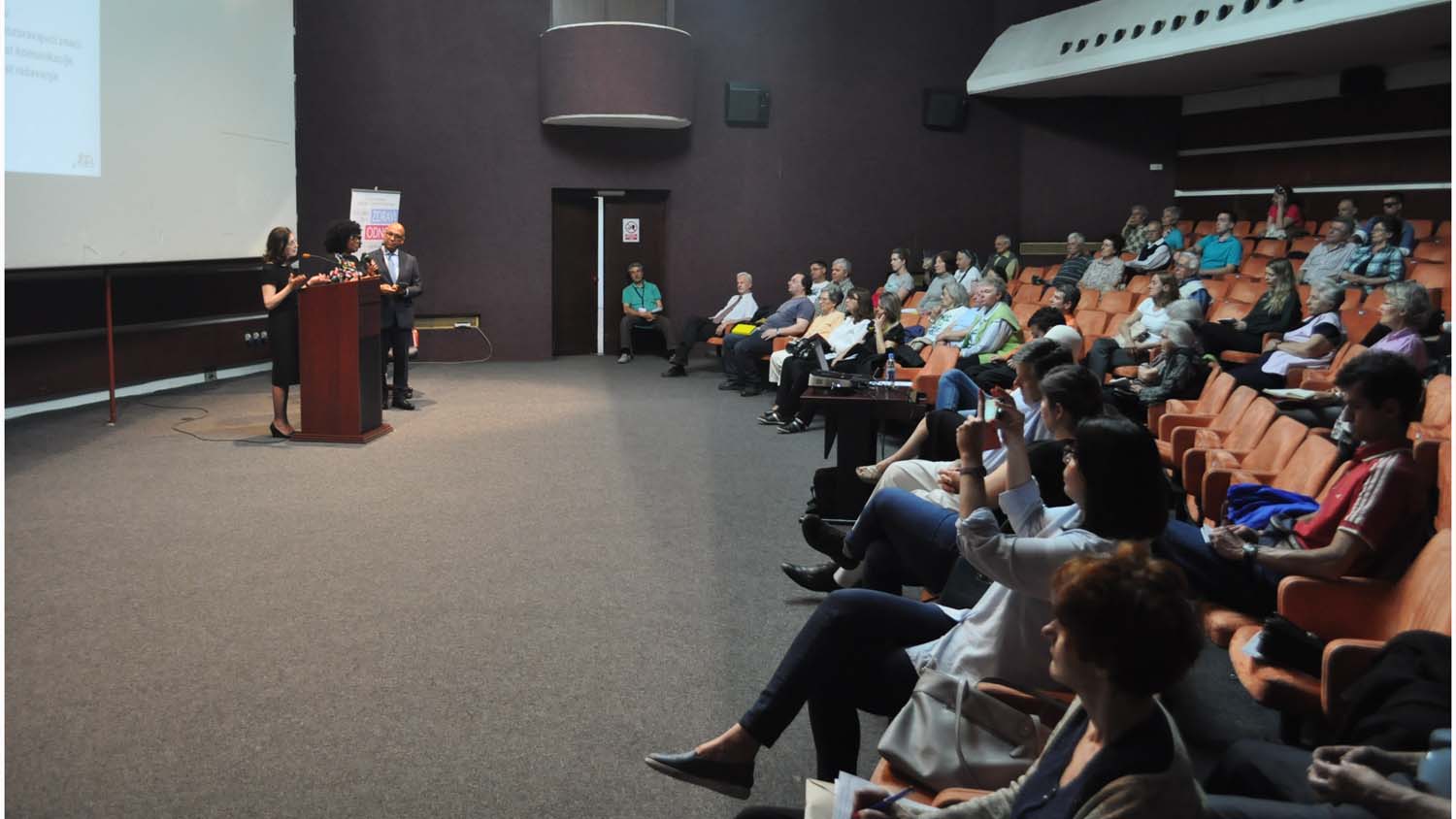 'Healthy Relationships' continued at the Spens Convention Center, Novi SadA similar scenario happened at the end of the marriage enrichment seminar in the Novi Sad church hall on Sunday, 22 April. People were hungry for fresh insights, essential to help resolve marriage and family issues that are present even in the everyday life of Christian families.

Translating the TV interviews, seminars and series, Marija Trajkovska, SEEUC Family Ministries director, says that, "these two spring series came at the right time and place, giving new hope and inspiring faith in better marriages and families."
She noted that, "The greatest promise of success we can give people is from Philippians 4:13, 'I can do all things through Christ who strengthens me'. Christ and only Christ, through His power, can make the marriages and families of Niš, Novi Sad and the whole SEEUC stronger, healthier and happier."
Trajkovska continued with a follow-up series in Novi Sad on Wednesday, 25 April, speaking on 'Dare to Love, Even When You Disagree With Your Partner`s Opinion'. [tedNEWS]
________________________________________
tedNEWS Staff: Victor Hulbert, editor; Sajitha Forde-Ralph, associate editor
119 St Peter's Street, St Albans, Herts, AL1 3EY, England
E-mail: This email address is being protected from spambots. You need JavaScript enabled to view it.
Website: www.ted.adventist.org
tedNEWS is an information bulletin issued by the communication department of the Seventh-day Adventist Church in the Trans-European Division. Readers are free to republish or share this article with appropriate credit including an active hyperlink to the original article.