28 April 2018 | Bucharest, Romania [Corrado Cozzi, EUDNews / Victor Hulbert]

More than 640 medical professionals, dentists, chaplains, health educators and students met together 17-21 April for the second European Health Conference in Bucharest, Romania. The conference theme, 'Reversing diseases with Lifestyle Medicine', addressed a major challenge in terms of treatment of disease.
Claiming responsibility for over 60% of all deaths, non-communicable diseases are currently the world's main killer. The number of individuals affected by mental health conditions, cardiovascular diseases, cancers, chronic respiratory diseases and diabetes will increase substantially in the coming decades. Lifestyle Medicine seeks to provide a cure by identifying the root cause of these lifestyle related diseases.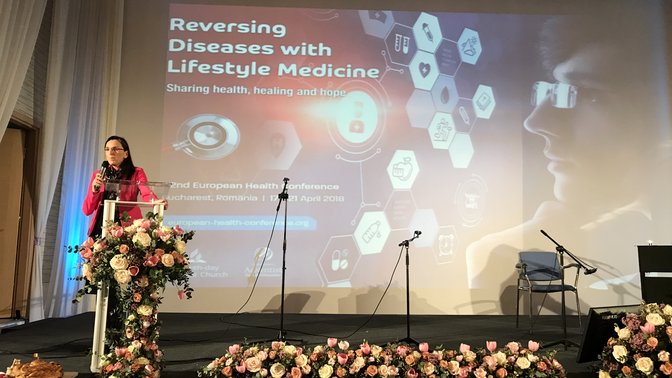 Valerie Dufour opens the Conference. [Photo credit: EUD]Inspired by Jesus' method of healing the sick of His time, Valerie Dufour, Health Ministries director for the Adventist Church in Inter-Europe (EUD), organized the conference and highlighted stories of healing. These stories, she said, are "not pointing to a remedy for the sick, but rather call our attention to the Source and process of healing—as well as to each person's necessary contribution to his/her own recovery."

"Conferences like this one are important for learning new things and being reminded of things we once knew, but maybe even more importantly they are arenas for networking and being inspired," states Torben Bergland, Trans-European Health Ministries director. He was thrilled to hundreds of people gathered together, most of them lay members, prioritising time and money to attend in order to be better equipped to serve others.

Academic lectures and workshops presented by experts from across the world shared possible solutions to those suffering from chronic, non-communicable diseases. Presenters shared practical, evidence-based studies showing how, in many cases, these diseases can be successfully treated and reversed through lifestyle interventions.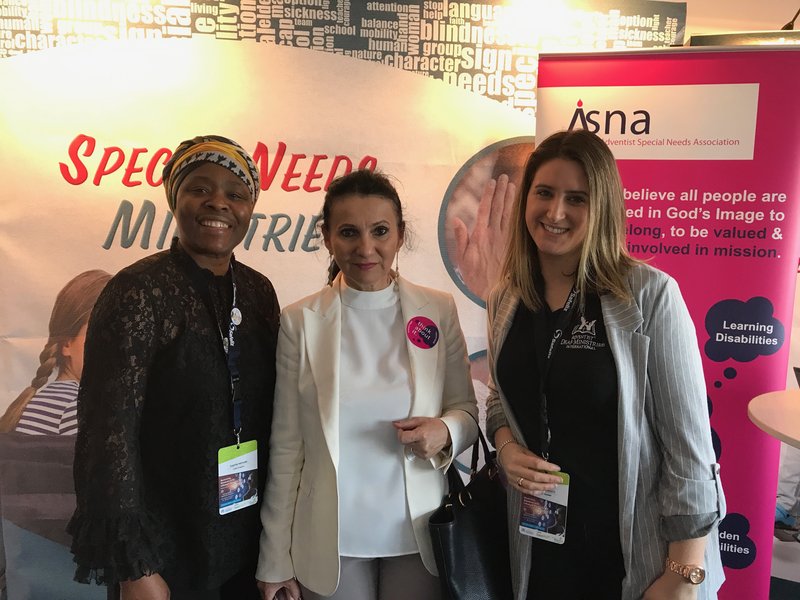 Romainian Health Minister, Sorina Pintea (centre), praised the Adventist Church for their leadership in preventative health. Pictured here with Sophia Nichols (left) of the UK based Adventist Special Needs Association and Taida Rivero (right) who serves as Deaf Ministries coordinator in Spain. [Photo: EUD] Sophia Nichols, Disability Ministries Coordinator for the South England Conference found it to be "a wonderful week of inspiring, life changing and educational lectures and conversations." She also enjoyed working in partnership with the EUD Deaf and Special needs ministries for the week.

"This conference was really important because it gave us a scientific basis for integrating spirituality with lifestyle," said Dr. Rudolf Brodbeck from Switzerland. "Normally health professionals are trained only in bio-psycho-anthropology, but you need to integrate spirituality to be successful and to meet the need of the people."

Svetlana believes the conference can help her with her patients. "As a nurse I learned many things that I can share with people that need a good lifestyle. We need to be trained to help them. This conference opened my mind on how I can help them."

"This conference gave a wonderful opportunity to learn cutting edge, relevant medical information in the context of a biblical worldview," said Dr. Daniel Binus, clinical director at Beautiful Minds Medical, located in the US state of California. "It was also encouraging and inspiring to network with other Seventh-day Adventists making a difference through medical ministry."

Worship services by Don Mackintosh, director of Newstart Global Health Programme at Weimar College, located in the US state of California, were an important theological contribution to the conference. The devotionals Mackintosh presented were enriched by scientific data and helped the participants to discover the interest God has for the holistic wellness of His sons and daughters.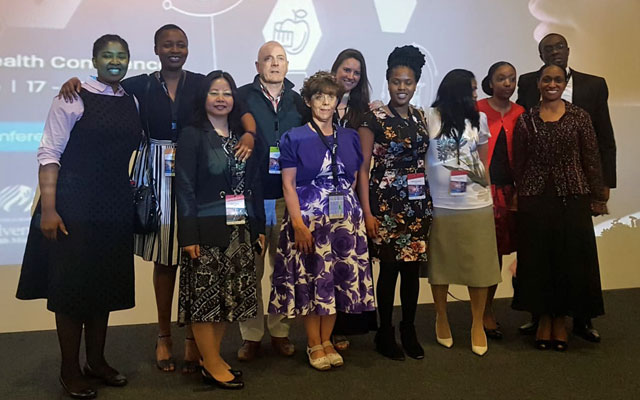 Delegates came from all over Europe and the world. This group attended from Ireland. [Photo: Irish Mission news]Dr. Zeno Charles-Marcel, associate director of Health Ministries for the Seventh-day Adventist Church, confirmed that "this conference was inspirational and humbling. God gives us a glimpse of His creative and re-creative power through health restorative science. It was a time to reconnect with colleagues and meet new ones which will undoubtedly lead to friendships and collaboration."

Dr. Fred Hardinge, also an associate director of Health Ministries for the Seventh-day Adventist Church noted that the Conference "has furthered the understanding of the importance and variety of lifestyle interventions in improving quality of life, preventing disease, and as an important component in treating many degenerative conditions."

While participants came mainly from Europe, others joined from the United States, Australia, Morocco, Thailand, Chile, Peru, Brazil, Russia and other countries. The conference was held in Bucharest, Romania, at the Rin Grand Hotel, close to the historical centre of the city. [tedNEWS]

For more information about this year's conference, click here.

SEE ALSO
Two detailed reports of the Conference from the Baltic Union Health Ministries director, Alla Nõmmik:
Part 1. Part 2
Report from the Irish Mission: Sharing Health, Healing & Hope.
The above report is largely based on the original article published by the Inter-European Division.
________________________________________
tedNEWS Staff: Victor Hulbert, editor; Sajitha Forde-Ralph, associate editor
119 St Peter's Street, St Albans, Herts, AL1 3EY, England
E-mail: This email address is being protected from spambots. You need JavaScript enabled to view it.
Website: www.ted.adventist.org
tedNEWS is an information bulletin issued by the communication department of the Seventh-day Adventist Church in the Trans-European Division. Readers are free to republish or share this article with appropriate credit including an active hyperlink to the original article.