31 March 2018 | Canet, Spain [EUD & TED Communication department. Photos: Various GAiN participants via ADAMS photo system]

A Mission project first decided during GAiN Europe 2017 came to full fruition in March 2018 with the world premiere of 'This is my Mission – What is yours?'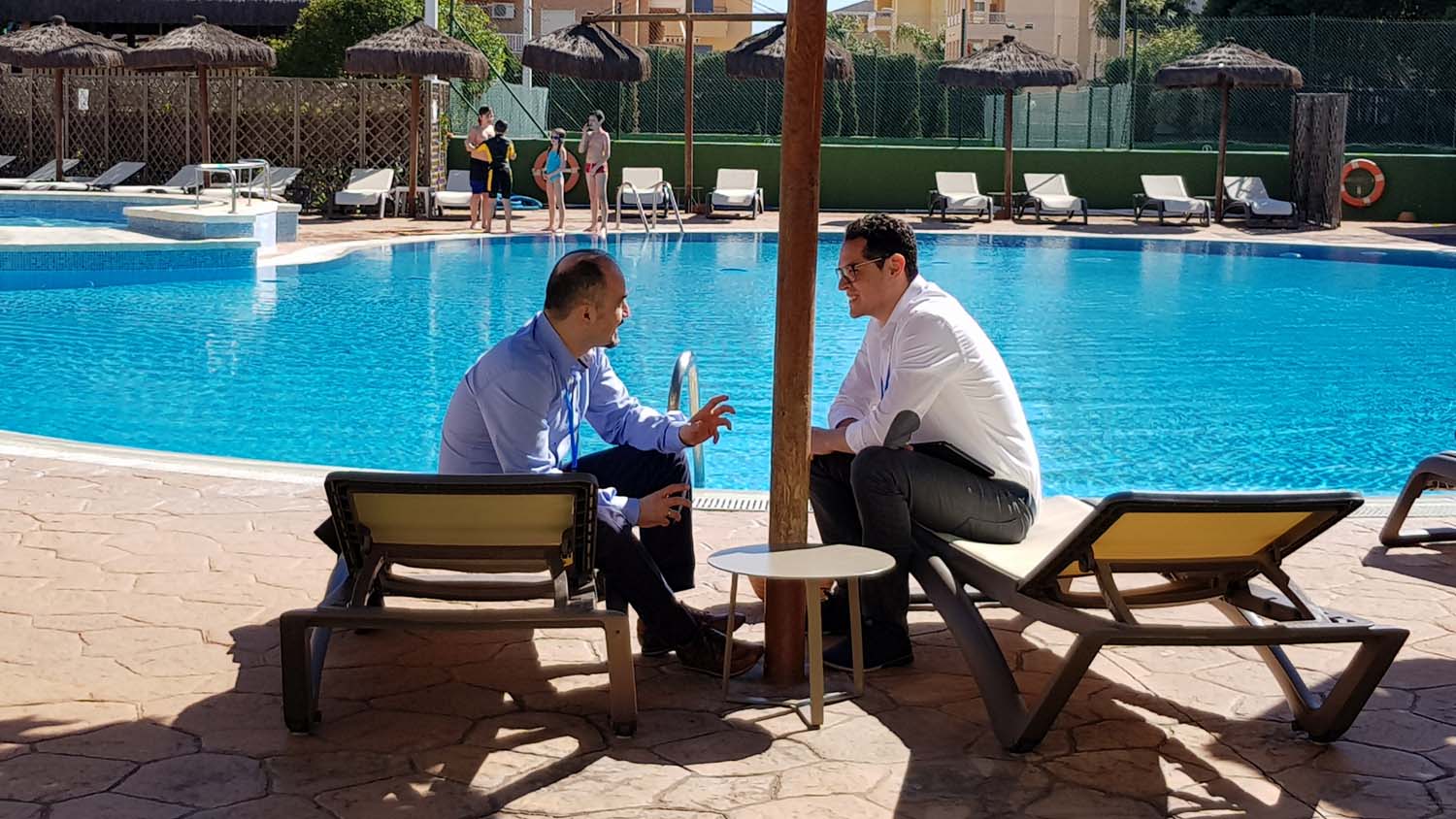 In a stunning Mediteranean setting near the Spanish HopeMedia studios, much networking happened in the hotel gardens or walking along the beachSince GAiN stands for Global Adventist Internet Network, Klaus Popa, director of the Adventist Media Centre in Germany [Stimme der Hoffnung], suggested to the 2017 participants meeting at Newbold College in England, that it would be good to find a common project that all media centres, and even individuals could participate in. After deep Saturday night discussions, the consensus was to encourage each Union to present a 20 second video clip based around the theme of 'My Mission'.
Twelve months later, and in the stunning venue of Canet, Spain, close to the Spanish HopeMedia centre in Sagunto, participants returned to view the results. No less than 23 submissions from 10 countries (including a guest entry from the USA) enthralled the audience as a variety of styles and content demonstrated that across a wide variety of budgets, cultures and levels of creativity, networking can produce a product that, as Popa stated, 'is larger than the sum of its parts'.

This was most ably demonstrated as Adrian Dure, coordinator for the project, complied all the segments into one, stunning 2 ½ minute compilation.


Each segment is available for studios to adapt, translate and share as appropriate and a few late entries are still coming in.
Networking is nothing new for Europe. For several years communicators have collaborated together and shared resources on projects on projects such as
Arnion
, a series on the book of Revelation;
Reformation Journey
, a social media project celebrating 500 years of Reformation;
World Refugee Sabbath
; and
Hacksaw Ridge
when print and social media resources were freely shared across borders. In a larger scale, media centres and the two Divisions have contributed to the production of costs of both series I and II of
Animal Encounters
. Other projects are on the way, including, subject to securing funding, a European look at Adventist Mission since it's early beginnings in a 10 part series, '
The Vision
'.
Working together in this way was inspiring for Joe Sloan, International development director for Hope Channel. "The commitment to spread the gospel and the collaboration of the effort was most impressive," he stated.
GAiN Europe 2018 took the networking one stage further. Rather than running separate programmes for radio, TV, print, IT or social media, the programme ran on a pyramid structure. At the start of each day plenary sessions included devotional periods and strategic subjects that would be of interest to everyone.
Mid-morning these would separate into three tracks: Communication Marketing, Content, and Technology/Infrastructure. Later in the day these would then sub-divide again into a choice of six in-depth workshops. Evenings were left free for networking and social activities with discussions often going on late into the night – or transferring into Spain's #1 award winning ice-cream parlour just 2 km along the coast.
The three tracks allowed for cross-fertilisation between various entities and equally allowed for the development of the next 'This is my mission' project, a more ambitious task that will combine print, video and social media into generating a positive project on fatherhood in the 21st century. That will then be released in GAiN Europe 2019.
Williams Costa, GC Communication director reflected at the end of the conference that "The concept, the organization and the content were excellent." He also really appreciated "the network, the connections among different European countries and cultures. That was fantastic."
Many European producers work alone or in very small teams. This annual opportunity to network and share together provides them with motivation, a benchmark to help them improve, and a sense of common mission, sharing Christ in an increasingly secular market-place. [
ted
NEWS]
SEE ALSO:
Lifetime achievement award granted to 'Communicator Emeritus' at GAiN Europe Conference

Adventist European Communicators Event Showcases Power of Synergy
(Adventist Review)
Communication re:volution at European GAiN Conference
(2017 report)
GAiN photographers enjoy sunrise on the beach (below).
---
tedNEWS Staff: Victor Hulbert, editor; Sajitha Forde-Ralph, associate editor
119 St Peter's Street, St Albans, Herts, AL1 3EY, England
E-mail: This email address is being protected from spambots. You need JavaScript enabled to view it.
Website: www.ted.adventist.org
tedNEWS is an information bulletin issued by the communication department of the Seventh-day Adventist Church in the Trans-European Division.