24 July 2017 | Llangollen, Wales [North American Division News / Adventist Review / tedNEWS] For the second time in six years, an Adventist choir has won the 'Choir of the World' title at the prestigious Llangollen International Musical Eisteddfod, Wales.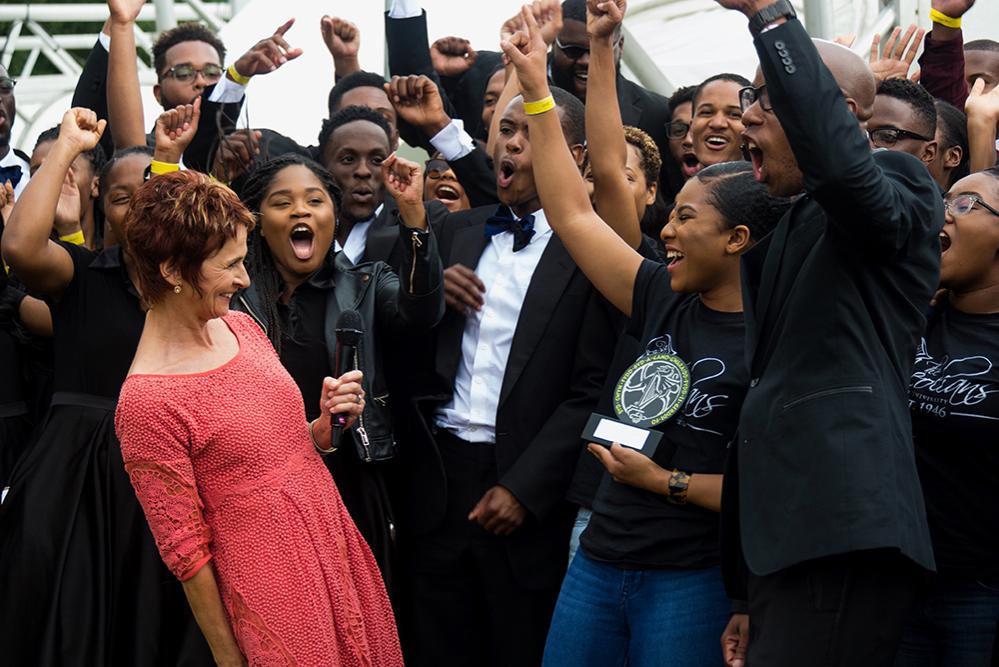 Oakwood University's Aeolians Choir members celebrate earning the title Choir of the World after the announcement of their win on 8 July 2017. [Photo: Michael Marshall]The Oakwood University Aeolians Choir won the World Choir Title (Choir of the World) in the choral category during the festival on July 8, 2017. The university also received a second award as Jason Ferdinand, the Aeolians' director, was named Outstanding Director of the World Choral Festival.
The competition, which ran 3 – 9 July, originally began in 1947 as a festival to celebrate the "Peace and Harmony" that showcases some of the world's greatest musical talents. According to the event's website, each year the International Musical Eisteddfod welcomes more than 4,000 performers, and as many as 50,000 visitors join the festival in the small Welsh town "to sing and dance in a unique combination of competition, performance, and international peace and friendship." The event culminates with the choral competition.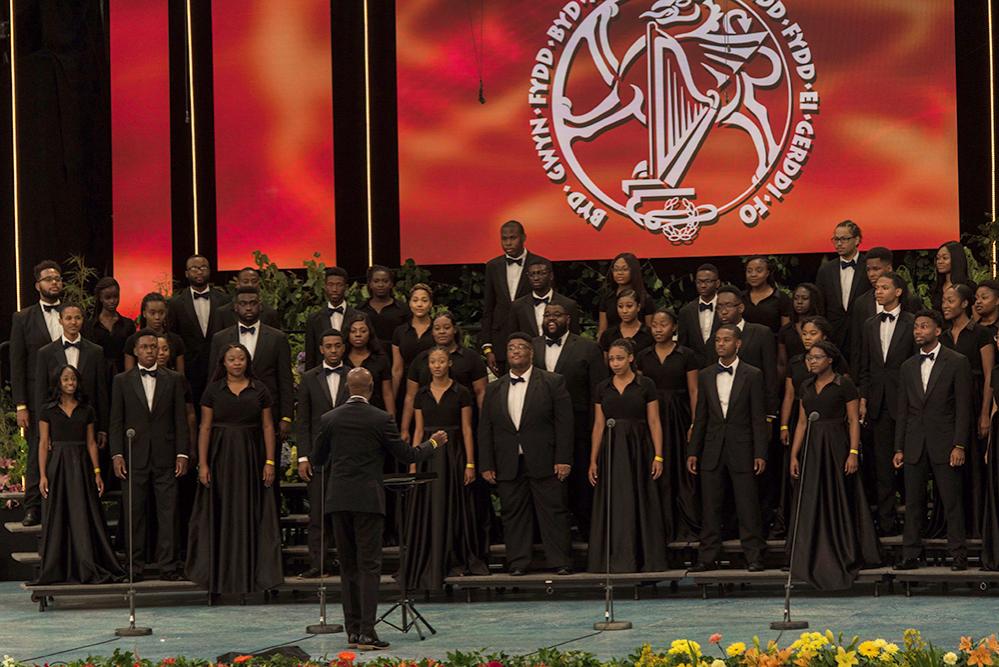 Oakwood University's Aeolians perform at the 2017 Llangollen International Musical Eisteddfod in Wales, United Kingdom. [Photo: Michael Marshall]"On behalf of the entire Oakwood University community, we celebrate the success of the Oakwood University Aeolians on another history-making accomplishment," said Leslie N. Pollard, president of Oakwood University. "To be named Choir of the World at the International Welsh Eisteddfod in Wales is a singular honour that represents the excellence of our university." He offered congratulations to the director, Dr Jason Ferdinand, and to the Oakwood University students. "You have distinguished yourselves and made us proud and thankful once again," he said.
The Aeolians are following in a proud tradition. In 2011 the Ambassadors Chorale from the Adventist University of the Philippines swept the board with four awards at the event – especially significant as organisers reshuffled the programme to allow the choir to perform after Sabbath hours. Both choirs have been a substantial faith witness, touring the British Isles as well as competing at the festival. [See: Adventist Filipino choir wins 'Choir of the World' title.]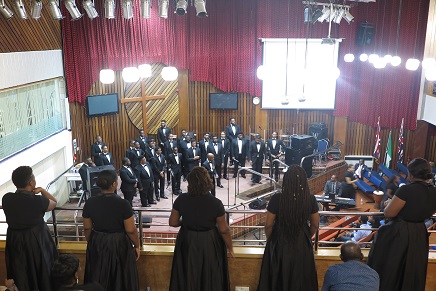 The Aeolians Gospel Choir perform in Birmingham. [Photo: NEC]While in the British Isles, the Aeolians also performed at venues in London, Birmingham, and Manchester. The Birmingham concert was especially meaningful as two of the current choir members hail from there and shared their testimony of God's leading.
Oakwood University is a historically Black Seventh-day Adventist institution of higher learning in Huntsville, Alabama, United States.
[Original version of this article first posted in Adventist Review]
---
tedNEWS Staff: Victor Hulbert, editor; Esti Pujic, associate editor
119 St Peter's Street, St Albans, Herts, AL1 3EY, England
E-mail: This email address is being protected from spambots. You need JavaScript enabled to view it.
Website: www.ted.adventist.org
tedNEWS is an information bulletin issued by the communication department of the Seventh-day Adventist Church in the Trans-European Division.