5 April 2017 | Binfield, UK [Angeline Tyrokomos] For many singles the idea of a 'singles event' fills them with horror – or at least apprehension. Yet singleness is an issue within the Adventist Church. Torben Bergland, Singles Ministries co-ordinator for the Trans-European Division has been involved with a number of recent events and was impressed by this report from a cautious attendee: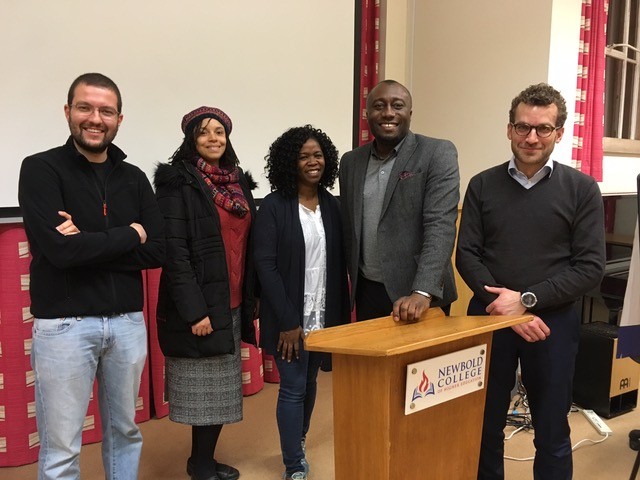 From left: João Filipe Macedo, Divinia Reynolds, Dee Edwards, Alistair Agbaje (Newbold Chaplain) together with Torben Bergland"I am usually hesitant to attend any event with the word 'singles' in the title. I imagine a room full of people in their early 30's desperate to get married, or some weird Christian version of speed-dating. But an event at Newbold College of Higher Education on 20 February, facilitated by postgraduate theology student Dee Edwards and with invited guest, Dr Torben Bergland, wasn't at all what I had imagined.
After realising that I wasn't the only one attending who wasn't there to 'find a husband', I relaxed into my chair and began to let my guard down. Together with about 30 others who attended, I soon discovered that many people were there to enhance their ability to reach people within their various ministries who might struggle with loneliness or the stigma and shame associated with singleness."
"The primary objective for this meeting was to listen and understand more about the issues facing singles in our communities," said Dr Bergland. "I realise that the challenges, needs and perspectives are very diverse, and that singles are far from a homogenous group of people. I greatly appreciated the openness and frankness of the discussion this evening. It revealed pains and dilemmas to which there are no quick fixes."
Dee, who was instrumental in organising the event which was open to students from the College as well as youth from Newbold Church and other interested parties and which was supported by the College's Campus Ministries team, has seen first-hand the adverse impact that singleness can have. "A young person contacted me to explain that she had all but given up on being an Adventist because she felt so alone. She described how she not only felt lonely because she wasn't in a relationship, with no prospect of entering one, but that she also felt like an outcast. So I contacted Torben to share my concerns. We decided that it would be beneficial to have a small meeting to open the dialogue about singleness in the Church, so that he could hear the viewpoint and opinions of other people," said Dee.
I am currently single and have been for most of my life, so I never personally understood the need for a 'singles ministry' as I didn't see it as something that I needed support in, or an area that needed special attention. However, through listening to the many stories shared over the process of the evening, I came to realise that failing to address singleness can have a detrimental impact on marriages, the Church community, evangelism and even the retention of members.
Postgraduate theology student João Filipe Macedo, who attended the event, commented on the need for a change in the culture and support of singles. "One of the things that struck me the most during the meeting was how the Adventist Church has neglected this substantial portion of its membership. As many of those present pointed out, our Church is very much about relationships: we have Family Ministries, we have Children Ministries, and whenever we discover that a particular person is single, we hurry to engage in matchmaking. Singleness is regarded almost as a disease in need of a hasty cure."
So how do we move forward as a Church, in a culture where one-night stands and dating apps such as Tinder, that encourage casual, commitment-free dating, are the norm? According to the discussions at this event, education and communication are the keys. We need to keep the dialogue open, and train pastors and even lay members to recognise the importance of the issue of singleness and how to respond positively rather than falling into the cliché of suggesting people 'pray about it'.
There's no doubt that this discussion was appreciated and beneficial to all who attended. Postgraduate theology student Lorraine Fontaine from Newbold, commented, that it is not often that there is a forum where Adventists can have an open, frank and informed conversation about singleness. "The discussions at this event highlighted the great need in our Church to have safe spaces to discuss the real issue of being a single person in a community where marriage is rightly put on a pedestal, but singleness is the long-term reality for many," she said. "I hope that this isn't where the discussion ends, but that it will be a step in the right direction to making some real change in the way we talk about and to single people."
We know from the word of God that there is a season for everything, and whether you believe that God has 'the one' set aside for you or not, we as a Church and a community of believers can all do our part in changing the negative stigma associated with singleness. By encouraging increased education about sexuality and singleness in the church, and by seeking, through prayer, the wisdom and opportunity to be used as vessels of encouragement to help celebrate others around us, we can better support those who are struggling with this particular stage in their life. [tedNEWS]
---
tedNEWS Staff: Victor Hulbert, editor; Esti Pujic, associate editor
119 St Peter's Street, St Albans, Herts, AL1 3EY, England
E-mail: This email address is being protected from spambots. You need JavaScript enabled to view it.
Website: www.ted.adventist.org
tedNEWS is an information bulletin issued by the communication department of the Seventh-day Adventist Church in the Trans-European Division.