2 March 2017 | Budapest, Hungary [Imre Tokics] In recognition of Professor Jenő Szigeti's 50 years of service, the Seventh-day Adventist Church in Hungary presented him with a Lifetime Achievement Award at Budapest Central Adventist church on Sabbath, 25 February 2017.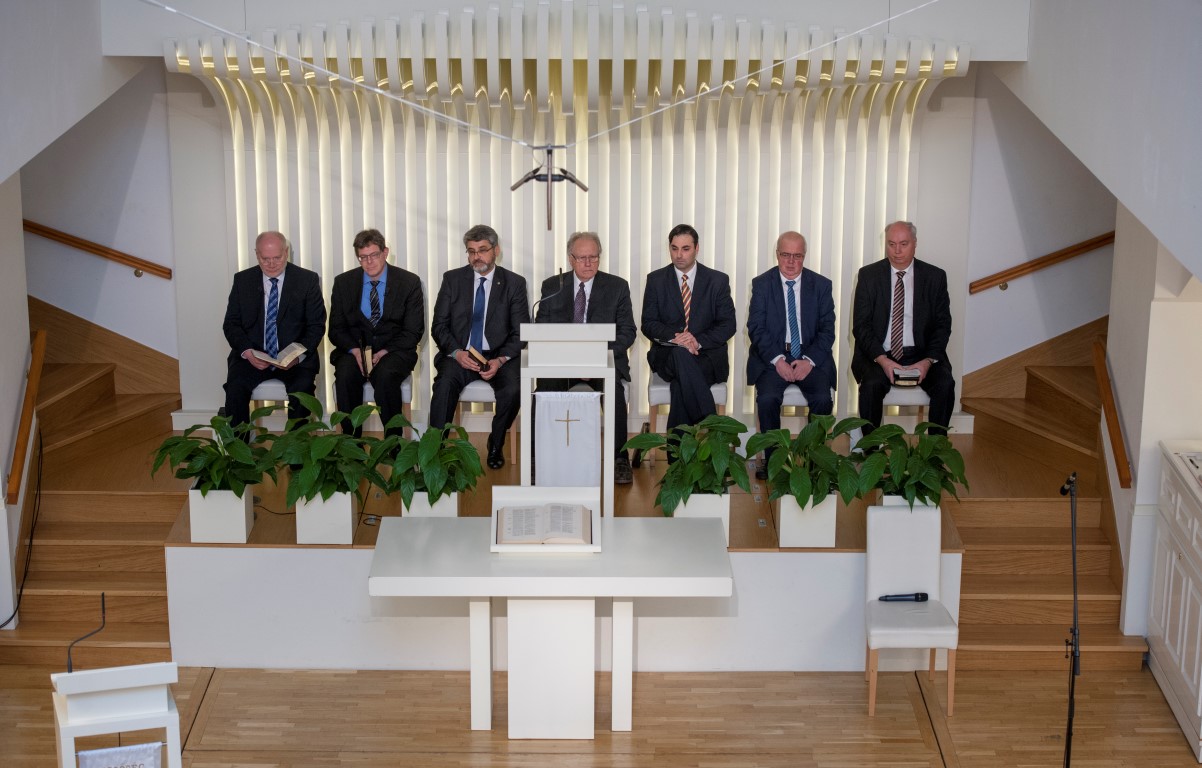 Szigeti is a prolific author. He has written more than a hundred books. Thousands of his papers and articles are published in prestigious periodicals. He is also the founder of the Hungarian Adventist Theological College. Generations have learned from him, with most of the current Adventist pastors in Hungary having been his students. His lectures have taken him beyond the borders of Hungary to teach in Romania, Slovakia, Serbia and the Ukraine, and even to share with Hungarians living in the USA.
At age 80, Szigeti is still an active teacher at the Hungarian Adventist Theological College. He has a weekly one-hour timeslot on a nationwide TV channel, PAX, where he presents Sabbath School Bible Studies to hundreds of thousands of Hungarians. He is also a permanent guest of Professor Imre Tokics on his TV programme, Religion and Culture, broadcast on a nationwide channel, Hatoscsatorna. Here they share conversations with well-known Church personnel on the subjects of faith, religion and culture.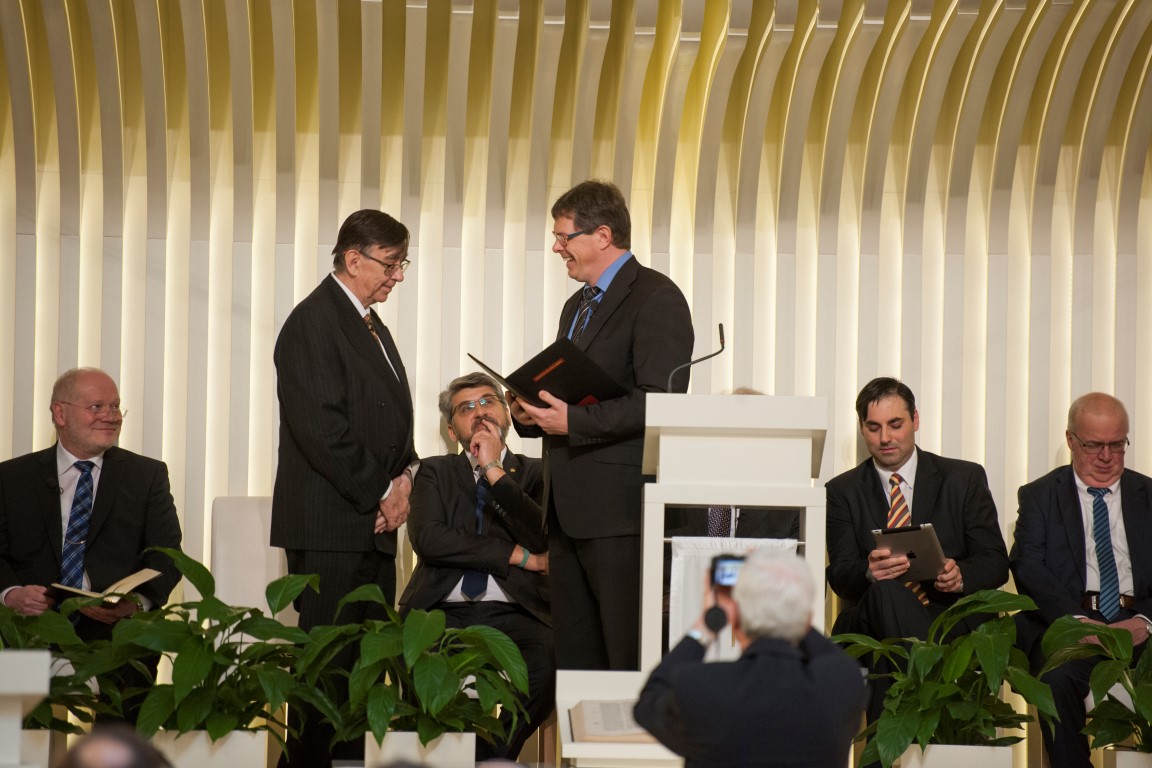 Róbert Csizmadia presents the Lifetime Achievement Award to Dr Jenő SzigetiThe Lifetime Achievement Award, presented by Róbert Csizmadia, Hungarian Union Secretary, was "as recognition of his pastoral, educational, Church managerial activity exercised in favour of the Hungarian Adventist Church and his 50 years of professional work as well." Csizmadia thanked Szigeti for his decades of dedicated, high-level work.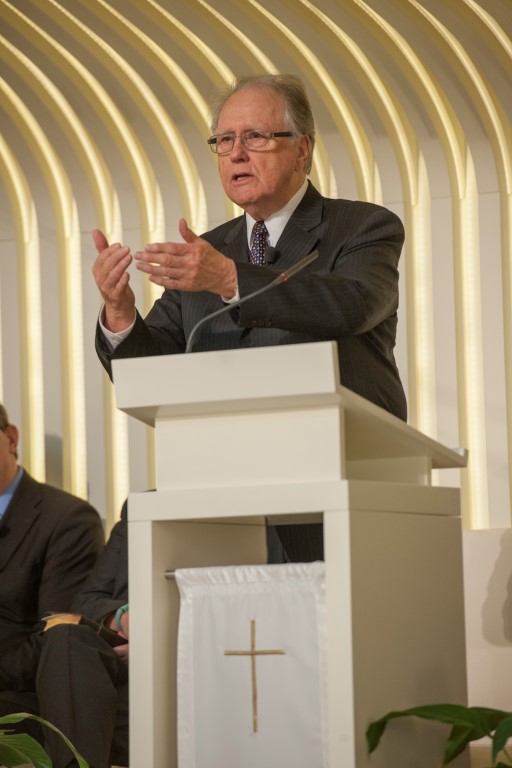 Dr Jan Paulsen preaching at the Central Church, BudapestFormer Adventist World Church president (retired), Dr Jan Paulsen, was the guest of honour for the special worship service. "Congratulations, brother Szigeti!" he said. "We worked together for years when I was president of the Division and you were the president of the Hungarian Union for 10 years. I know you as someone who has got great knowledge and greater modesty. God bless the rest of your life."
Dr Jenő Szigeti, "It has been a privilege for me to spend my whole life with the Lord's work."Szigeti was clearly moved by the greeting and recognition of his service. He responded, "It has been a privilege for me to spend my whole life with the Lord's work. To you and with you, I worked for God and this is not an earned merit, it is a privilege."
Dr Paulsen used Paul's words in Ephesians 6:10-13, to emphasise how important it is to wear the full weaponry of the Spirit; practice daily Bible reading; the total member involvement in mission; and the solidarity and unity within God's church. "I would like to quote the words of Church co-founder, Ellen G White," he concluded: "Press together! Press together! Press together!"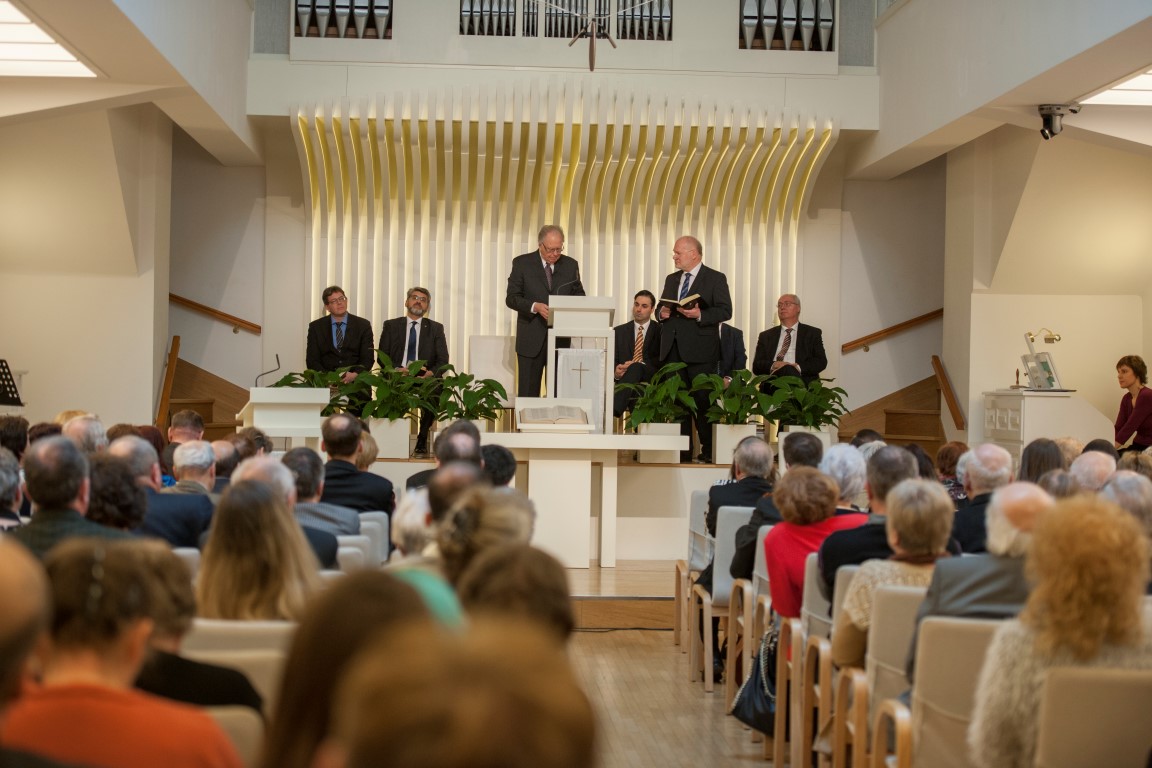 In a packed, 500 seater church, members also watched a short video reviewing Szigeti's life, shared music, poems, duets and the glorious music of the Central Church choir.
This is the first time that the Hungarian Union has awarded someone with a lifetime achievement award, given in recognition of Professor Jenő Szigeti as God's bridge-builder – connecting many with God.
At present, the Hungarian Union has 5,270 members and 118 churches. [tedNEWS]
---
tedNEWS Staff: Victor Hulbert, editor; Esti Pujic, associate editor
119 St Peter's Street, St Albans, Herts, AL1 3EY, England
E-mail: This email address is being protected from spambots. You need JavaScript enabled to view it.
Website: www.ted.adventist.org
tedNEWS is an information bulletin issued by the communication department of the Seventh-day Adventist Church in the Trans-European Division.