13 February 2017 | Ljubljana, Slovenia [Patricija Virtič] Extremely cold temperatures, wind and snow around Europe have claimed many casualties. Vulnerable people, including refugees are dying from hypothermia. With this kind of weather, even in Greece, ADRA Slovenia started a project, 'Let's warm them!'
Distributing warm clothes, shoes and heating for refugees, the project has been officially supported by many famous people, including a former president of Slovenia and a candidate for the United Nations Secretary General Danilo Türk; Ivo Vajgl, member of the EU parliament; and Nikolas Protonotarios, the Greek ambassador in Slovenia. In just three weeks ADRA Slovenia raised more than 20,000 Euros with donations still coming in.
This included ADRA Slovenia becoming front page news for a couple of days. People generously responded to their call for supporting activities in Greece.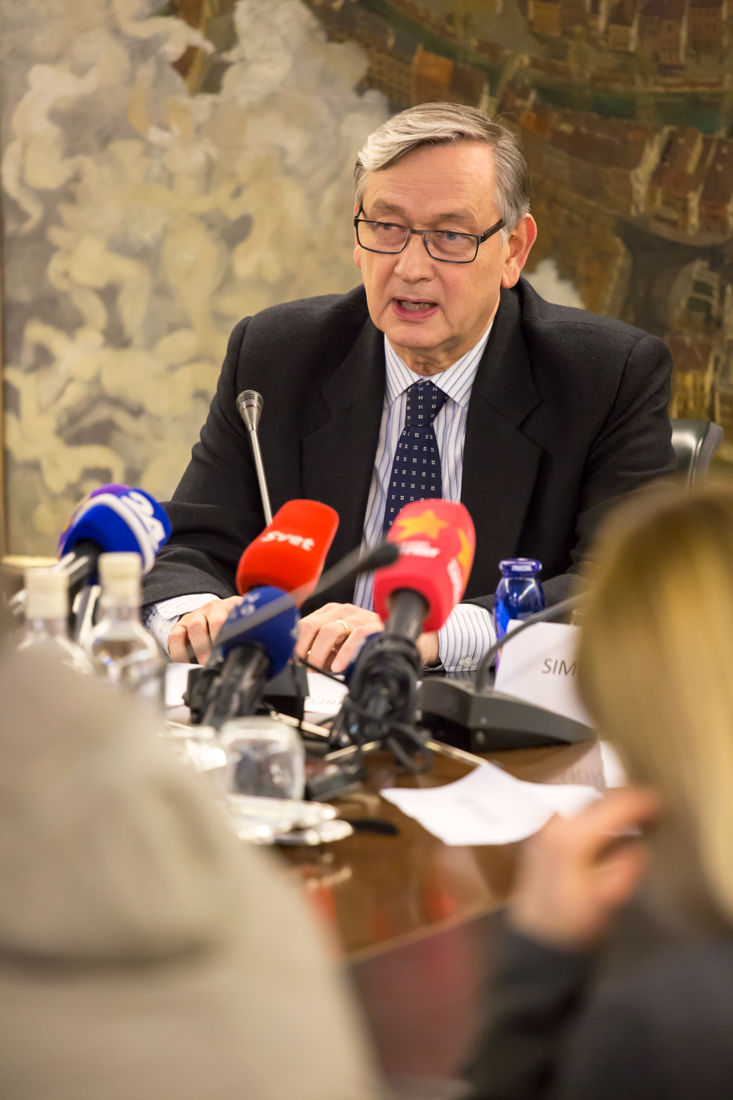 Dr Danilo Türk, former President of the Republic of SloveniaIn a joint press conference Türk praised ADRA Slovenia because it works quickly, effectively, and in areas where it is most needed. He stressed the importance of quality policy, which finds solutions for problems. "The project, Let's warm them! is a valuable humanitarian initiative," he said. "But even more than that: it reminds us that we as citizens of the European Union have a chance to do something good for the poor on the other end of our common European home."
He noted that refugees and migration are a "common European problem", but one that the EU appears unable to solve. "It is therefore necessary to activate the European citizens. Help is necessary where the problems are most acute."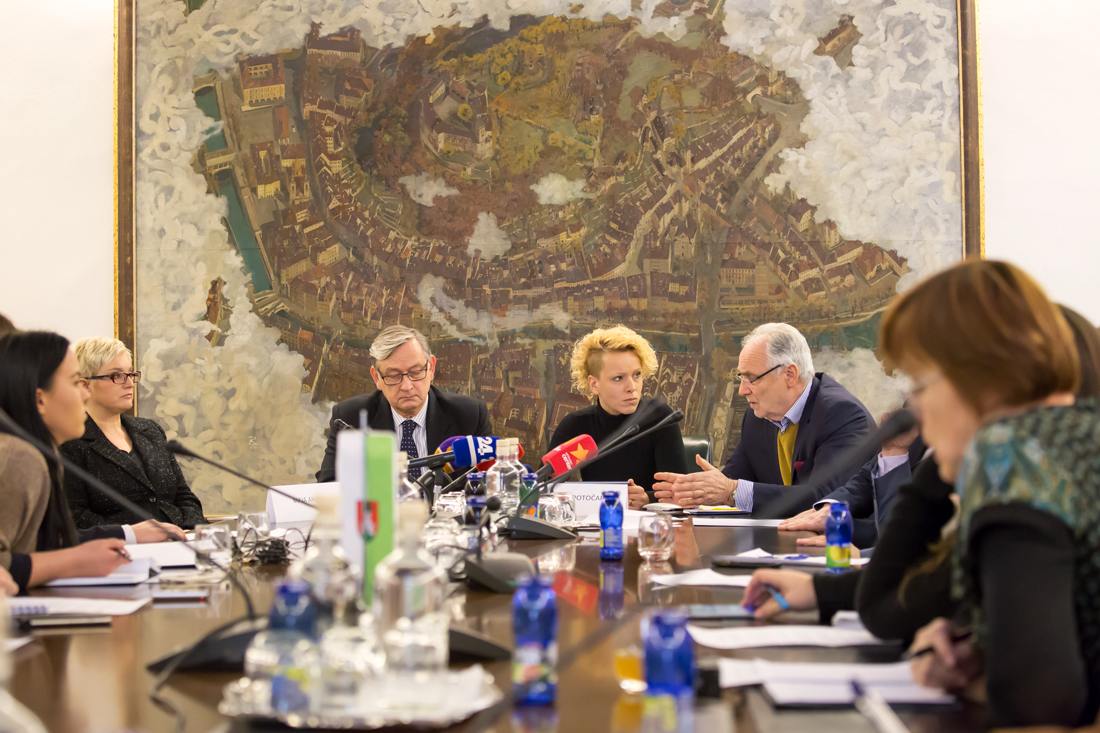 According to Vajgl, MUP, we need to deal with the causes rather than the consequences of this humanitarian crisis. He endorsed the ADRA Slovenia's initiative, because it helps to strengthen one of the key values underpinning the European Union - solidarity. "For the lack of solidarity those who exploit fears, prejudices and ignorance of the cultures of refugees for political points should be held responsible." He added, "The project is important because it raises awareness among the public about the bad living conditions of the refugees, or life-threatening situations in their homelands which they are running from."
His speech was hard hitting. "We, developed countries, share the guilt for the upswing of violence in the Middle East. That makes our moral duty to help them, so much greater. A real solution must be systemic, long-term and has to intervene in social transformation in the countries from which refugees are coming. "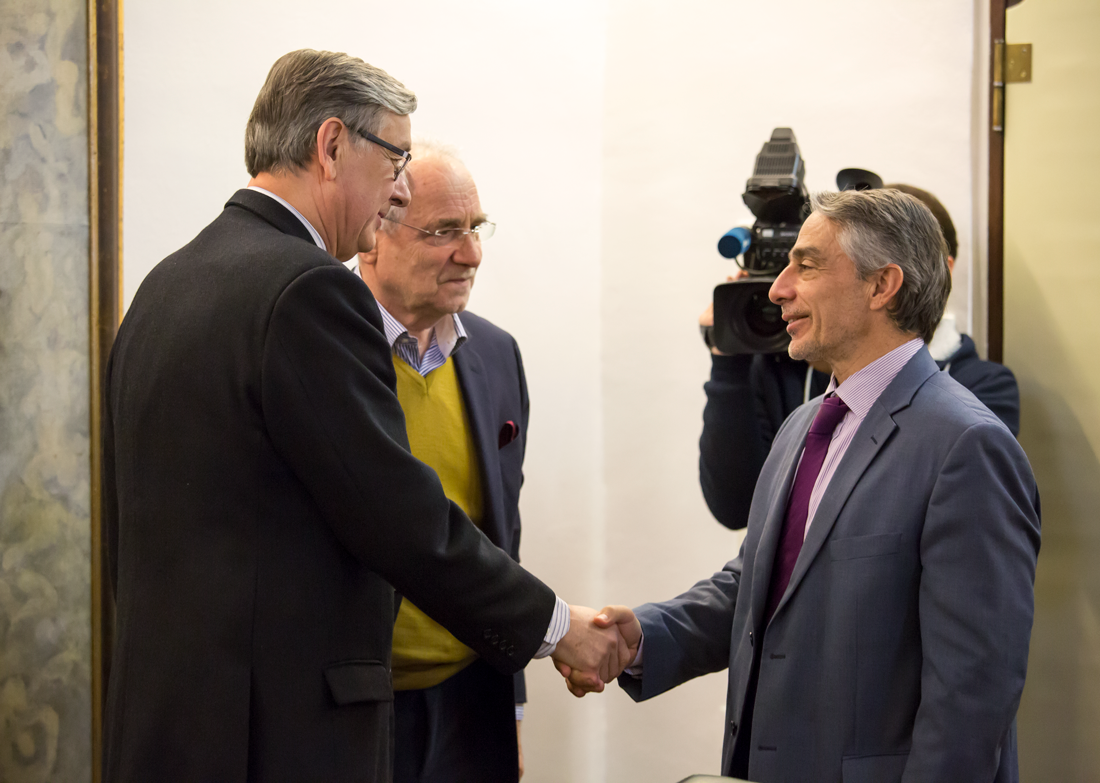 Nikolas Protonotarios, Greek Ambassador (right) shaking hands with Danilo TürkThe Greek Ambassador, Nikolas Protonotarios, thanked Slovenia and its citizens for showing solidarity towards refugees.
Two ADRA Slovenia volunteers are working in Greece as part of a first response team, supported by the Greek government. They have already provided warm clothes in the refugee camp in Nea Kevala Polykastro and in another camp warm shoes are being distributed. Being part of the first response team allows ADRA Slovenia to react to urgent needs, especially as conditions in the camps change daily, particularly as more people arrive at the camps.
The weather is still very cold and infrastructure continues to be stretched, with breakdowns in the water systems, exacerbated by electricity and heating outages. Some camps have, thankfully, been temporarily evacuated in recent days because of pressure from the international community. Some refugees are escaping the cold in hotels, boats and other alternative shelters. Many however are still in the camps, others are arriving at camps having been pushed back from other countries, and some are in shelters without access to resources such as water and electricity.
Current urgent needs include the need for clean underwear. This is a high priority item due to low levels of supply and frozen water supplies means people are unable to clean their underwear/clothes in many places.
ADRA is also reaching out to more camps with a vegetable delivery service. Food provided on camps is basic. People really want to cook for their own families. Providing fresh vegetables to people right now can help them stay stronger.
Also needed are winter quality shoes, socks, hats and gloves together with help with transport costs to redistribute aid between camps as needed.
To find out more, or to donate to the ADRA Slovenia 'Let's warm them' project, visit their website www.adra.si, Facebook, Twitter or Instagram or donate via their PayPal account. [tedNEWS]
---
tedNEWS Staff: Victor Hulbert, editor; Esti Pujic, associate editor
119 St Peter's Street, St Albans, Herts, AL1 3EY, England
E-mail: This email address is being protected from spambots. You need JavaScript enabled to view it.
Website: www.ted.adventist.org
tedNEWS is an information bulletin issued by the communication department of the Seventh-day Adventist Church in the Trans-European Division.