6 February 2017 | Kaunas, Lithuania [Jurgita Kregždaitė] Adventist church pastors need more than just theology. In the modern world they also need a clear understanding of media. How do you make a picture tell a story? What can make an article or news report not only interesting, but also relevant? What's the point of social media?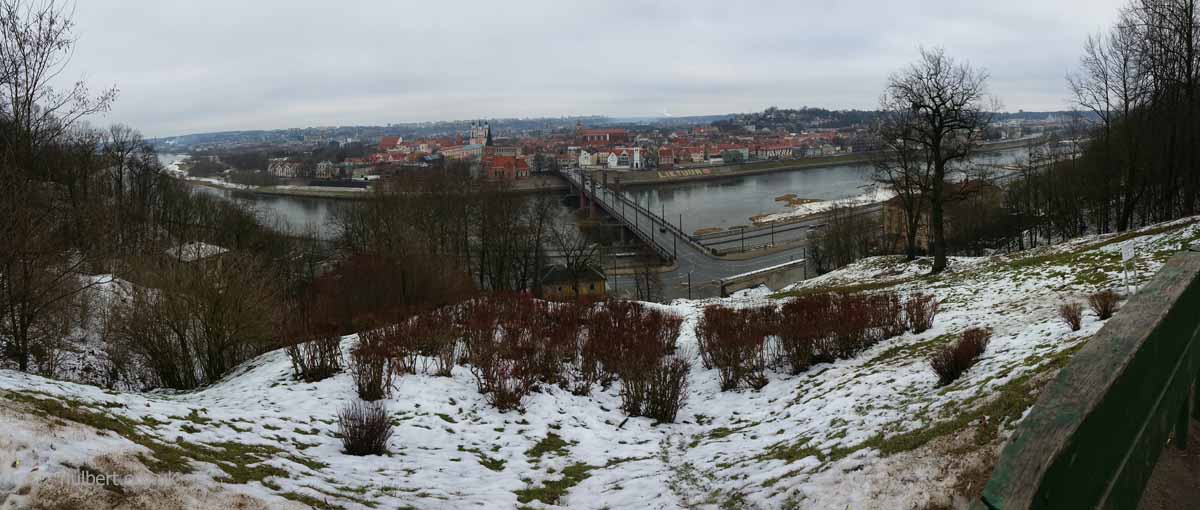 Kaunas panorama - old city
Over two intensive days, 30 – 31 January 2017, Victor Hulbert, Trans-European Division Communication & Media director, shared not just those skills, but also how to profile your church in the community and, should a crisis arise, the skills needed to interact positively with the media.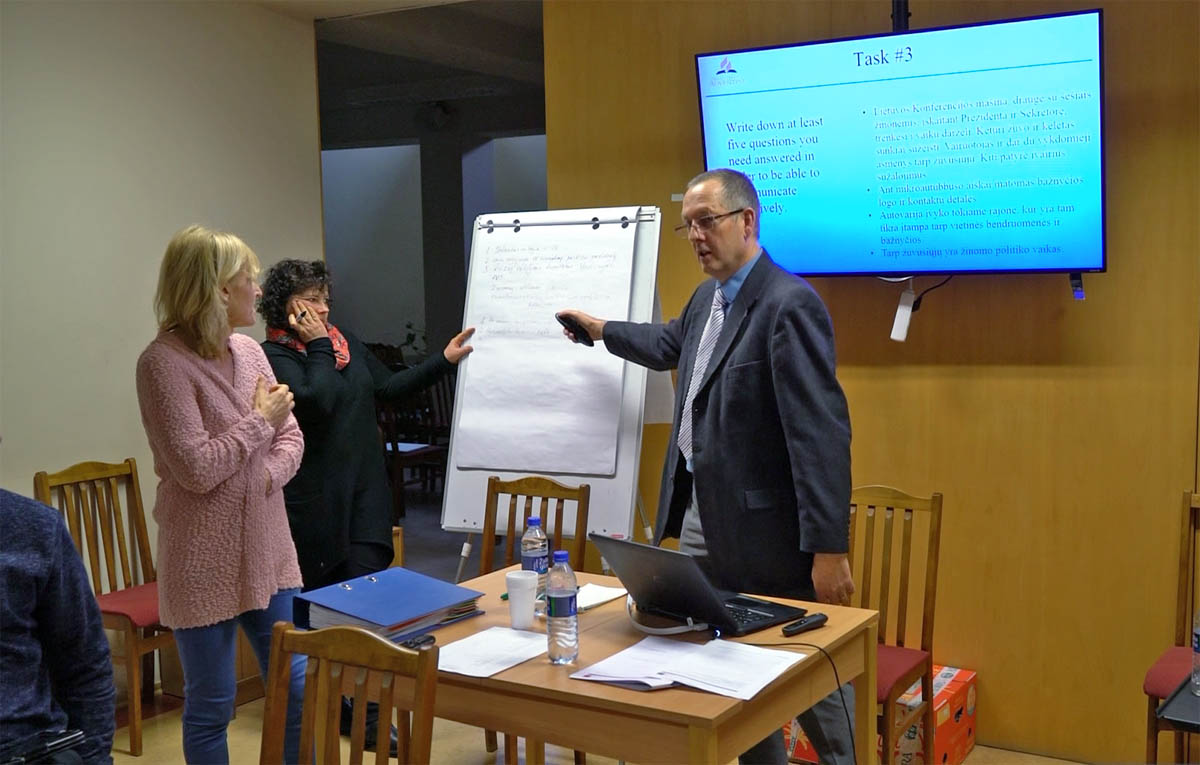 Staff list and discuss the key messages they need to share in a crisis management simulationHulbert, at the invitation of the Lithuanian Conference of Seventh-day Adventists, freely shared his considerable expertise with pastors, Bible workers and administrative staff. This worked for Jurgita Kregždaitė, Executive Secretary, "The church needs to get closer to people, not only in their real lives, but also in cyberspace, an increasingly significant aspect of modern life," she said.
The training had an immediate effect. Mindaugas Pikūnas, Youth Ministries director for the Baltic Union Conference pulled out his iPhone and immediately started collecting a series of short testimonies to share via his social media.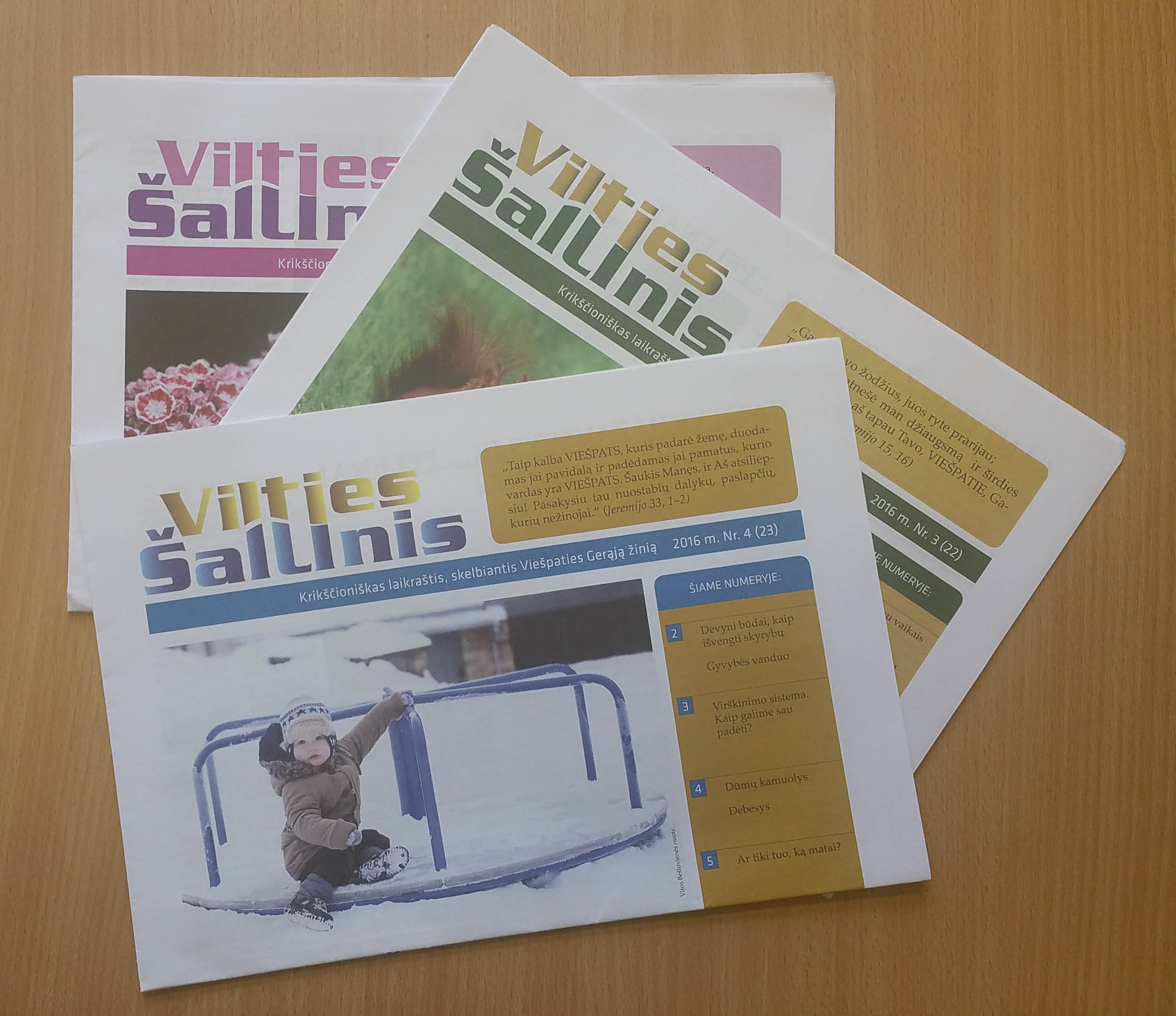 Arunas Cerkesas, a pastor who produces a regular outreach newsletter, Vilties Saltineis, looked through his content ideas seeking ways to engage more actively with the public. Valius Eičinas commented that "the value of this seminar was that it provided a model of how to work with a person, how to approach a person while communicating a message."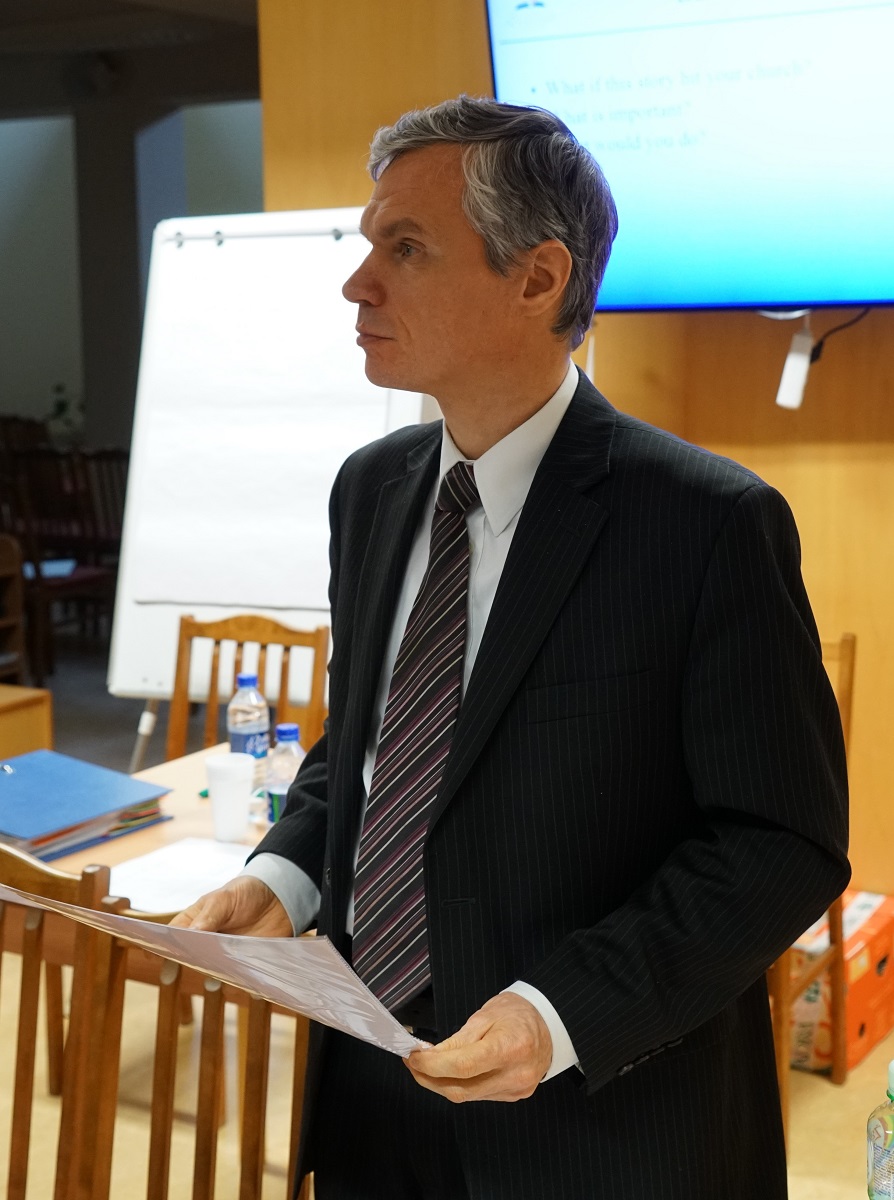 Bertold Hibner, president"This was the first such seminar in the history of the Adventist church in Lithuania since the country regained independence in 1990," stated Bertold Hibner, Conference President. "When planing the seminar we thought about several strategic purposes: to educate and train pastors and administrative workers in communication, to give tools for pastors to work with church members in evangelism, and to encourage our workers to use media for mission."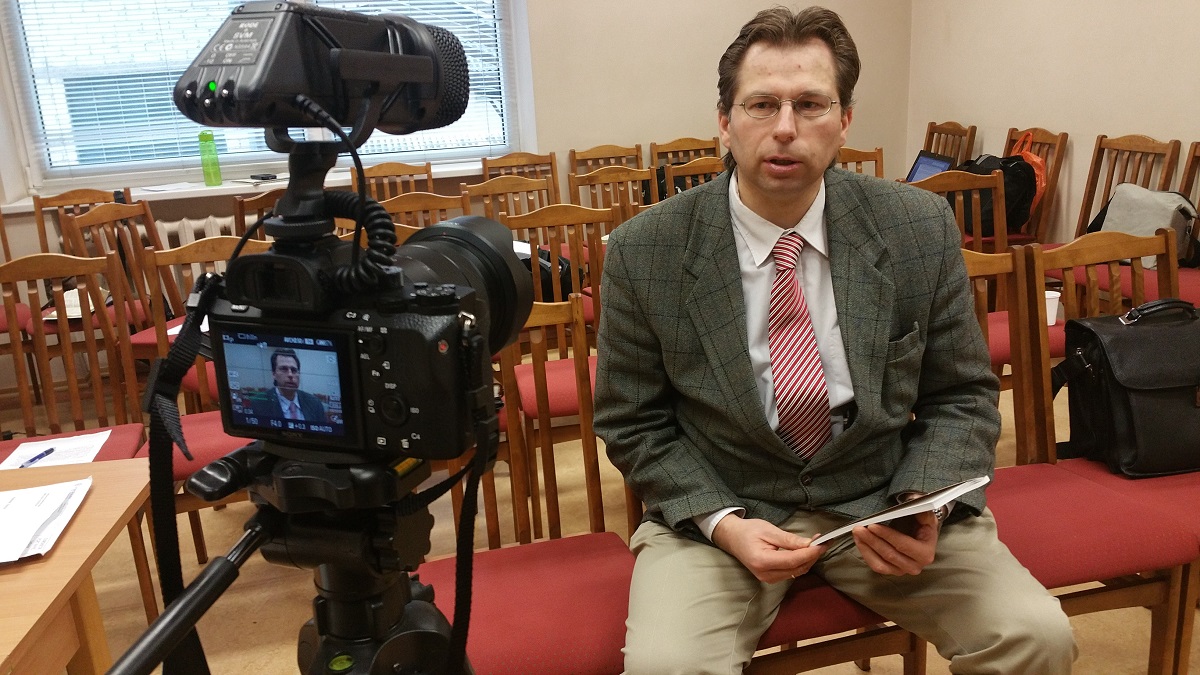 Deividas Vanagas, treasurer, faces the cameraThat worked for Vytautas Kulšė who found that "some new ideas about how to speak with journalists were very helpful." Gintaras Nekis was impressed with the crisis management training. He said, "We need to prepare in advance because the future may bring a crisis." That preparation was practical as well as theroetical as the team worked through real-life scenarios, discussing together and eventualy facing a TV camera.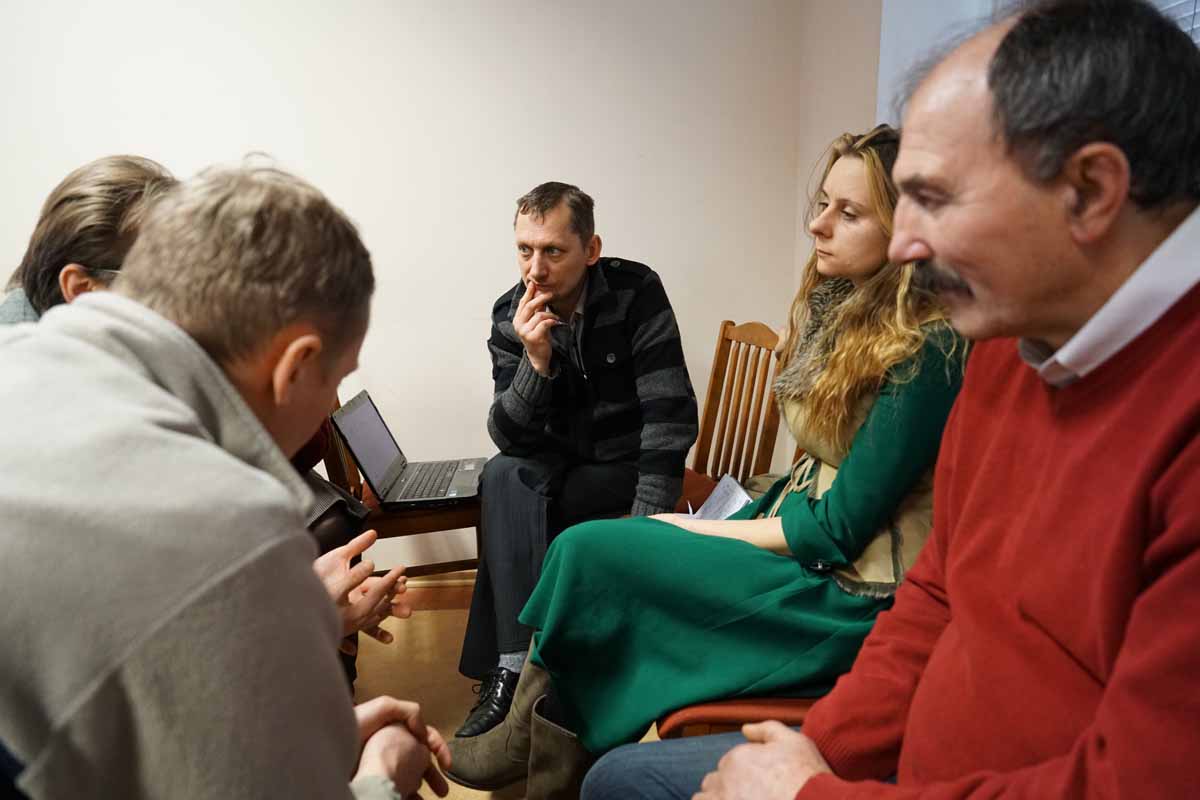 Practical excercises included working thorugh realistic crisis scenariosPastors expressed their gratefulness for a better understanding of how social media can assist evangelism, and for assistance in developing the skills to be prepared for crisis. Church members also benefited on the previous Sabbath, 28 January, when Hulbert preached at the Vilnius church, sharing with a congregation of Lithuanian and Russian speaking members a biblical foundation for Christians using social media. One visitor, a graphic artist from Belarus, said afterwards that this information was so important that he wanted to take it back to his home city.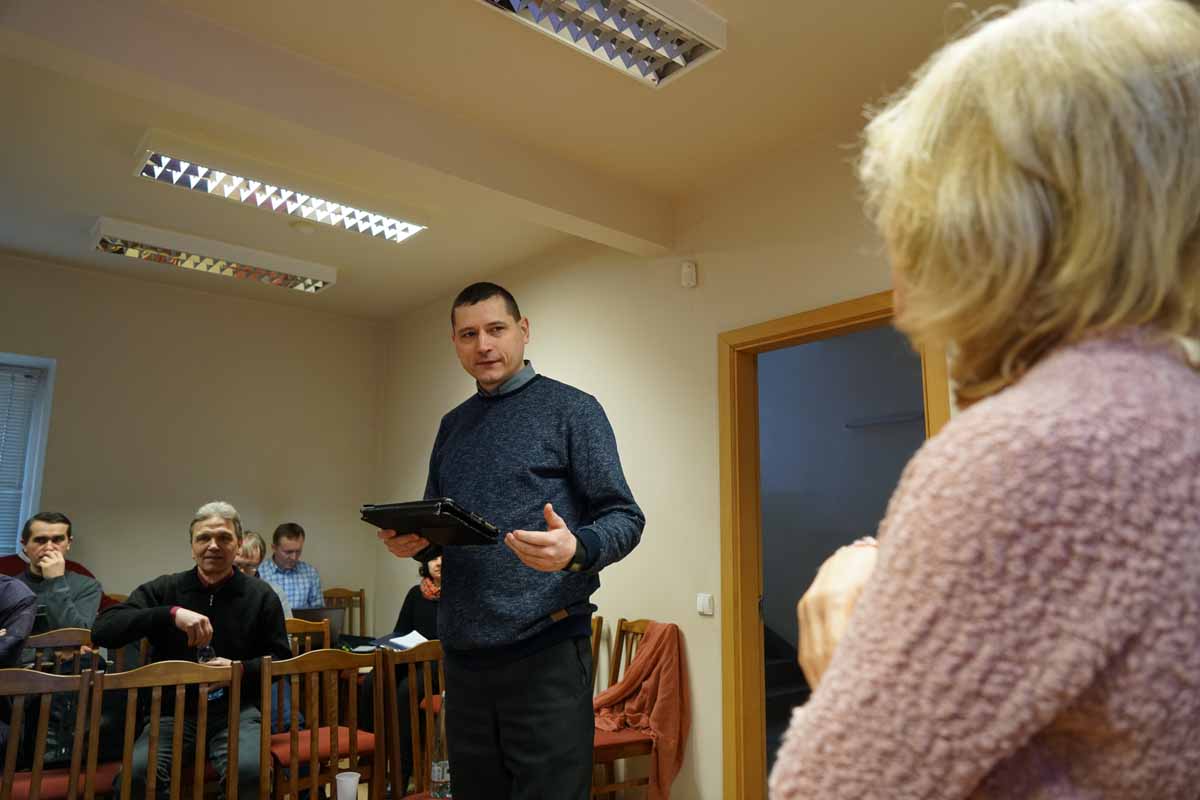 Pastors practise their news writing skillsKregždaitė states, "We, as a church, and each of our members, have a great responsibility to offset the negative information often seen in real life and cyberspace by sharing the love of God in people's lives."
Together with the pastoral team she is now reviewing various church related websites related to family, health and Bible studies and actively looking for improved ways of making God known.
Plans are now being formulated to expand the training for students at the Lithuanian Mission training school. [tedNEWS]
---
tedNEWS Staff: Victor Hulbert, editor; Esti Pujic, associate editor
119 St Peter's Street, St Albans, Herts, AL1 3EY, England
E-mail: This email address is being protected from spambots. You need JavaScript enabled to view it.
Website: www.ted.adventist.org
tedNEWS is an information bulletin issued by the communication department of the Seventh-day Adventist Church in the Trans-European Division.