19 January 2017 | St Albans, UK [Victor Hulbert] While Hacksaw Ridge may have left cinema screens in some parts of the world, and was outshone by La La Land in the recent Golden Globe Awards, the impact of the man behind the film is still making a real difference in countries where the film is, only now, on release.
From Funeral to faith sharing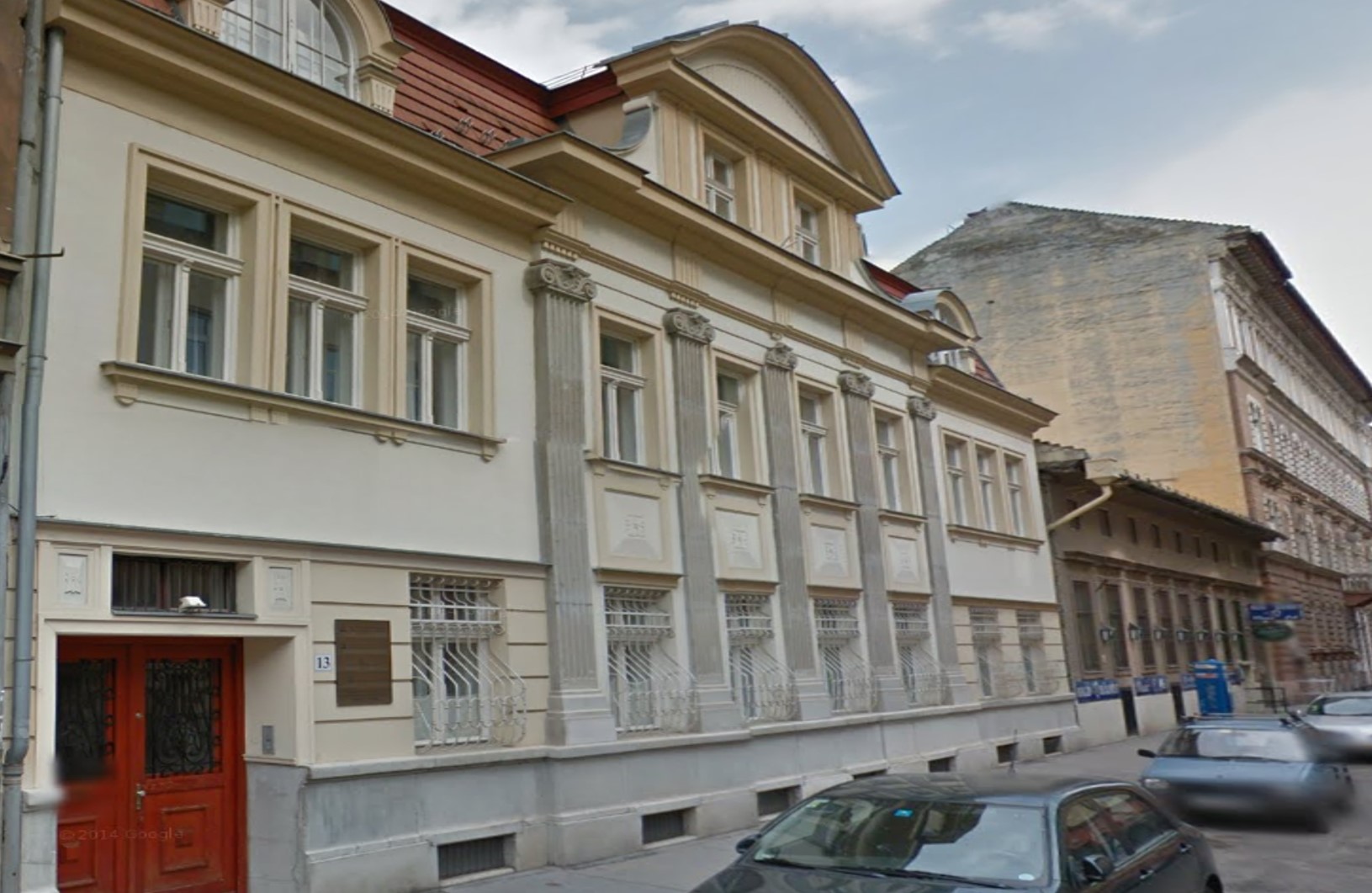 James Bondar, an elder in the Budapest Seventh-day Adventist church recently had an encounter with a close family friend. Imre was not in the least religious, but a deep conversation at a garden party concluded with him stating, "I do not believe in any religion, but if somehow, for any reason, I would ever belong to any church, it definitely would be the Adventists." He then asked for prayer. James did not know it, but that first prayer with Imre was also his last. One week later Imre collapsed in his bathroom and died.
The family requested James to speak at the funeral service. Though not a pastor, James agreed. "I confess that I was a little nervous because I had never ever spoken at a funeral gathering. Besides, what could I possibly say at a good friend's funeral who said he did not believe in anything. I accepted the invitation, but I had no idea what I was going to say."
James depended on prayer and the Holy spirit. Following the service, many of Imre's distant relatives, as well as colleagues at the large Estate Agents where he worked, asked who was this 'Reverend Father' who spoke so nicely.
That was some time ago and a witness in itself. However, James was very surprised to get a phone call this last week from someone who was at the funeral. The stranger invited him to dinner and then to go and see a film.
"Let's go see that movie which is promoted in the small booklet you left at the bank and with Aron's real estate office," he said. Stunned, but grateful, James accepted the invitation. He discovered that 25 people would be at the dinner; people from the bank and from the Estate Agent's organisation where Imre had been president. All of them had been present at the funeral and wanted to meet James as, they said, "you were a great influence on each one of us."
The surprise was not finished. Although there were only 25 in the group, they told him they had bought 75 tickets to go and see Hacksaw Ridge, the remarkable and courageous life story of WWII Conscientious Objector, Desmond Doss.
"Why 75 tickets?" he asked. "Oh, because it is written in the booklet, that you gave me, that the Adventist soldier rescued 75 people. In his honour we have bought 75 tickets. The estate agent paid for all of them.
Combining James' Total Member Involvement with a high profile film that highlights positive Adventist values, has made a difference for those 25 friends of Imre and the 50 other individuals who will learn something of faith, even in the midst of the blood and horror that makes up war.
Unprecedented Adventist witness on National TV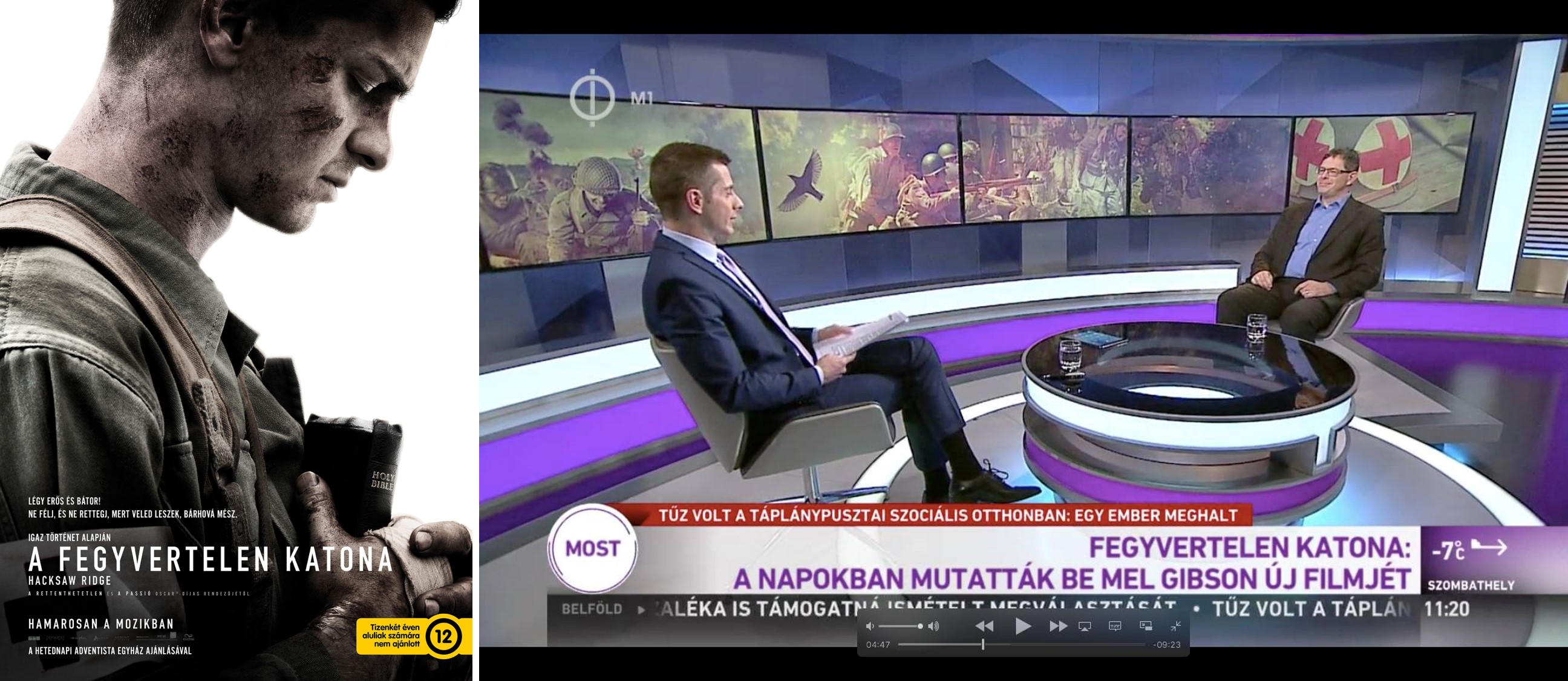 James' witness is not alone. Hungarian Union Executive Secretary, Róbert Csaba Csizmadia, swapped the pulpit for a TV studio on Sabbath, 7 January. Just one week after Hacksaw Ridge was released in Hungary he was invited to appear, live, on National Television to an estimated audience of 300,000 people. During the interview he was able to share the faith of Doss, including talking about the Adventist Church and the Sabbath.
"It was a great experience," Csizmadia said afterwards. "The reporter said 'Adventist' at least 4 times in a media that is very cautious to promote faith, especially that of a 'minor church'." He added, "I got to even mention the Sabbath in a positive and non-intrusive way. I believe God was there!"
Two other Hungarian pastors will have opinion pieces published in two different national newspapers this weekend. The editors were so impressed by the movie that they were very open to the Adventist pastors writing specifically about their faith and the faith of Desmond Doss.
FOCUS on the UK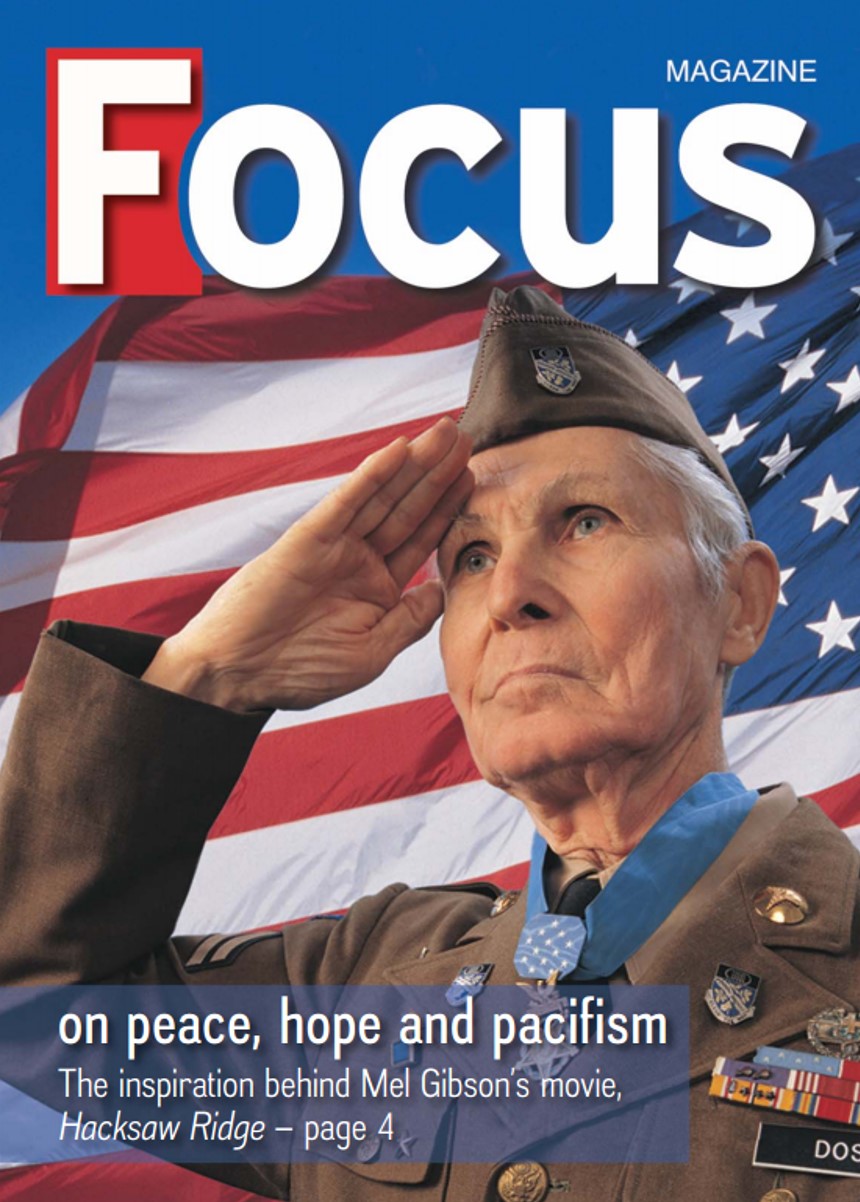 Now the spotlight is turning towards the UK as one of the last European countries to release the film. The Adventist Publishing House, Stanborough Press, has already had to reprint their special edition of FOCUS magazine three times with the current print run standing at 50,000. They are standing by to print more, if needed, as the film hits the cinemas on 26 January and members recognise the potential witness. Networking across the TED and beyond also means various language editions of FOCUS have appeared from Norway in the north-east of Europe to Portugal in the south-west.
Newbold college and church members have committed to sharing their faith outside both of their local cinemas for the opening weekend. They will be joined by youth from other local churches, keen to talk with people about their experience watching the film and how it may have impacted their faith.
Adam Ramdin, Youth director of the North England Conference has called it "The biggest witnessing Opportunity" and has even set-up a Facebook page giving tips and examples of how people can witness in relation to the film.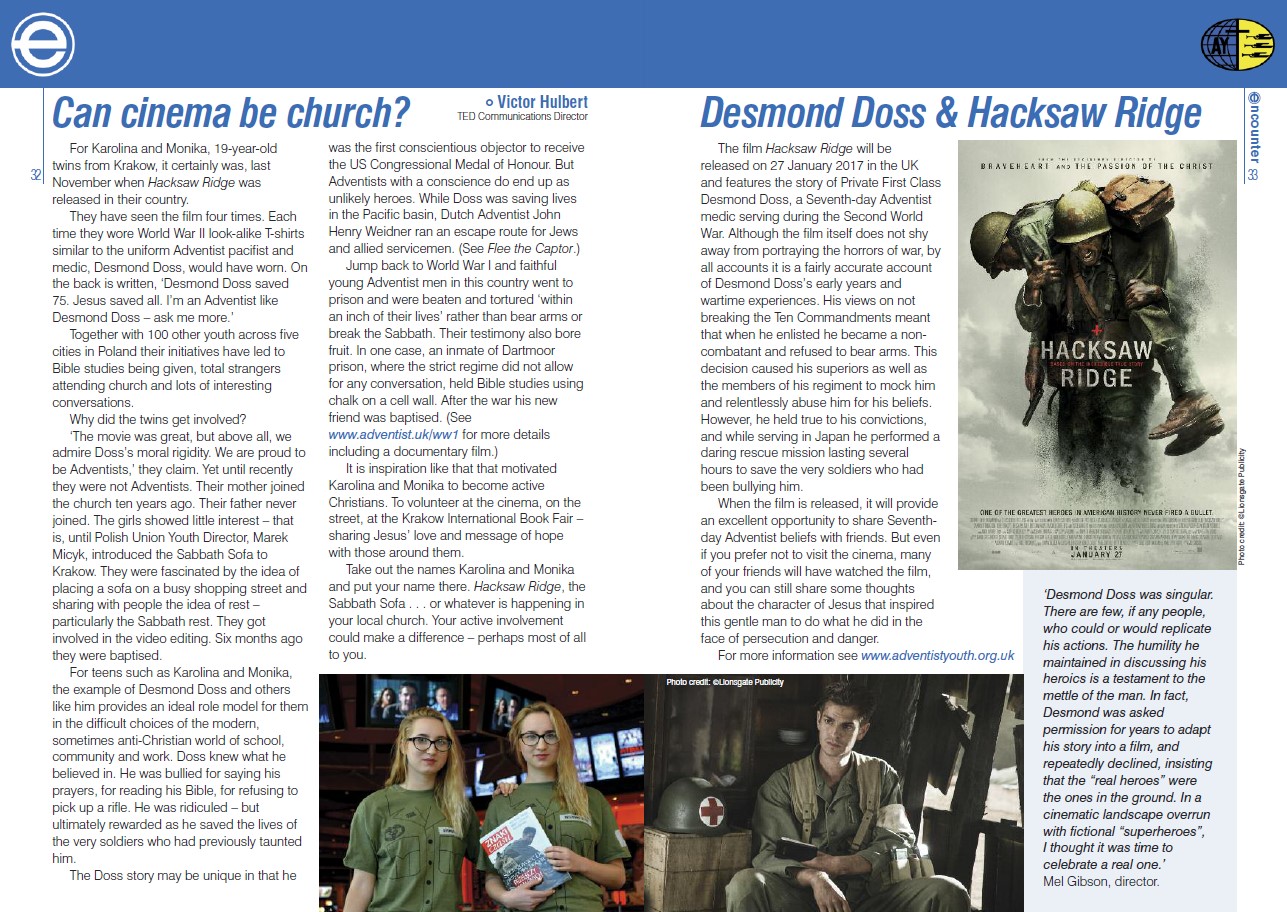 The British Union Youth Magazine, Encounter, being published the same weekend as the film release, has a two-page spread not only focused on Hacksaw Ridge, but on brave WWI British Adventists who ended up in prison rather than go against their moral and spiritual principles. [See 'A Matter of Conscience' on the UK Adventist website.] Richard Daly, BUC Communication director has also had a string of interviews on BBC local radio and has published a dedicated page for the public to visit on the National Church website.
Following the example of youth in Poland, their counterparts in the UK will be encouraged to change their cover picture on Facebook to one highlighting the Faith of Desmond Doss. Cover pictures will be released on Facebook and promoted to coincide with the release of the film. Two covers are already available via the National website.
Desmond Doss may have died a decade ago, but his story and his faith are still making a difference across Europe and across the world today.
SEE ALSO: Hacksaw Ridge opens unprecedented witnessing opportunities in Central Europe.
---
tedNEWS Staff: Victor Hulbert, editor; Esti Pujic, associate editor
119 St Peter's Street, St Albans, Herts, AL1 3EY, England
E-mail: This email address is being protected from spambots. You need JavaScript enabled to view it.
Website: www.ted.adventist.org
tedNEWS is an information bulletin issued by the communication department of the Seventh-day Adventist Church in the Trans-European Division.