"Why the Devil Takes Visa" – a great title for a sermon I preached a long time ago, yet I was the one who needed to hear it most. It's a reality that families of pastors, are no less immune to the financial pressures all families face. We had a new mortgage, payments on a car, school fees, and went abroad to holiday in the sun. Too much for the young hard-working family to wish for? Perhaps not, but when our spending rose above our income, we used plastic to help and experienced what is often described as a credit crunch*. What a disaster!

Remember the children's chorus, 'Be careful little eyes what you see'. Think about the psychological battle that takes place the moment you enter a supermarket. We go with the purpose of spending as little as possible. The retailer wants us to spend as much as possible. Sights and smells designed to raise our levels of serotonin confront us. The mass of colour in the fruit and vegetable section (without spot or blemish) please the eyes, as we simultaneously experience a waft of freshly baked bread from the instore bakery. We remind ourselves of the rule to never go to the supermarket on an empty stomach, but that bread! Our senses take over our mind and into the trolley it goes. Be honest, we've done this a thousand times, in a thousand places. Quickly change location to the car showroom and it's the smell of rich leather, yet the car seats are made of fabric. Do car manufacturers use the science of smell to their advantage?
Surrounded more than ever before by algorithmically designed adverts, knowing exactly what and when we 'want', the battle is increasing in intensity. Lose the battle on this one, and 'worry' multiplies. "Greed is the knife, and the scars run deep," says the graffiti on a Dublin wall. A sober lesson for Ireland and its people. Meanwhile, with a current consumer credit boom in my country, it seems UK people forget how painful unstructured debt can be.
If there is one area of life where it's more than wise to 'let God manage you', personal finance is high up on the list. John Wesley once said, "Earn all you can, give all you can, save all you can." A nice little proverb to round off this month's blog, but behind Wesley's words of wisdom was method. One we need to look at next time.
* If you have ever experienced financial difficulties, or are in a situation where your finances are currently out of control, you may find a practical book written by Dr. Richard de Lisser, helpful. It is available from the Adventist Book Centre. Please note, that this book is not intended to replace professional debt counselling where necessary.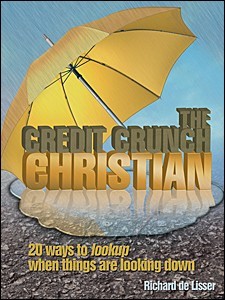 ---
First Things 1st is the monthly blog of the Stewardship Ministries Department of the Trans-European Division. The purpose is to restore and strengthen the principles of biblical stewardship, leading to a strong, mature, and joyful faith in Christ for those we serve.