During the recent General Conference Spring Council, Elder G. T. Ng (Executive Secretary) made a presentation with the title 'No More Room', based on the words of Malachi 3:10.

"Put me to the test, says the Lord of hosts, see if I will not open the windows of heaven for you and pour down for you a blessing until there is no more need" (ESV).

Reporting on 2016 tithe contribution to the General Conference from across all world divisions of the church, he saw a principle that perhaps we've missed in recent times, one that is clear and simple:
Raising tithe income is not about requesting more money from members, but about raising faithfulness.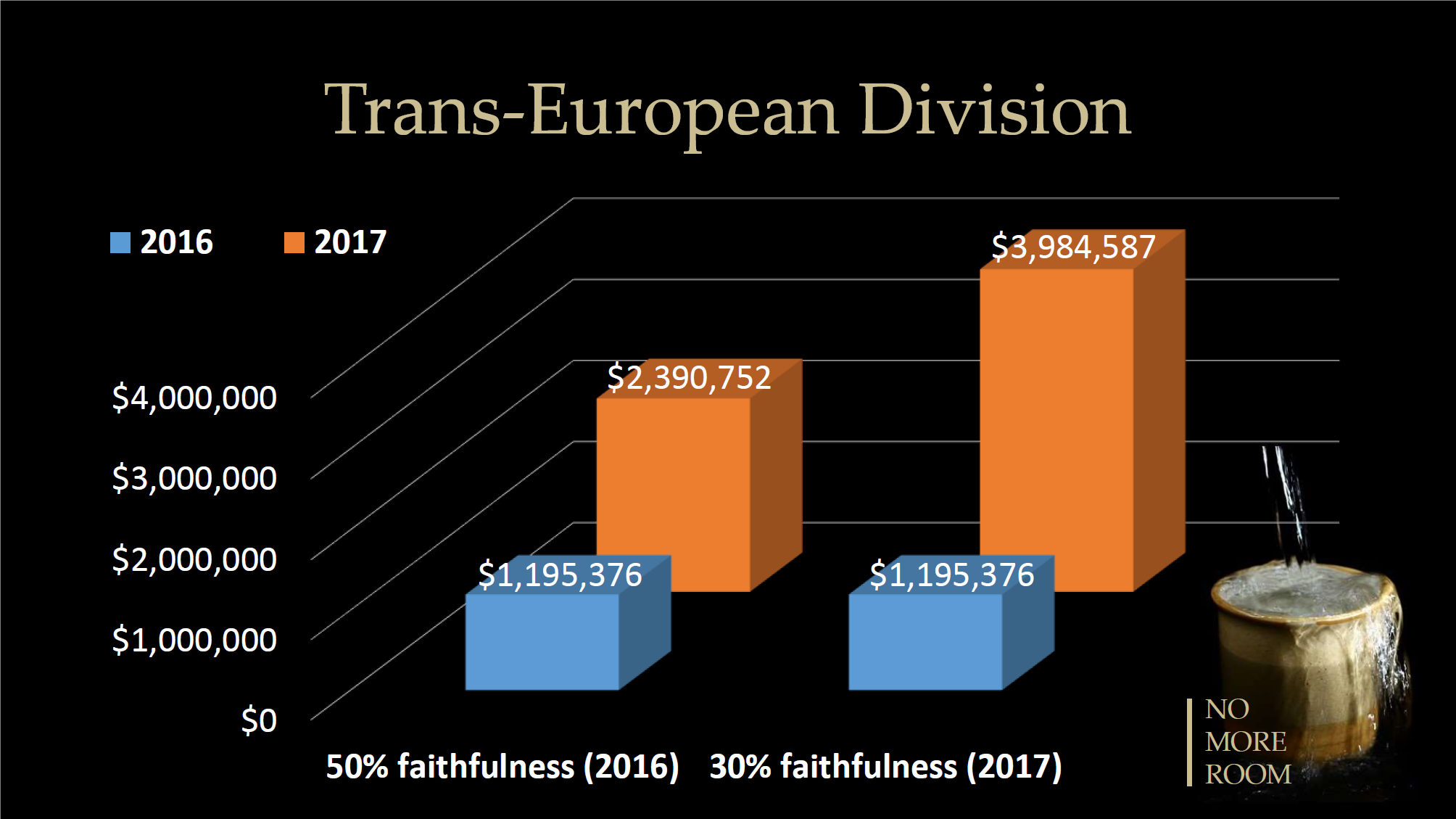 In what will come to be known as Ng's 'faithfulness potential', his survey included the Trans-European Division. The chart shows that the TED's total tithe contribution to the General Conference in 2016 was $1,195,376. Elder Ng's assumption is that as the faithfulness of members rises, the potential for tithe increase is beyond what most of us in church leadership can ever imagine possible. His case is, that if our total contribution for 2016 was based on 50% of the membership returning a faithful tithe, the 2017 contribution would double to $2,390,752. By the same measure, if the 2016 total was based on only 30% of the membership returning a faithful tithe, the 2017 contribution would almost triple to $3,984,587.

As I think about what Elder Ng is saying from Malachi, I wonder, for example, what it would mean for the Irish Mission, a world I know reasonably well. Let's take a quick look:

• Total Irish Mission Tithe Income for 2016 - £622,924
• Potential Tithe Income for 2017 (if only 50% of members faithful) £1,245,848
• Potential Tithe Income for 2017 (if only 30% of members faithful) £2,764,133

The Irish Mission currently employs 8 pastors, including the President (who also oversees a church). One further employee serves part-time assisting the President. Mission status means that the British Union Conference also provides financial support. Nevertheless, resources are always scarce.

I try to imagine what it would be if instead of 8 pastors serving Ireland and Northern Ireland, there could be 10, 12, or even 14! How the work could move forward with a greater number of pastors training members for leadership, growing faithful members in isolated towns, and leading outreach and evangelism. I used to wishfully joke for the growing membership to live near an existing congregation or pastor – it would have made life easier, but that's not the nature of the Irish Mission! Some pastors regularly travel 80-100 miles to connect with small companies and groups. Praise the Lord for faithful members who are a witness in isolated towns and cities.

With a membership of 865, the number of members returning tithe is just above 400, circa 50%. Sure, there are local demographics that could make it difficult to get all remaining 400 members faithfully returning, but this is no reason to lose the big picture. It's clear, the Irish Mission has the potential to raise the number of pastors and increase outreach and mission.

Without exception at every Union, Conference or Mission Session, a delegate will stand at the microphone and earnestly request the administration to provide more pastors for the field. The predictable and typical answer from administrators is 'limited resources'. Elder Ng's premise invites us to consider that this need not be so, with the heart of the matter about 'raising faithfulness'. Perhaps we would do well to reclaim Malachi's ancient promise.

"Bring your full tithe to the Temple treasury so there will be ample provisions in my Temple. Test me in this, and see if I don't open up heaven itself to you, and pour out blessings beyond your wildest dreams." (Malachi 3:9-10).

A copy of Elder Ng's "No More Room" PowerPoint presentation can be found on the GC Executive Committee website.

A recording of the presentation in person is available here. Wednesday April 12th 2017 (morning) - Start at 1 hour, 9 minutes.

First Things 1st is the monthly blog of the Stewardship Ministries Department of the Trans-European Division. The purpose is to restore and strengthen the principles of biblical stewardship, leading to a strong, mature, and joyful faith in Christ for those we serve.